Being one of the best quarterbacks in the NFL is a difficult job, requiring skill and dedication, and more than a modicum of self-confidence.
The former have never been subject of debate in the case of Jimmy Garoppolo and it would appear the San Francisco 49ers quarterback possesses the latter in spades.
The 26-year-old spent three seasons with the New England Patriots as understudy of Tom Brady, but in a wide-ranging interview with Bleacher Report he revealed after his first year in the league he gradually began to believe he was a better player than the five-time Super Bowl champion.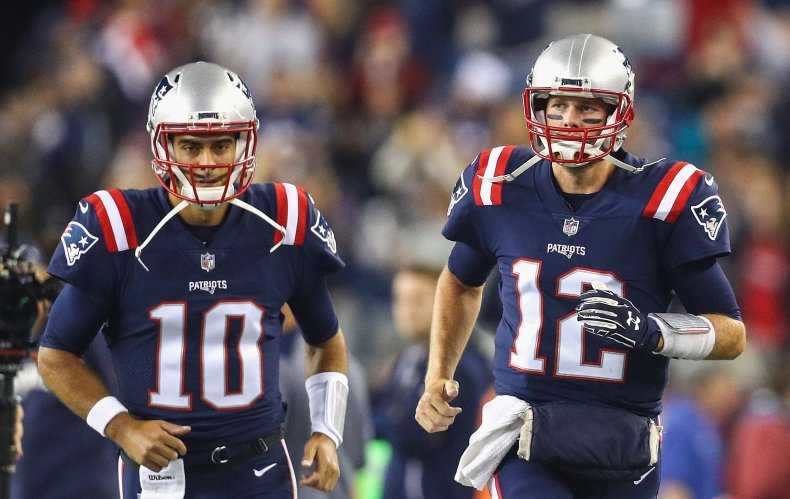 "I knew that [Brady] was better than me in my first day in the NFL," Garoppolo was quoted as saying. "Naturally, you're the rookie and he's the veteran, but you have to have that mindset that you want to be the starter.
"Even when I was a little kid, my brothers, whenever we would play, I would literally always think I was going to win. I wouldn't, but I would always think that. It's like when I go to New England, when I first got there, I thought in my head, 'I'm better than this dude.'"
To his credit, when asked whether he thought he was the best quarterback on the Patriots roster, Garoppolo gave as straight an answer as possible.
"Yeah, you believe in yourself," he explained. "That's the best way to put it."
As a college student for Eastern Illinois, Garoppolo broke Tony Romo's school record for career passing touchdowns, career passing yards and passing touchdowns in a season, before being drafted by the Patriots in 2014.
However, despite an impressive college career, he found opportunities very limited to come by in New England, where the task of dislodging Brady from the starting lineup was—and still is—nigh impossible.
Garoppolo played only a combined 17 games in three seasons with the five-time Super Bowl winners and admitted he and Brady were competitors.
"There would be days where one of us would win and you wouldn't talk to the other for a little while," he explained. "We'd be fine the next day, but it was one of the best things for me. We would push each other and we got two Super Bowls out of it.
"The competitiveness between the two of us was very similar. We got along, but there were always times where we wanted to kill each other. It was a healthy, competitive relationship."
Brady will turn 41 next week but the Patriots have banked on his desire to play well into his 40s, so much so that they opted to trade Garoppolo—14 years younger than Brady—to San Francisco in October last year.
The Illinois-native started five of his appearances for his new franchise last season, recording 1,560 passing yards and seven touchdowns. In February he penned a five-year deal worth $137.5 million with the 49ers—which at the time was the biggest contract in NFL history.
Uncommon Knowledge
Newsweek is committed to challenging conventional wisdom and finding connections in the search for common ground.
Newsweek is committed to challenging conventional wisdom and finding connections in the search for common ground.
About the writer
Dan Cancian is currently a reporter for Newsweek based in London, England. Prior to joining Newsweek in January 2018, he was a news and business reporter at International Business Times UK. Dan has also written for The Guardian and The Observer.