Jimmy Kimmel Challenges Alleged Child Molester Roy Moore to a Fight: 'Forcing Yourself on Underage Girls is a No-No'
Hey Roy Moore, Jimmy Kimmel is challenging you to a fight.
After the late-night talk show host got into a Twitter back-and-forth with the Republican U.S. Senate candidate on Thursday, Kimmel unpacked the drama on Jimmy Kimmel Live.
"I had an interesting day today," Kimmel explained.
To recap: Moore slammed Kimmel after Jimmy Kimmel Live regular Jake Byrd, a satirical trickster played by Rich Barbieri, disrupted a church service in Alabama Wednesday. Moore accused Kimmel of mocking "Christian values" and invited Kimmel to come to Alabama himself and do it "man-to-man." Kimmel hit back:
Moore, who is beset with allegations of child molestation, then replied that he would "save [Kimmel] a seat on the front pew."
Thursday night, Kimmel hit back on his late-night program, saying he'd be happy to come to Alabama and discuss Christian values with Moore. The comedian went further by joking he would come with a group of "high school cheerleaders" if Moore could "somehow manage to keep little Roy in your little cowboy pants when those nubile, young cheerleaders come bounding in."
Kimmel said he, too, was a devout Christian and challenged Moore's perception of religion. "I will share with you what I learned at my church. What I learned at my church, forcing yourself on underage girls is a no-no. Some even consider it to be a sin."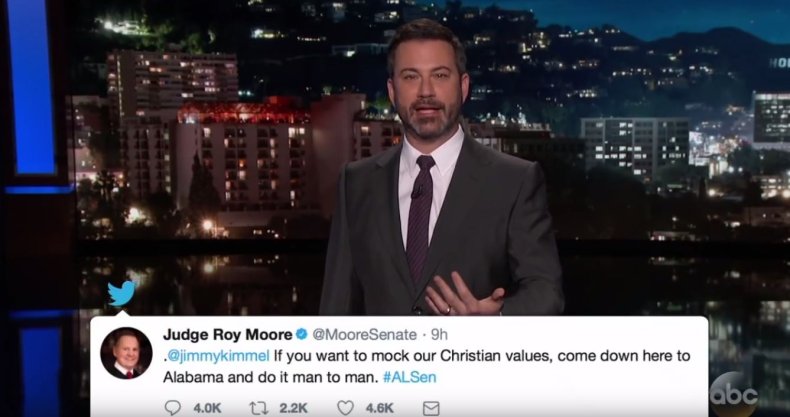 The comedian said he'd "gladly" sit down to exchange views on religion with Moore, but wondered "maybe when you say come down to Alabama and we'll do it man-to-man, maybe that means you're challenging me to a fight." That's cool, too. "If you are, I accept, by the way," said Kimmel. "There is no one I would love to fight more than you."
Kimmel continued: "If you are challenging me to a fight...let's find a place to do it, I'll wear a girl scout uniform so you can have something to get excited about, and whoever wins the fight, we'll give all the money we charge for tickets to charity. My charity will be all the women who came forward to say you molested them."
"Roy Moore is too scared to even debate the guy he's running against, Doug Jones. With me, he wants to go man-to-man. Maybe if he went man-to-man instead of man-to-little girl he wouldn't be in this situation. Allegedly."
Damn. That's a knockout blow—and the fight hasn't even happened yet.