Jimmy Kimmel's Kellyanne Conway Parody Tells John McCain to 'Suck It': Trump 'Went to Vietnam, Too' and 'Didn't Get Captured'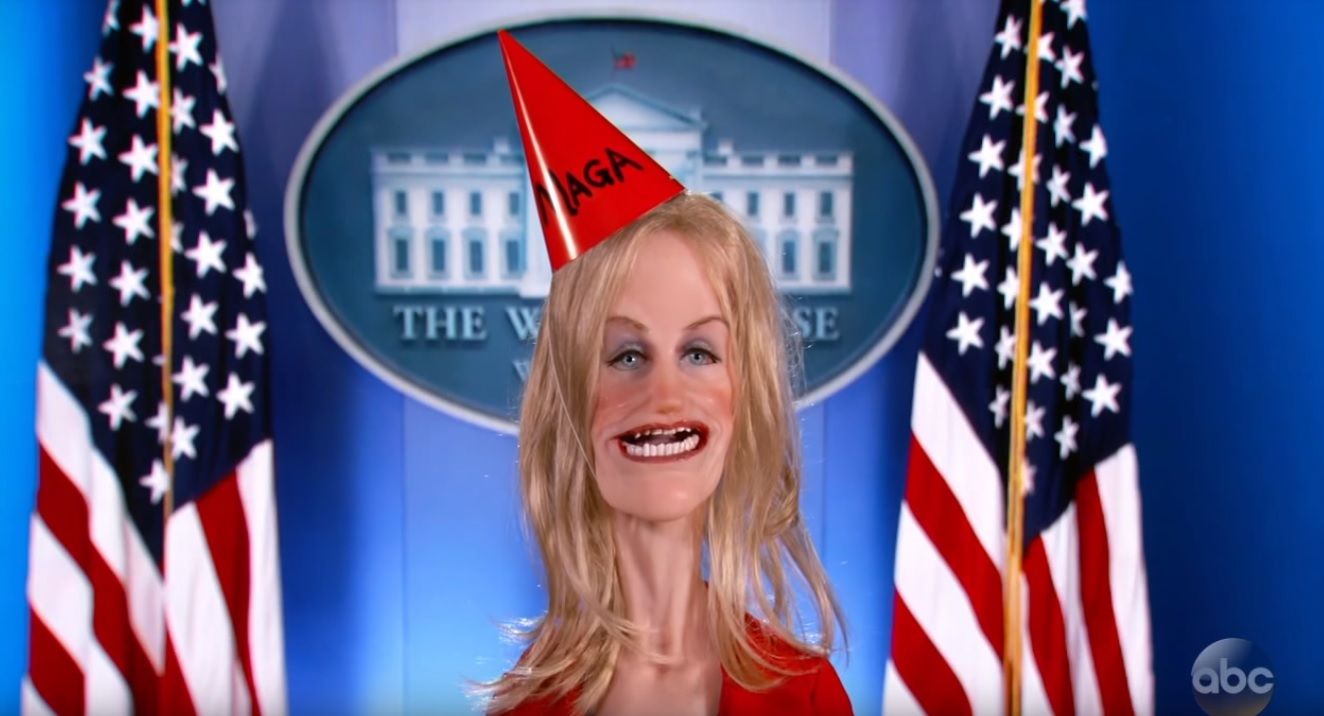 President Donald Trump and Russian president Vladimir Putin will be reunited Friday at the Asia-Pacific Economic Cooperation forum in Vietnam. But what will they talk about?
Jimmy Kimmel went straight to the White House and asked 'Kellyanne Conway' on his late-night talk show on ABC.
On Jimmy Kimmel Live Thursday, Kimmel welcomed back his puppet parody of Kellyanne Conway—apparently direct from the White House, where a party was being held to mark the one year anniversary of Trump's presidency.
Before Kimmel could quiz her about the Putin meeting, 'Conway' took the opportunity to defend Trump against criticism that he never fought in the Vietnam War. He deferred on medical grounds because of bone spurs in his heel.
'Conway' said that Trump deserves an apology from "all the liberal losers who said that he tried to get out of going to Vietnam. He's going. He's there, OK? Happy now?"
Taking a swipe at Trump critic and Vietnam veteran and former POW John McCain, 'Conway' added: "Suck it, John McCain. Our president went to Vietnam, too. And guess what? He didn't get captured."
Finally, Kimmel asked about Putin. The comedian had quipped earlier that, since entering the White House in January, Trump has has had three encounters with the Russian leader, and that's "more quality time with Vladimir Putin than with Barron this year."
White House press secretary Sarah Huckabee Sanders told CNN that there is no formal meeting on the books between Trump and Putin, but an informal conversation was likely.
The comedian asked 'Conway' what the presidents will discuss Friday. "Let's just say everything is on the table," the pupped responded.
Asked to elaborate, she delivered the sort of antagonistic non-answer the real Conway is famous for: "Have you ever seen a table? Have you ever put something on a table? Now just picture everything on a table."