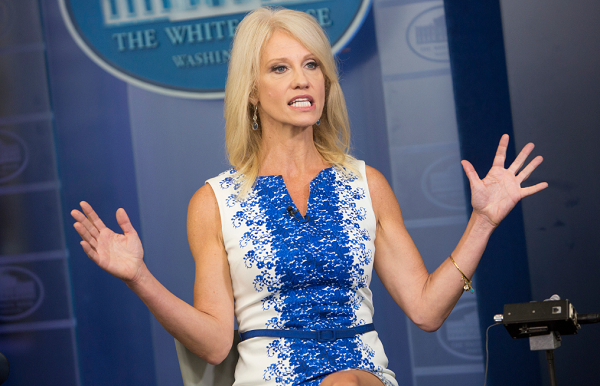 Kellyanne Conway has hit out at CNN for being anti-Trump, also accusing one of the network's hosts of being "jealous of Fox News."
Donald Trump's counselor appeared on CNN on Sunday morning for an interview with Brian Stelter in which the pair clashed after Conway was asked about the president's "credibility crisis."
"The credibility crisis exists in the other party now," Conway said, referring to Donna Brazile's recent musings on the problems within the Democratic Party and the downfalls of Hillary Clinton as a presidential candidate.
Bringing the conversation back to the president, Stelter suggested the majority of Americans did not have confidence in Trump, sparking a clash between the pair.
"That's wrong, you know what's a problem for this nation? That you refuse… CNN used to be a place where people can tune in and get the news all day long, now they get spin and people's opinions," Conway told Stelter.
"And I think CNN should own it, Brian. Why not just say look its in our commercial interests at CNN to be anti-Trump, we are profitable if we're against the president, most of our viewers are against the president – just own it. Don't you think that would be more credible for CNN than pretending you're straight down the line?" she continued.
Stelter responded: "I understand that you don't want an adversarial media. I guess you just want everybody to be like Fox News – state run media."
"That's not true. Stop being so jealous of Fox News, Brian, and their ratings. I think that would help, if you dropped the jealousy a little bit about Fox News," she retorted.
Her comments come on the back of several approval polls showing Trump's popularity is suffering; although the senior White House adviser suggested the wrong questions were being asked and claimed the American people did have confidence in the president – in particular over the economy.