Jimmy Kimmel Cracks Joke About Will Smith Slap in Oscars Monologue
Academy Awards host Jimmy Kimmel on Sunday wasted little time in addressing one of the most talked-about Oscars moments in recent years: Will Smith smacking Chris Rock during last year's ceremony.
After talking about the importance of feeling safe, Kimmel joked, "We have strict policies in place. If anyone in this theater commits an act of violence at any point during the show, you will be awarded the Oscar for best actor and permitted to give a 19-minute long speech."
He added "that if anything unpredictable or violent happens during the ceremony, just do what you did last year: Nothing. Just site there and do absolutely nothing. Maybe even get the assailant a hug."
Last year, Smith struck Rock onstage for making a joke about his wife, Jada Pinkett Smith. Rock said Pinkett Smith, who suffers from alopecia should star in G.I. Jane 2 because of her shaved head. The comedian later said he had been unaware of her medical condition.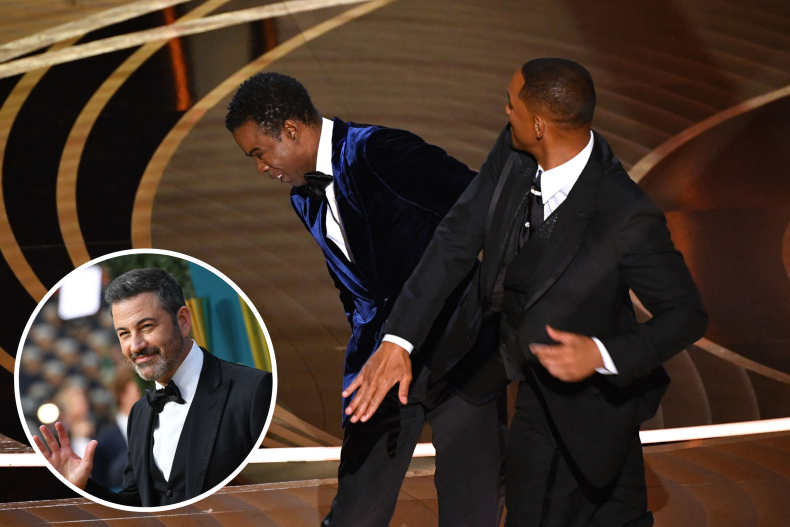 Soon after the incident took place last year, Smith took home the best actor award for his performance in King Richard.
Smith later publicly apologized to the Academy of Motion Picture Arts and Sciences as well as to Rock in written statements before announcing his resignation from the academy.
Despite his resignation, the academy banned the star from all Oscars events for 10 years as punishment. He was not be stripped of his best actor Oscar, but should he be nominated for another Oscar during the time period of the ban, he will not be allowed to attend the ceremony.
Rock addressed the slapping incident during his March 4 stand-up special Selective Outrage on Netflix.
The comedian joked about how he "still hurts" after the being struck by Smith and said the incident was less about him and more about issues in Smith's marriage. Rock also brought up Smith's appearance on Pinkett Smith's Facebook show, Red Table Talk, during which the couple discussed her romantic "entanglement" with singer August Alsina.
Last July, Smith said his wife had "nothing to do" with him slapping Rock in a video uploaded to his YouTube account.
"I'm not going to try to unpack all of that right now, but I can say to all of you there is no part of me that thinks that was the right way to behave in that moment," Smith said in the video. "There's no part of me that thinks that's the optimal way to handle a feeling of disrespect or insults."
He later added in the clip, "I made a choice on my own from my own experiences, from my history with Chris. Jada had nothing to do with it."
Sunday marked the third time Kimmel has hosted the ceremony after previously served in the role in 2017 and 2019. Elsewhere in his monologue, he made a reference to Tom Cruise being a Scientologist and Seth Rogen's fondness for drugs.