Jimmy Kimmel to Donald Trump Jr.: 'You Are a Dull-witted Canker Sore'
Jimmy Kimmel took aim at Donald Trump Jr. on Thursday night, branding him a "dull-witted human canker sore," after the president's son tweeted "a number of idiotic comments" during Christine Blasey Ford's testimony.
During her testimony to the Senate Judiciary Committee, Ford detailed the sexual assault she alleged she suffered at the hands of Brett Kavanaugh in the summer of 1982, as well as the lasting trauma she has had to endure in the decades since.
After Ford, a psychology professor at Palo Alto University, touched on her aversion to planes, Trump Jr. took to Twitter to question her, writing: "I'm no psychology professor, but it does seem weird to me that someone could have a selective fear of flying. Can't do it to testify, but for vacation, well it's not a problem at all."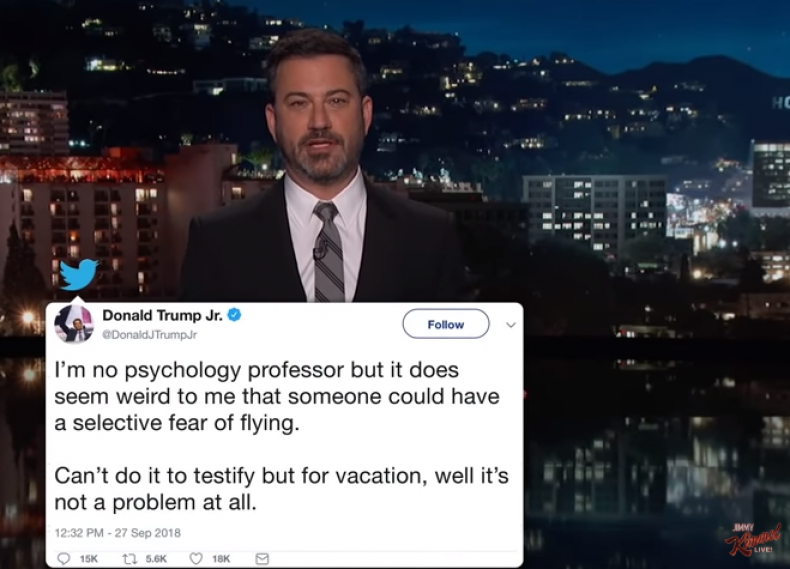 "I agree, you're not a psychology professor," Kimmel said on Jimmy Kimmel Live. "You are a dull-witted human canker sore who shoots baby hippos out of daddy's helicopter because it's the only way you can get an erection," the comedian said, referring to Trump Jr.'s contentious hunting hobby.
"Do us a favor, put the Twitter aside. Go rub a tub of Axe extreme-hold hair gel on your empty head, you chinless son of a circus peanut," Kimmel continued, adding, "Could there be a dumber thing to be than Donald Trump Jr.?"
Earlier on in his monologue, Kimmel hit out at Kavanaugh over his testimony during the hearing, saying he testified like a "frat out of hell."
Related: When will Brett Kavanaugh vote happen and will he be confirmed to the Supreme Court?
The late show host also hit out at Republican senators who were "too scared" to question Ford themselves and instead "hired a surrogate," or brought in sex crimes prosecutor Rachel Mitchell, to do the heavy lifting.
"She was supposed to question Brett Kavanaugh too, and she did ask a couple of questions, but all of a sudden she disappeared like Roseanne on The Conners," Kimmel quipped.
Of Ford, Kimmel said the Palo Alto professor was an "exceptionally believable witness by all counts. Even the gang at Fox News agreed that she was very believable. She was everything the Democrats hoped she would be. She was polite, likeable, well-spoken.
"Maybe more than anything, it was striking to see someone questioned before the Senate who actually answered questions," Kimmel added. "I think that's a first."