When Will Brett Kavanaugh Vote Happen and Will He Be Confirmed to the Supreme Court?
After Brett Kavanaugh and the woman accusing him of sexual assault, Christine Blasey Ford, provided forceful testimonies before the Senate Judiciary Committee Thursday, Republicans immediately confirmed they would push ahead with a committee vote on the Supreme Court nominee Friday.
"I think it's time to vote," Senator John Cornyn, told reporters after emerging from a hearing that lasted almost 10 hours.
The Senate Judiciary Committee is scheduled to vote on whether to approve the nomination at 9:30 a.m. If Kavanaugh gets the votes required from the 21-member committee, comprising 11 Republicans and 10 Democrats, a procedural vote is expected to happen on the floor on Saturday. According to Cornyn, a cloture vote, to end debate, could be held Monday with the possibility of Kavanaugh being confirmed on Tuesday.
But it remained unclear Thursday night whether Kavanaugh had the 50 votes needed to be confirmed by the Senate. After a day in which Ford said she was "100 percent" certain that Kavanaugh had sexually assaulted her in 1982, leaving her fearing she was about to be raped, and the nominee raged that the whole process was a "national disgrace" orchestrated out of revenge by Democrats, key senators suggested their votes remained undecided.
"I'm going to go home, have dinner and have a chance to think about all that's gone on today," Republican Senator Lisa Murkowski told reporters.
Susan Collins, another female Republican senator who supports abortion rights, has also yet to come down one way or the other.
Retiring Senator Jeff Flake, a member of the Judiciary Committee, similarly refused to commit to voting one way or the other following the hearing.
"They both did well and he offered a defense like you would expect from someone who felt that they were wrongly accused and she offered compelling testimony as well," he told the media. "But I have to go with what is the standard here. Where is the burden. It's tough."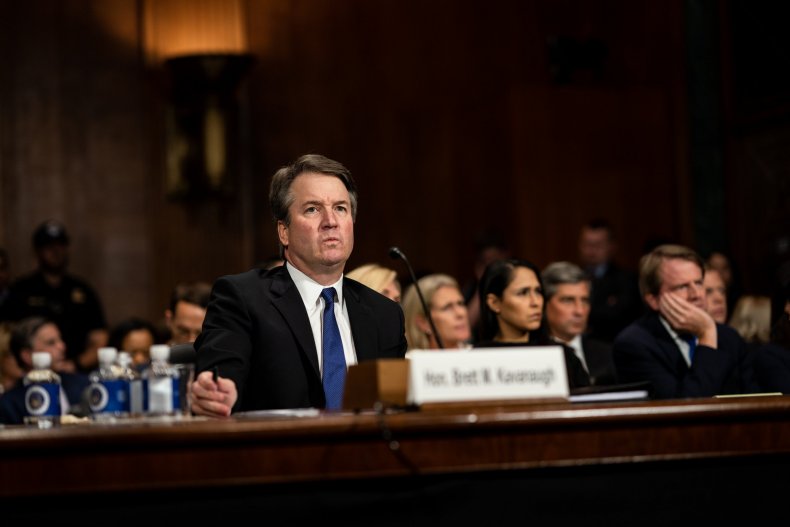 One undeclared voter did come down on one side, however, with Republican Bob Corker releasing a statement announcing that he planned to vote for the president's nominee.
In all likelihood, Kavanaugh can only afford to lose one of those three still on-the-fence Republican votes. But, as of Thursday night, it remained possible that Kavanaugh could even pick up at least one Democratic vote. Senator Joe Manchin, running for re-election in a state Trump carried by a landslide in 2016, emerged from a meeting with Collins, Flake and Murkowski saying that all remained undecided.
"There have been no decisions," he told CNN. "We meet all the time...I think you all know we trust each other... We are still talking. There are no decisions on anything."
One person who had emphatically made up his mind after Thursday's hearing was Trump. The president not only declared his support for his nominee but called for a swift vote.
"Judge Kavanaugh showed America exactly why I nominated him," Trump tweeted. "His testimony was powerful, honest, and riveting. Democrats' search and destroy strategy is disgraceful and this process has been a total sham and effort to delay, obstruct, and resist. The Senate must vote!"