Jimmy Kimmel Mocks Trump's Daily Schedule: 'Eat, Tweet, Sleep, Tweet, Repeat'
Millions of Americans are not taking all of their allotted vacation days, but President Donald Trump "has been very hard at work not working," joked Jimmy Kimmel Thursday night.
The comedian pointed to statistics from the U.S. Travel Association that nearly 800 million vacation days were left untaken in 2018, leading into a humorous monologue about Trump.
"The only American who's really using his vacation days is Donald Trump," Kimmel said on Thursday's Jimmy Kimmel Live.
Kimmel said that "the first item on Trump's schedule today was at 11:45 [a.m.] ... people who work at marijuana dispensaries get to work earlier than that."
"By the way, there's no commute ... he works in the house," the ABC late-night host added.
Kimmel then pondered what Trump's daily schedule looks like, jesting: "His daily schedule is basically wake up, TV, TV, tweet, tweet, yell at reporters in front of a helicopter, eat, tweet, TV, tweet, eat, tweet, sleep, tweet, repeat."
"He had one public event on his schedule this week," Kimmel said, referring to Trump honoring NBA basketball player Jerry West with the Presidential Medal of Freedom Thursday. "That was it this week."
"It's a little bit weird when Guillermo is actually working harder than the president of the United States," Kimmel then quipped about his TV sidekick.
Jimmy Kimmel mocks Trump's feud with Debra Messing
Kimmel also dedicated part of his monologue Thursday night to Trump's tweets about Will & Grace star Debra Messing, who Trump has dubbed Debra "The Mess" Messing.
Messing and co-star Eric McCormack were accused of McCarthyism for asking attendees at a Beverly Hills Trump re-election campaign fundraiser to be named and shamed.
Trump tweeted Thursday morning: "Bad 'actress' Debra The Mess Messing is in hot water. She wants to create a 'Blacklist' of Trump supporters, & is being accused of McCarthyism. Is also being accused of being a Racist because of the terrible things she said about blacks and mental illness. If Roseanne Barr....
"....said what she did, even being on a much higher rated show, she would have been thrown off television. Will Fake News NBC allow a McCarthy style Racist to continue? ABC fired Roseanne. Watch the double standard!"
On Jimmy Kimmel Live, Kimmel dissected Trump's tweets saying that Roseanne Barr "was thrown off television," referencing ABC canceling Barr's sitcom Roseanne last year after her disparaging tweets about former Obama White House adviser Valerie Jarrett. "Not would have, was."
"He does have a point," Kimmel said. "This is America. I mean, the only racist who should be allowed to have a TV show is him really... he's the president."
Kimmel then joked: "Remember when Donald Trump vowed to take out ISIS? I guess that didn't happen so instead he's going after Will & Grace."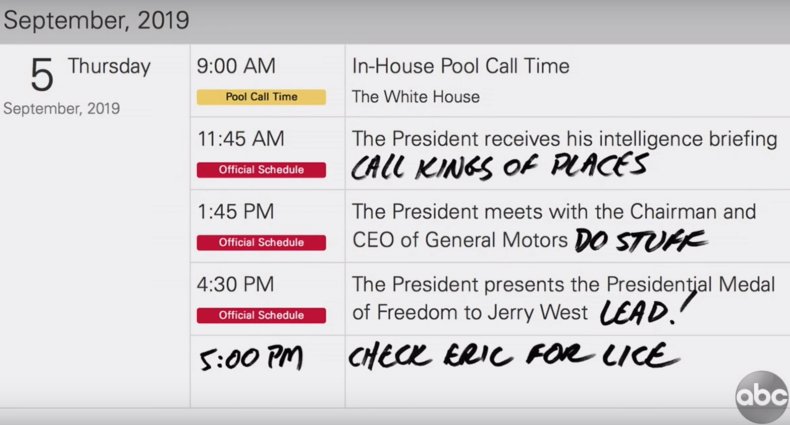 In one final zinger, Kimmel said the White House was fighting back against reports the president wasn't working hard, presenting a spoof version of his schedule "which now includes 'call kings of places,' 'do stuff,' 'lead,' and 'check Eric for lice.'"