Jimmy Kimmel Responds After Marjorie Taylor Greene Accuses Him of 'Threat'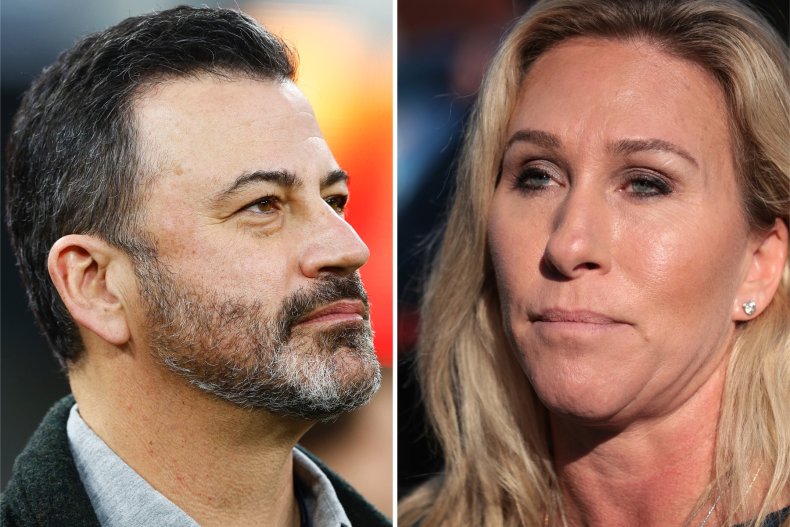 Late night talk show host Jimmy Kimmel has laughed off Georgia Republican Representative Marjorie Taylor Greene's claim that one of his jokes was a "threat of violence" directed at her.
Greene said she contacted Capitol Police to file a report while sharing a clip from Jimmy Kimmel Live to Twitter on Wednesday. The clip shows Kimmel recalling that Greene called three GOP senators supporting Judge Ketanji Brown Jackson's Supreme Court nomination "pro-pedophile." He then refers to Will Smith's Oscars slap of Chris Rock by asking, "Where is Will Smith when you really need him?"
"@ABC, this threat of violence against me by @jimmykimmel has been filed with the @CapitolPolice," Greene tweeted alongside the clip, taken from Kimmel's Tuesday night monologue.
"Officer? I would like to report a joke," Kimmel responded.
After being contacted by Newsweek for comment, Capitol Police said in a statement, "We cannot confirm or discuss any potential investigations."
Greene's office said in a statement to Newsweek: "Our office takes all threats of violence towards the Congresswoman very seriously. Last night, Jimmy Kimmel called for violence to be committed against Congresswoman Greene. It will not be tolerated."
A now-infamous slap from this year's Academy Awards ceremony saw Smith charge the stage before striking Rock in the face following a joke about his wife Jada Pinkett Smith. The actor then returned to his seat before yelling that Rock should "Keep my wife's name out your f****** mouth."
Smith was awarded a Best Actor Oscar for his starring role in King Richard only minutes later. He has since issued multiple apologies for the slap, describing his behavior as "shocking, painful and inexcusable," while also resigning from the Academy.
Greene previously praised Smith on Twitter as an "Alpha male" for choosing to slap Rock, describing the incident as "much better than a Twitter fight with people saying tough things on their keyboard behind their screen."
"I never watch the Oscars but I've seen the Will Smith/Chris Rock clip a million times this morning," Greene tweeted. "I have to say I appreciate the Alpha male response of a husband defending his wife.
"It was settled and then no more drama," she added. "Chris Rock handled it like a man with no whining."
Kimmel's joke suggesting that Smith could turn his anger on Greene instead of Rock came after the congresswoman accused multiple lawmakers of condoning pedophilia by supporting Jackson, who would be the first Black woman to serve on the Supreme Court if confirmed.
During Jackson's Senate confirmation hearings, several Republicans claimed that the judge had a pattern of being too lenient in sentencing child porn cases. However, fact checks by outlets including the Associated Press and The Washington Post have deemed the claim to be misleading.
On Monday, Greene called Republican Senators Susan Collins of Maine, Lisa Murkowski of Alaska and Mitt Romney of Utah "pro-pedophile" for voting to move Jackson's nomination forward.
"Frankly, this is what we've come to expect from her," Collins responded in comments to Insider as she left the Senate chamber on Tuesday, reportedly while laughing. "So it doesn't trouble me. It's obviously ludicrous and typical."
Greene later repeated her claim about the GOP senators during an interview on Real America's Voice's Dr. Gina Prime Time, saying that she did not "care about Murkowski and Collins and Romney getting offended" but hoped that "the people" would "call them out for being pro-pedophile and voting for Ketanji Brown Jackson."
Greene also claimed that "the Democrats are the party of pedophiles" during the same interview, echoing a comment from Donald Trump Jr., who tweeted "when did Democrats become so pro-pedophile?" while Republicans repeatedly asked Jackson about her sentencing record during the confirmation hearings.
Update 4/7/22, 4:14 p.m. ET: This article has been updated to reflect that Capitol Police declined comment.