Jimmy Kimmel Slammed the Media and Newt Gingrich Over Health Care Criticism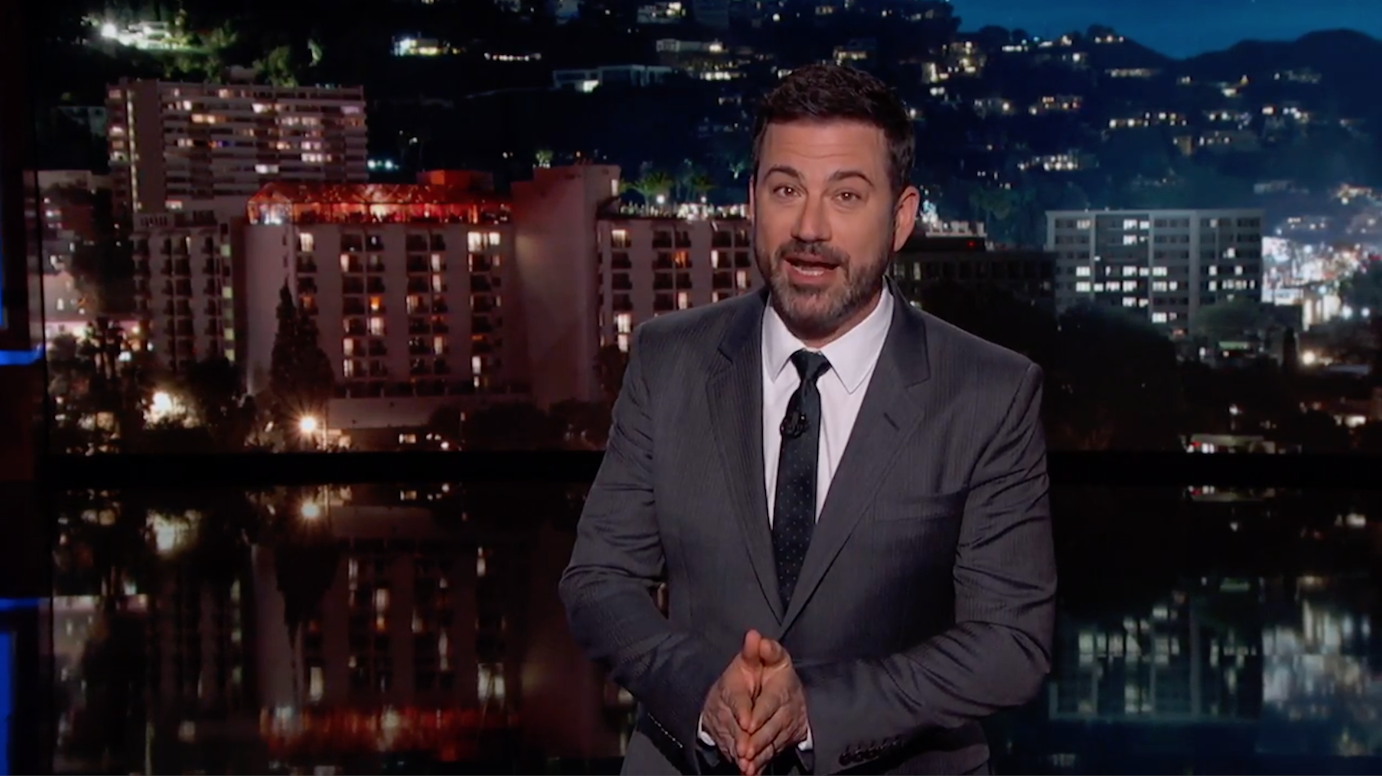 When Jimmy Kimmel opened last Monday's episode of Jimmy Kimmel Live! with a heartfelt story about his newborn son and the heart condition that would make him reliant on health care, criticism was inevitable. On Monday, he responded to his critics and once again touted the importance of families having access to healthcare.
What provoked outrage from some quarters was Kimmel's May 1 monologue, when he talked about the recent birth of his first son, who has a heart condition that will require a series of expensive tests and procedures. He closed the piece with a tearful plea for the government to provide families access to healthcare. "If your baby is going to die and it doesn't have to, it shouldn't matter how much money you make," he said. "I think that's something that, whether you're a Republican, or a Democrat, we all agree on that, right?"
Related: Jimmy Kimmel reveals newborn son had open-heart surgery
One week on, Kimmel raised the subject again. He first let viewers know that his son is doing well, and expressed gratitude for all the donations made to the Children's Hospital of Los Angeles since his show aired, as well as the warm wishes people sent him and his family online.
"There was so much kindness and so much compassion that it was hard to even process," Kimmel said. "But there were also some not-so-nice things that people said online about me, including members of the media."
The New York Post, for instance, ran a headline that read, "Jimmy Kimmel's obscene lies about kids and medical care." The Washington Times went with, "Shut up, Jimmy Kimmel, you elitist creep." Kimmel also singled out Newt Gingrich's criticism on Fox News, in which he targeted "angry" comedians. "Gee, I wonder why we're so angry," Kimmel responded. "Maybe it has something to do with, I don't know, you? Newt Gingrich does know a lot about comedy. This is a guy who helped lead the impeachment effort against Bill Clinton for trying to cover up an affair, while he was having an affair. That's hilarious."
"I would like to apologize for saying children in America should have health care," Kimmel added. "It was insensitive. It was offensive, and I hope you can find it in your heart to forgive me."
Kimmel then interviewed Republican Senator Bill Cassidy via satellite. Cassidy, who represents Louisiana, is doctor who co-founded the Greater Baton Rouge Community Clinic, which provides free dental care and healthcare to the working uninsured. He recently said on CNN that a healthcare bill should pass the "Jimmy Kimmel test," meaning that a child born with congenital heart disease like Kimmel's should be able to get everything they need.
Kimmel pressed Cassidy about what a health care bill should look like, and the senator assured Kimmel that the bill that passed through Congress on Thursday would not be satisfactory. "The House plan was scored by the Congressional Budget Office as actually raising premiums," he said, "Which is why on the Senate side we need to make it work, because we have to lower those premiums so that if another child is born, that child can get the care she needs, not only in the first year, but in every year thereafter."
Cassidy also spoke highly of President Donald Trump's vision for health care, and stopped short of guaranteeing the type of coverage the Affordable Care Act currently offers Americans, expressing concern about how the country could afford the type of coverage Kimmel supports.
Kimmel concluded his interview with Cassidy by suggesting that the real Jimmy Kimmel test should be that no family should be denied medical care because they can't afford it. Cassidy responded by saying that Kimmel was "on the right track" but that the challenge, again, is being able to pay for it. Kimmel didn't see this to be an issue.
"I can think of a way to pay for it," he said. "Don't give a huge tax cut to millionaires like me, and instead leave it how it is. That's one way."