Watch: Jimmy Kimmel Reveals Newborn Son Had Open Heart Surgery, Defends Obamacare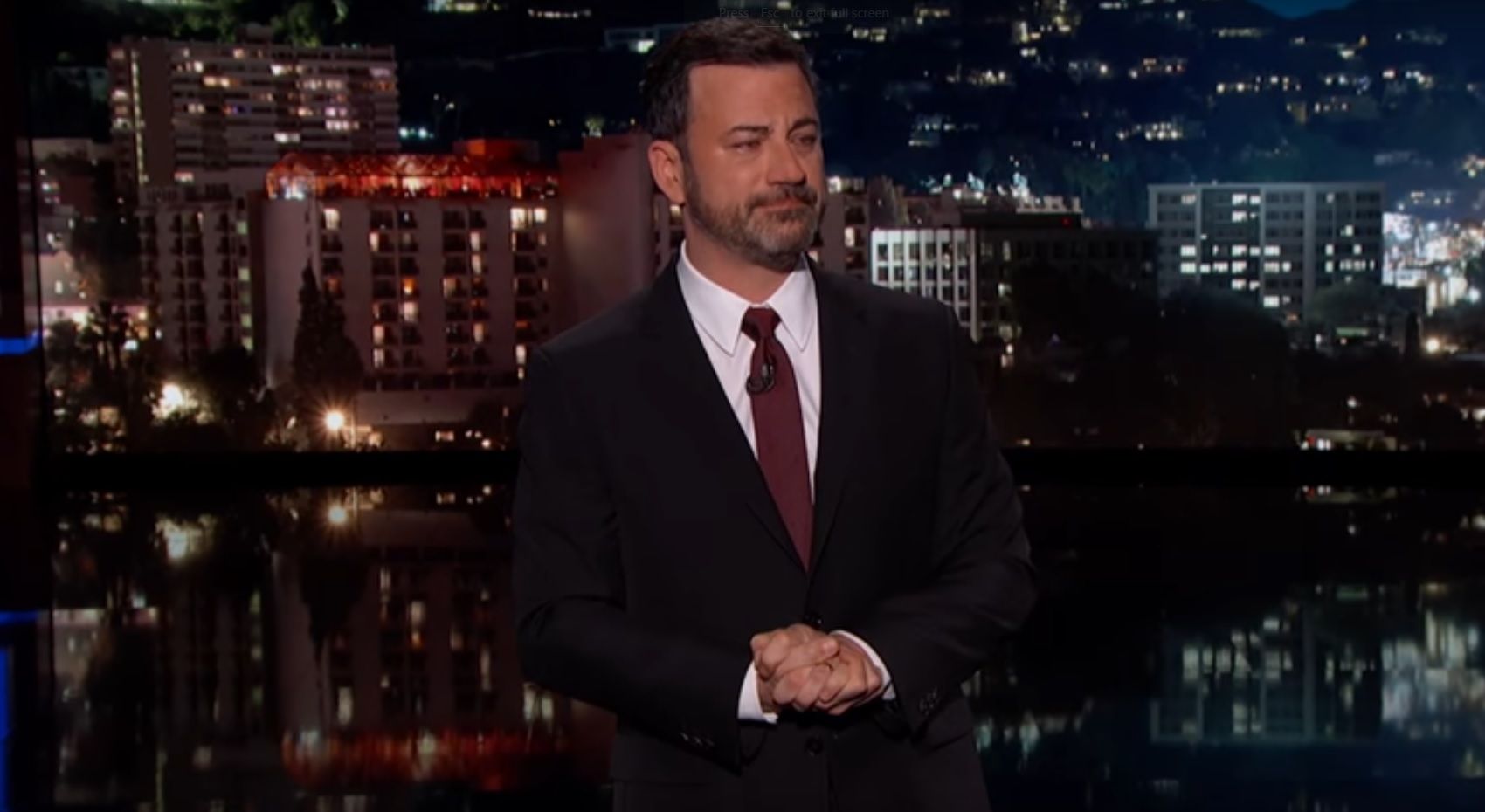 Jimmy Kimmel opened Monday night's episode of Jimmy Kimmel Live with a frank monologue revealing his newborn son recently underwent open heart surgery.
The talk show host told the audience his wife Molly gave birth to their second child, William "Billy" Kimmel, on April 21. But, although the labor was uncomplicated, a nurse noticed that little Billy had what she suspected to be a heart murmur and also looked purple when she visited the family for a routine checkup a few hours later.
An emotional Kimmel explained that tests showed "Billy was born with a heart disease...the pulmonary valve was completely blocked and he has a hole in the wall between the left and right sides of his heart."
Watch below:
Kimmel said that Billy underwent successful surgery just three days later at Children's Hospital Los Angeles, where a cardiac surgeon he describes as a "genius" performed "some kind of magic."
"The operation was a success. It was the longest three hours of my life," the comic added.
Kimmel said Billy will need to have another surgery in "three to six months to close [the] holes" in his heart. He will also have to have the faulty valve replaced when he is a teenager.
The 49-year-old then got emotional as he showed a picture of Billy hooked up to several machines in hospital during his procedure.
Kimmel said the newborn is now home and recovering well.
"Six days after open heart surgery we got to bring him home," he said. "He's eating, he's sleeping, he peed on his mother today while she was changing his diaper."
After thanking the staff who took care of Billy at the hospital, Kimmel made a passionate plea for donations to the facility and had strong words for U.S. President Donald Trump's proposal to cut funding to the National Institute of Health. On Sunday, however, Congress voted to give the NIH an additional $2 billion in funding.
"We were brought up to believe that we live in the greatest country in the world. But until a few years ago, millions and millions of us had no access to health insurance at all," he said.
Kimmel said that the Affordable Care Act, instituted by former president Barack Obama, has allowed children like Billy, who were born with what is deemed a pre-existing condition, to receive treatment, when they may have been denied insurance prior to 2014.
"If your baby is going to die and it doesn't have to, it shouldn't matter how much money you make," said the star while fighting back tears. "I think that's something that, whether you're a Republican, or a Democrat, we all agree on that, right?"
Kimmel's moving opening segment received positive reaction and drew well wishes on Twitter. After the program aired, he tweeted:
Meanwhile, Deadline reports that the star will bow out of hosting ABC's upfront presentation of new programming to press and television advertisers on May 16.
"In light of Jimmy's announcement on tonight's show, he will no longer be attending our upfront this year so that he can remain close to his family," an ABC spokesperson told the website.
Kimmel presided over ABC's upfronts for 14 consecutive years.