J.K. Rowling Slams Concerns She 'Ruined' Her 'Legacy' After Trans Backlash
J.K. Rowling says she's unfazed about the effects the past few years have had on her legacy, given her tendency to be outspoken.
The Harry Potter author sat down for a rare, candid interview with Megan Phelps-Roper for the new podcast series The Witch Trials of J.K. Rowling. Episodes 1 and 2 are available to listen to now, with Rowling reflecting on her life and career. Later in the series, Rowling will discuss the accusations of transphobia that have been leveled at her in recent years.
Podcast host Phelps-Roper is best known as a political activist who was raised in the Westboro Baptist Church in Topeka, Kansas, but left in 2012 and has since become an outspoken critic of the Christian church. She sent a letter to Rowling, who invited her to her Scotland home, where they sat down for an interview.
"I never set out to upset anyone. However, I was not uncomfortable with getting off my pedestal," Rowling begins as she's introduced in the first few minutes of The Witch Trials of J.K. Rowling. Episode 1 is titled "Chapter 1: Plotted in Darkness."
The episode's opening touches on the impact Rowling's perceived views about the trans community have had on Harry Potter fans. Listeners hear briefly from people who say Rowling is putting trans people's lives at risk.
She tells Phelps-Roper that while she didn't intend to cause upset, she was never going to be afraid to speak out.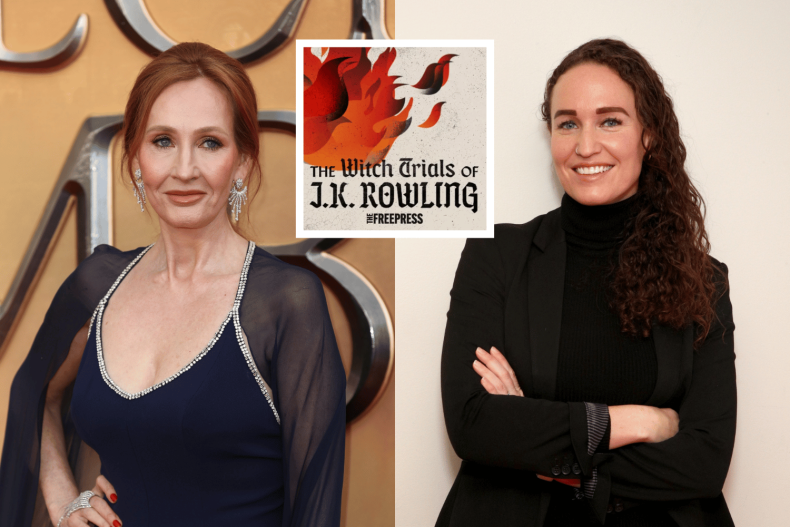 "What has interested me over the last 10 years, certainly in the last two, three years, particularly on social media: 'Well, you've ruined your legacy.' 'Oh, you could have been beloved forever, but you chose to say this,'" Rowling said, offering examples of things she's said online.
"And I think you could not have misunderstood me more profoundly. I do not walk around my house thinking about my legacy. What a pompous way to live your life, walking around: 'Well, what will my legacy be?' Whatever, I'll be dead. I care about now. I care about the living," Rowling said.
Phelps-Roper said she spoke to people on all sides of the debate after talking with Rowling, with everyone saying they felt under attack.
The first episode has Phelps-Roper doing a deep dive into Rowling's career as she describes her life in the years leading up to the writing and publishing of Harry Potter and the Sorcerer's Stone.
Rowling opens up about losing her mother, which influenced her to make Harry Potter an orphan; suffering a miscarriage; being a victim of domestic abuse during her first marriage; and giving birth to her first daughter.
She also describes how, at one stage, her "controlling" husband took the Harry Potter manuscript hostage. She eventually made copies of it in secret so that when she left him he couldn't "burn it or take it or hold it hostage."
She goes on to describe the scenario in which she escaped her partner with her daughter and moved from London to Edinburgh, where she finished writing the first Harry Potter book.
The second episode of the podcast, "Chapter 2: Burn the Witch," looks back on the backlash the Harry Potter books received from Christians across America, which led to book burnings.
"Book burners, by definition, to me have placed themselves across the line of rational debate," Rowling said. "There is no book on this planet that I would burn. No book. Including books that I do think are damaging. Burning to me is the last resort of people who cannot argue."
Phelps-Roper said that in the early parts of Harry Potter and the Sorcerer's Stone, Harry is told by his mean aunt and uncle not to ask questions. Rowling said this was prescient when considering book burners.
"They are completely certain that they are doing the right thing and that justifies cruelty, unmerited punishment, telling him...he's bad, he's wrong and hiding information. And the 'don't ask questions' and the burning of the letters that you're having right at the start. 'You are not allowed to look beyond what we say is normal. What we say is the world,'" Rowling said.
Episode 2 ends with a promise that future episodes will touch on Rowling's recent trans debate controversy in more detail.
An unintroduced female voice is heard on the podcast saying, "J.K. Rowling is literally putting trans lives at further risk. She just is. It's disgusting. And it's problematic. I mean, let's face it, Hermione would punch this woman in the face right now."
Newsweek reached out to Rowling's representatives for comment.
Phelps-Roper previously publicized her interview with Rowling on Twitter. Rowling did the same, explaining why she decided to be interviewed.
"I agreed to sit down with Megan because, having read her wonderful book, Unfollow, I thought the two of us could have a real, interesting, two-sided conversation that might prove constructive," Rowling wrote.