J.K. Rowling Deletes Stephen King Praise After He Supports Trans Women
J.K. Rowling has deleted a tweet in which she praised her fellow author Stephen King after the 'King of Horror' said he supports trans women.
The Harry Potter author has been in the news recently for her stance on transgender issues, with many actors from the franchise publicly distancing themselves from her.
Now it appears that Rowling is distancing herself from King, whom she previously expressed she loved and admired.
This debacle started when British Labour Party M.P. Lloyd Russell-Moyle accused Rowling of using her experience with domestic violence to discriminate against the transgender community.
Russell-Moyle since apologized and Rowling shared a quote from feminist activist, Andrea Dworkin, in response which reads: "Men often react to women's words—speaking and writing—as if they were acts of violence; sometimes men react to women's words with violence. It isn't hateful for women speak about their own experiences, nor do they deserve shaming for doing so."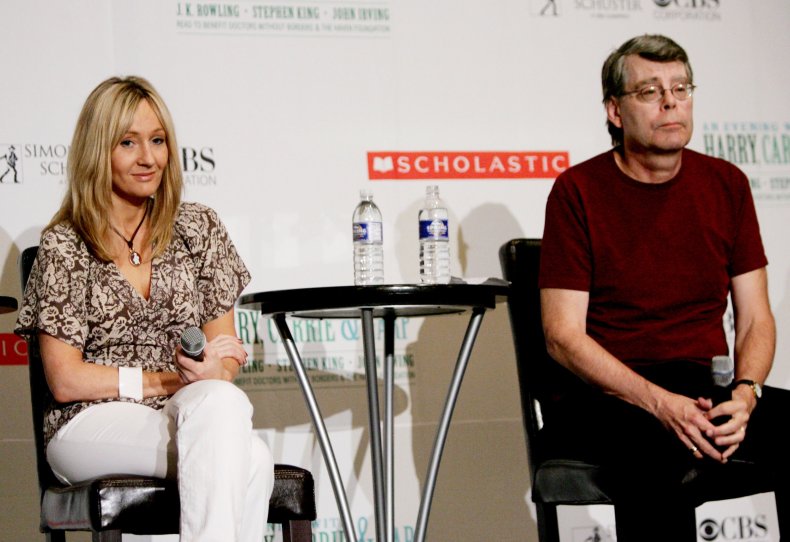 King retweeted the quote, which in turn saw Rowling heap praise on to King.
The now-deleted tweet read: "I've always revered @StephenKing, but today my love reached—maybe not Annie Wilkes levels—but new heights."
The 54-year-old added: "It's so much easier for men to ignore women's concerns, or to belittle them, but I won't ever forget the men who stood up when they didn't need to. Thank you, Stephen."
This reverence was short-lived however when, after being pressed by a fan on where he stood on transgender issues, King replied: "Trans women are women."
Twitter users noticed that Rowling's tweet disappeared shortly after King expressed his views on trans women.
Jodie Picoult, author of My Sister's Keeper, also expressed her support for the transgender community on Twitter when asked if she supported Rowling.
She wrote: "Sorry Bev, although I understand that women who experience trauma are indeed to be empathized with, I also believe that trans women are women—and if put into 'male only' spaces run a much greater risk of violence and death."
Earlier this month Rowling, who also writes under the pseudonym Robert Galbraith came under fire for tweeting an article about "people who menstruate" in which she criticized the phrase, implying that she believes it "erases" women.
"I'm sure there used to be a word for those people. Someone help me out. Wumben? Wimpund? Woomud?" she wrote.
What ensued was a landslide of criticism from many high profile actors associated with the Harry Potter franchise.
Daniel Radcliffe, Emma Watson, Eddie Redmayne, and several others all voiced their support for the transgender community.