J.K. Rowling's Name Dropped From School After Requests by Students, Staff
A high school that named one of its houses after J.K. Rowling has rebranded it over the Harry Potter author's involvement in ongoing controversies around the transgender community.
The Boswells School in Chelmsford, Essex, in eastern England, has decided to drop Rowling's name from the institution over her views which they have said do not "align" with that of the school's.
The high school is divided into six houses "represented by British citizens who have excelled" with the others named after other notable figures; Sir David Attenborough, Charlotte Brontë, John Travers Cornwell VC, Stephen Hawking and Florence Nightingale.
The BBC reported on Wednesday that the school changed the name of the Rowling house due to her "comments and viewpoints surrounding trans people."
This change is reported to have taken place in July 2021 when a school newsletter was sent out stating that the decision was made following requests from students and teachers.
The house has since been re-named Holmes to honor the Olympic gold medalist Dame Kelly Holmes.
"Following numerous requests by students and staff we are reviewing the name of our red house 'Rowling' and in light of JK Rowling's comments and viewpoints surrounding trans people," the statement read.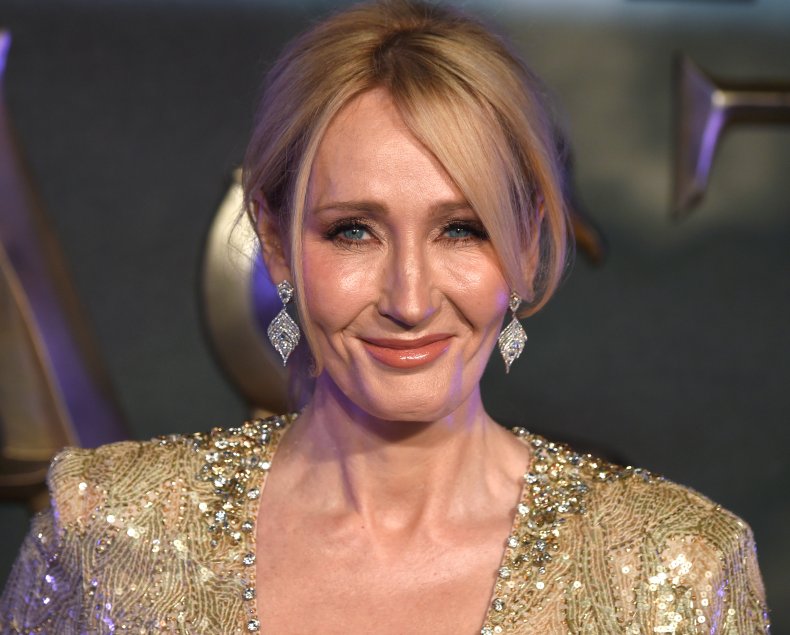 "Her views on this issue do not align with our school policy and school beliefs—a place where people are free to be.
"Staff have been invited to put forward suggestions of names for the house."
Rowling's representatives declined to comment on the situation following a request from Newsweek.
Rowling has been consistently criticized for remarks about trans people in recent years and has repeatedly been accused of transphobia.
In an essay published on her personal website in June 2020, Rowling shared some of her views about transgender people and the issues they face.
She wrote: "When you throw open the doors of bathrooms and changing rooms to any man who believes or feels he's a woman—and, as I've said, gender confirmation certificates may now be granted without any need for surgery or hormones—then you open the door to any and all men who wish to come inside. That is the simple truth."
Also in June 2020, Rowling reacted to an article that referred to "people who menstruate," tweeting: "I'm sure there used to be a word for those people. Someone help me out. Wumben? Wimpund? Woomud?"
She also defended her stance saying: "If sex isn't real, there's no same-sex attraction."
Earlier this week, late-night host Jon Stewart hit out at Rowling over what he perceived to be antisemitic caricatures in the Harry Potter franchise.