After Harry Potter author J.K. Rowling tweeted comments that appeared transphobic on June 6, fans and friends like Daniel Radcliffe spoke up and decried her statements. Now she has penned an extensive blog post on her website attempting to explain exactly what she meant by the inflammatory social media updates.
The June 10 blog post, titled, "J.K. Rowling Writes about Her Reasons for Speaking out on Sex and Gender Issues," she addressed the backlash she received, along with the accusations of being a "TERF" (trans-exclusionary radical feminist).
"This isn't an easy piece to write, for reasons that will shortly become clear, but I know it's time to explain myself on an issue surrounded by toxicity. I write this without any desire to add to that toxicity," she began her 3500-word open letter.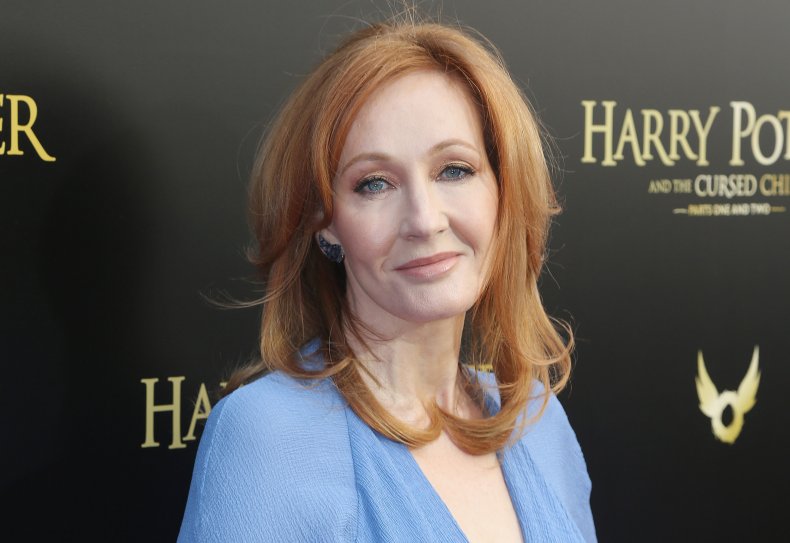 The author started the lengthy post referring to research she's done in the past about the Trans community and that her interest was professional. "I'm writing a crime series, set in the present day, and my fictional female detective is of an age to be interested in, and affected by, these issues herself," Rowling stated.
She added that in the past, she was accused of transphobia and defended these instances. Rowling said she then stepped back from Twitter for months until she was ready to share a free children's book online.
Rowling then listed the five main reasons she is worried about the new trans activism, and her decision to speak up.
She first mentioned the charitable trust she has that that focuses on alleviating social deprivation in Scotland. "Among other things, my trust supports projects for female prisoners and for survivors of domestic and sexual abuse," Rowling added. "I also fund medical research into MS, a disease that behaves very differently in men and women. It's been clear to me for a while that the new trans activism is having (or is likely to have, if all its demands are met) a significant impact on many of the causes I support, because it's pushing to erode the legal definition of sex and replace it with gender."
Rowling wrote that her second reason is because she's a former teacher and a the founder of a children's charity. She noted that these qualities contribute to her "interest in both education and safeguarding." "Like many others, I have deep concerns about the effect the trans rights movement is having on both,' she said.
Third, Rowling stated that since she is a much-banned author, she is interested in freedom of speech and isn't afraid to publicly defend it, even around President Donald Trump.
The author said that her fourth point was personal. "I'm concerned about the huge explosion in young women wishing to transition and also about the increasing numbers who seem to be detransitioning (returning to their original sex), because they regret taking steps that have, in some cases, altered their bodies irrevocably, and taken away their fertility," Rowling wrote. "Some say they decided to transition after realizing they were same-sex attracted, and that transitioning was partly driven by homophobia, either in society or in their families."
She added that the world we live in now is the most misogynistic society she's ever experienced. "Never have I seen women denigrated and dehumanized to the extent they are now," the Fantastic Beasts and Where To Find Them author lamented.
Finally, Rowling revealed that she was a survivor of sexual assault and domestic abuse, a bombshell that many readers may have not expected. "I've been in the public eye now for over twenty years and have never talked publicly about being a domestic abuse and sexual assault survivor. This isn't because I'm ashamed those things happened to me, but because they're traumatic to revisit and remember," she admitted. "I also feel protective of my daughter from my first marriage. I didn't want to claim sole ownership of a story that belongs to her, too. However, a short while ago, I asked her how she'd feel if I were publicly honest about that part of my life, and she encouraged me to go ahead."
"I'm mentioning these things now not in an attempt to garner sympathy, but out of solidarity with the huge numbers of women who have histories like mine, who've been slurred as bigots for having concerns around single-sex spaces," the mother-of-three added.
The author said that on Saturday morning, June 6, she read that the Scottish government was moving forward with its controversial gender recognition plans, which triggered her. "Ground down by the relentless attacks from trans activists on social media, when I was only there to give children feedback about pictures they'd drawn for my book under lockdown, I spent much of Saturday in a very dark place inside my head, as memories of a serious sexual assault I suffered in my twenties recurred on a loop. That assault happened at a time and in a space where I was vulnerable, and a man capitalized on an opportunity. I couldn't shut out those memories and I was finding it hard to contain my anger and disappointment about the way I believe my government is playing fast and loose with women's and girls' safety."
She continued: "Late on Saturday evening, scrolling through children's pictures before I went to bed, I forgot the first rule of Twitter – never, ever expect a nuanced conversation – and reacted to what I felt was degrading language about women. I spoke up about the importance of sex and have been paying the price ever since. I was transphobic, I was a c**t, a b**ch, a TERF, I deserved cancelling, punching and death. You are Voldemort said one person, clearly feeling this was the only language I'd understand."
She concluded her lengthy blog post by pleading her readers not to label her as a victim. "I haven't written this essay in the hope that anybody will get out a violin for me, not even a teeny-weeny one. I'm extraordinarily fortunate; I'm a survivor, certainly not a victim. I've only mentioned my past because, like every other human being on this planet, I have a complex backstory, which shapes my fears, my interests and my opinions. I never forget that inner complexity when I'm creating a fictional character and I certainly never forget it when it comes to trans people."
"All I'm asking – all I want – is for similar empathy, similar understanding, to be extended to the many millions of women whose sole crime is wanting their concerns to be heard without receiving threats and abuse."
Since her Tweets from June 7 became viral, Harry Potter alum Daniel Radcliffe and Fantastic Beasts star Eddie Redmayne had criticized her in separate statements.
J.K. Rowling said that there would be no additional comment at the time of publication.