Joan Rivers' Roast of Princess Diana Resurfaces: 'I Hated Her'
Comedian Joan Rivers' stand up set roasting Princess Diana during a 2013 gala has gone viral after resurfacing on social media. In it, the star said she hated the royal because she "didn't know when the good times were with her."
Recorded as part of the 2013 Just for Laughs Gala, Rivers spoke acerbically about the princess who died in a 1997 Paris car crash at the age of 36, saying: "Watch the gay men get quiet […] you can never say anything to gay men either about Barbara Streisand being ugly […] or Princess Diana."
"I hated her," the comedian said in the social media clip which has been posted on a number of different TikTok accounts in recent weeks. "You know why I didn't like her? Because she didn't know when the good times were with her.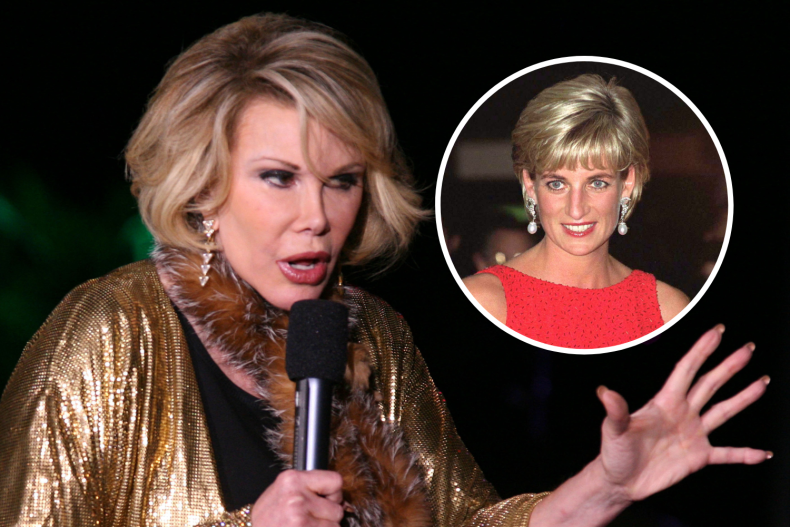 "If you don't know when the good times are with you guys, then you are stupid."
After mockingly mimicking Diana saying "I'm not happy," Rivers followed with: "She was tall, she was thin, she was gorgeous, she was young, she was rich, she had a husband who didn't want to sleep with her. She had a crown!"
A video posted by the TikTok account andrew_vermont, has reached over 800,000 views over four days, gaining in excess of 90,000 likes.
Another account posted a longer excerpt of the set which included Rivers also roasting Prince William's decision to give Kate Middleton Diana's engagement ring.
"Darling I love you very much," she said in an imagined conversation between the prince and Kate. "I want you to have my mother's engagement ring. My mother and father hated each other from the very beginning […] Good luck!"
A number of commenters on the videos praised the comedian for her forthright style and also expressed sadness at her no longer being around.
Rivers died in 2014 after experiencing major complications during what was a routine throat surgery. The star's daughter, Melissa Rivers, filed a malpractice suit against the outpatient clinic that performed the surgery which was settled for an undisclosed sum in 2016.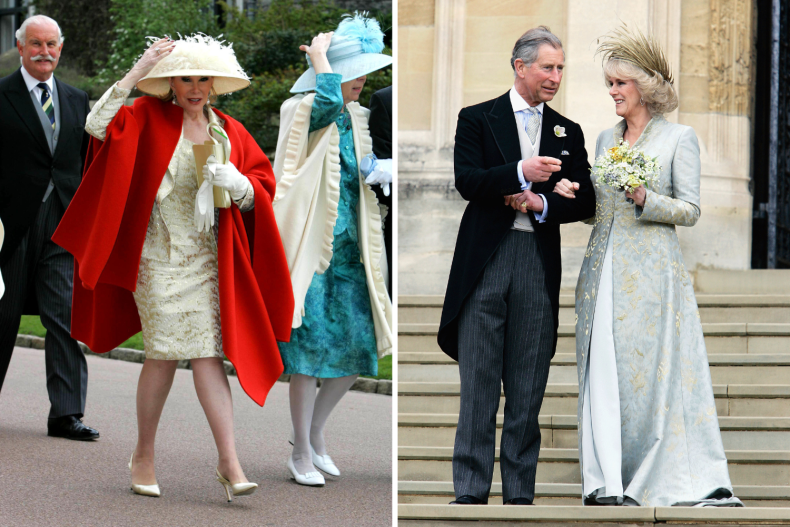 Rivers' jokes were not her only exposure to the British royals. She was known to be a friend of the then-Prince Charles. Reportedly the pair bonded over their love of painting. The comedian was a guest at Charles' 2005 wedding to Camilla Parker Bowles and the pair exchanged Christmas cards that Rivers would proudly display in her Manhattan apartment.
Speaking in 2008, Rivers expressed deep admiration for her royal pal.
"We meet on absolutely the level of humor," she told Britain's ITV marking the royal's 60th birthday. "We laugh. I am able to say anything to him. I always start with: 'With all due respect, sir.'
"When you stop and think, he was the first to talk about the architecture in London, he was the first to do holistic medicine, he was the first to say the planet's in trouble, and people said 'what is that? That's insane,' and wasn't it was spot on. I think he is smart, he is grounded, he knows the modern problems and he's got humor and charm and that goes a long way."
James Crawford-Smith is Newsweek's royal reporter based in London. You can find him on Twitter at @jrcrawfordsmith and read his stories on Newsweek's The Royals Facebook page.
Do you have a question about King Charles III, William and Kate, Meghan and Harry, or their family that you would like our experienced royal correspondents to answer? Email royals@newsweek.com. We'd love to hear from you.