GOP Congressman Shot by Left-wing Activist Slams Joaquin Castro Over Trump Donor List: 'Lives Are at Stake. I Know This Firsthand'
House Minority Whip Steve Scalise, who was shot during an attack by a left-wing activist on a congressional charity baseball game, accused Rep. Joaquin Castro of "dangerous targeting" after the Texas Democrat posted a list of President Donald Trump's donors to Twitter.
Castro, who is also chairman of his brother Julián Castro's 2020 campaign, tweeted out an image that listed the names and businesses of 44 individuals in San Antonio which donated the maximum possible to Trump's campaign this year.
"Their contributions are fueling a campaign of hate that labels Hispanic immigrants as 'invaders,'" the @Castro4Congress account tweeted, stirring accusations that the congressman was inciting attacks on those named, which he denied. Political donor data is publicly available.
Trump has repeatedly referred to undocumented migrants crossing the southern border as an "invasion," rhetoric echoed by the alleged El Paso Walmart shooter Patrick Crusius in an anti-Hispanic white nationalist manifesto he is thought to have posted online before Saturday's deadly terror attack.
Scalise, a Louisiana Republican, nearly died when he was shot by left-wing activist James Hodgkinson, 66, in 2017 as he played baseball with other GOP congressmen in Alexandria, Virginia. Hodgkinson died as a result of a shootout with police.
"People should not be personally targeted for their political views. Period. This isn't a game. It's dangerous, and lives are at stake. I know this firsthand," Scalise tweeted in reaction to the Castro campaign's Trump donor list.
"If the events of this past weekend taught us anything, it's that we need to stop seeing our neighbors as political enemies. This kind of dangerous targeting isn't how we heal our nation."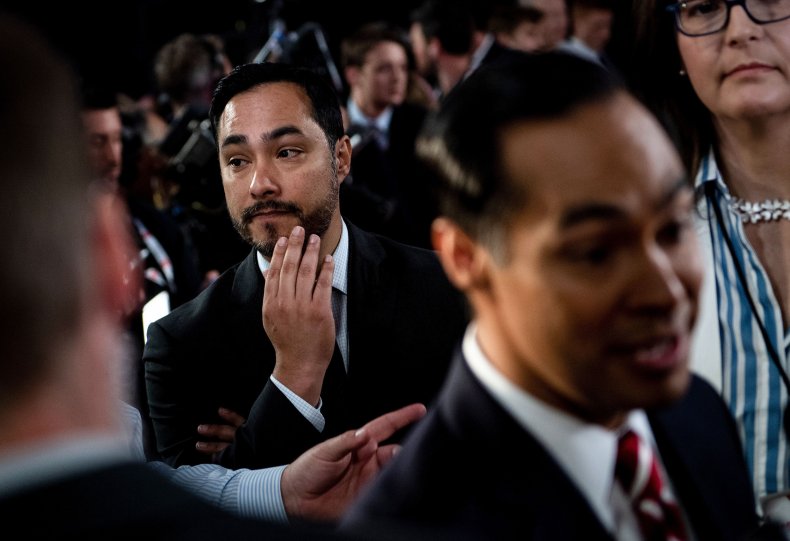 House Minority Leader Kevin McCarthy, a California Republican, also accused Castro of "targeting and harassing Americans for their political beliefs," saying that it is "shameful and dangerous."
But Castro defended publishing the list, writing on Twitter that nobody was targeted or harassed and that the information is "routinely published."
"You're trying to distract from the racism that has overtaken the GOP and the fact that President Trump spends donor money on thousands of ads about Hispanics 'invading' America," Castro replied to McCarthy.
"Donald Trump has put a target on the back of millions. And you're too cowardly or agreeable to say anything about it. How about I stop mentioning Trump's public campaign donors and he stops using their money for ads that fuel hate?"
Trump 2020 campaign communications director Tim Murtaugh tweeted that Castro should "delete & apologize" and that his brother's campaign "should disavow."
"How low have Dems sunk? [...] Naming private citizens & their employers, targeting them for their political views and exercising 1st Amendment rights," Murtaugh wrote.
Correction: Kevin McCarthy's name was misspelled in the original version.