Watch: MSNBC Guest Gives Passionate Speech on Racist Hatred and Trump: 'He's a Manifestation of the Ugliness That's in us'
A Princeton professor has given an emotional speech in which he declares that Donald Trump is not entirely to blame for racial disparity in the U.S as its "evils" have existed for years.
Speaking in the wake of the mass shooting which killed 22 people in El Paso, Texas, by a suspected white supremacist, Eddie Glaude said that the division in this country has existed for generations but is now only being amplified by the president's racist rhetoric.
"As a country, we're not unique in our evils," Glaude said on MSNBC's Deadline: White House. "I think where we may be singular is our refusal to acknowledge them.
"The legends and myths we tell about our inherent goodness, to hide and cover and conceal so that we can maintain a kind of willful ignorance that protects our innocence."
The graphic below, provided by Statista, illustrates which states ban assault rifles and high capacity magazines.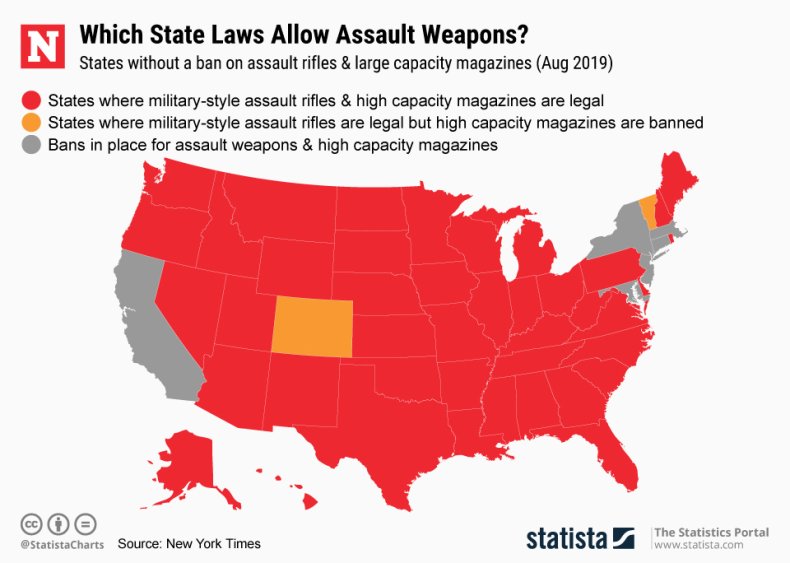 Glaude noted how people would attribute the rise of the of Tea Party to "economic populism" and nothing to do with race as proof that this division has been exploited by politics before.
He said others were being ignored when they pointed out that Tea Party members were in fact worried about "racially ambiguous babies on Cheerios commercials, that the country wasn't quite feeling like it was a white nation anymore."
He added: "People were screaming from the top of their lungs 'this is not just simply economic populism. This is the ugly underbelly of the country."
Trump has been heavily criticized and even blamed for the mass shooting at the El Paso Walmart after an online manifesto suspected to have been written by the gunmen mirrored Trump's inflammatory language down the years.
The manifesto entitled The Inconvenient Truth said the attack was a response to the "Hispanic invasion of Texas," and listed reasons to "send them back." The text also mentioned "The Great Replacement"—a racist conspiracy theory that claims white people are being systematically replaced as the majority race in Western countries.
Glaude said that it is too simple to place the blame entirely on Trump as white people in the U.S. have been "playing pop politics for a long time on this hatred."
"It's easy for us to place it all on Donald Trump's shoulders. It's easy for us to place Pittsburgh on his shoulders, it's easy for me to place Charlottesville on his shoulders, it's easy for us to place El Paso on his shoulders, this is us!"
While on the verge of tears, Glaude added: "And if we're going to get past this, we can't blame it on him. He's a manifestation of the ugliness that's in us.
"Either we're going to change, or we're going to do this again and again, and babies are going to have to grow up without mothers and fathers, uncles and aunts, friends while we're trying to convince white folk to...embrace a history might set them free from being white."
New York congresswoman Alexandria Ocasio-Cortez was one of those who shared a clip of Glaude's speech online, describing it as an "incredibly powerful, must-watch moment."