Joaquin Phoenix Calls Out Gap and H&M for 'Unspeakable Cruelty' to Ducks
Joaquin Phoenix has teamed up with the non-profit People for Ethical Treatment of Animals (PETA) to call out clothing companies that are allegedly benefiting from "unspeakable cruelty" to ducks.
Warning: This story contains details some readers may find disturbing.
The Oscar-winning star of Joker detailed the working practices at a Vietnamese slaughterhouse and farm which is reportedly connected with companies like Gap Inc., Guess, and H&M.
Phoenix narrates a video, seen exclusively by Newsweek, produced by PETA.
Guess told Newsweek the company will investigate the supplier mentioned in the PETA video. H&M said it did not have a direct connection with the supplier, in a response to Newsweek.
Gap has previously stated that it is not connected to that specific supplier.
Phoenix and PETA called on the Responsible Down Standard Program (RDS) to act. The program, promoted by the Textile Exchange, a global nonprofit, assures customers that the down feathers from abused birds don't end up in products.
Phoenix said: "Nothing could be further from the truth."
When contacted for comment by Newsweek, the Textile Exchange confirmed its "procurement chain in Vietnam" has been suspended.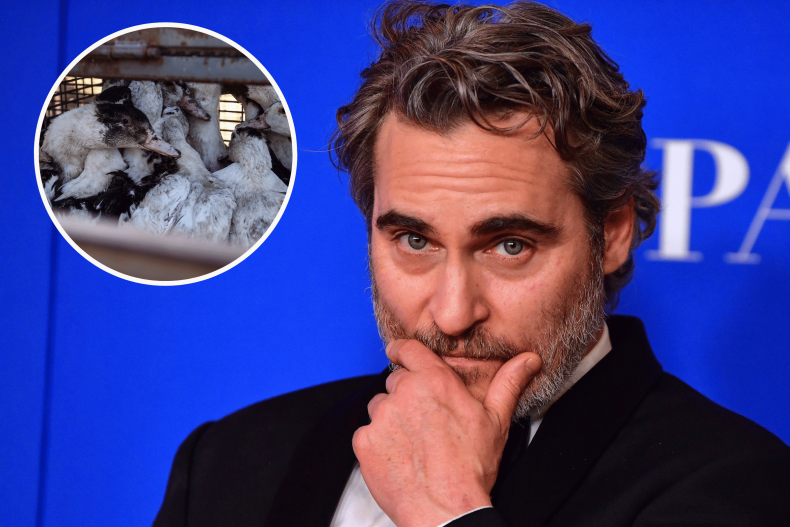 The video shows hidden camera footage of ducks being mistreated, harmed, and ultimately killed by unidentified people.
"When PETA Asia's investigators went inside farms and slaughterhouses in Vietnam that are connected to companies that sell so-called 'responsible down,' including Gap, Guess, and H&M, they uncovered unspeakable cruelty to ducks," Phoenix said.
When contacted for comment by Newsweek, a Guess spokesperson said the company would investigate the specific supplier from the video, and shared the company's sustainability vision.
The 'sustainably sourced materials' section of the clothing brand notes: "The use of down is permitted if it has been certified to the Responsible Down Standard (RDS)." It adds that other animal hair as a byproduct of the meat industry is "permitted with caution."
Newsweek has approached the other companies mentioned for comment on PETA's allegations.
The down of a bird is a layer of fine feathers that are found beneath the thicker feathers on its exterior. Down is used in products such as jackets, bedding, and pillows as a thermal insulator and padding. The Food and Agriculture Organization of the United Nations suggests that at least 4.3 billion ducks are killed each year as part of the poultry industry worldwide.
Phoenix describes the scenes shown in the video, which include ducks kept in crowded lots "littered with feces" while "many appeared sick and some had sustained bloody wounds."
While some ducks were "unable to stand," he describes how a worker "simply tossed her aside like a piece of garbage."
The footage then shows scenes inside a slaughterhouse, which Phoenix said was RDS-certified according to the manager. A worker can be seen stepping on the necks of ducks to stop them from escaping. The ducks are then hung upside down and dragged through an electrified bath which paralyzes them but doesn't render them unconscious.
"The worker then stabbed them in the throat with a knife," Phoenix described. "Many ducks continued to move for at least one minute afterward."
"The only way to end this cruelty and spare ducks is to stop buying items that contain feathers. Please remember to check labels and if they list 'down' or even 'responsible down,' think of these ducks, and leave the item on the rack or shelf," Phoenix said.
PETA shared a censored version of the video with Newsweek, and it states that an unedited version is available on its website.
The footage is from a 13-month-long investigation conducted by PETA Asia which published its findings in November 2022. Its initial report cites instances of ducks having their feet cut off while they're still alive.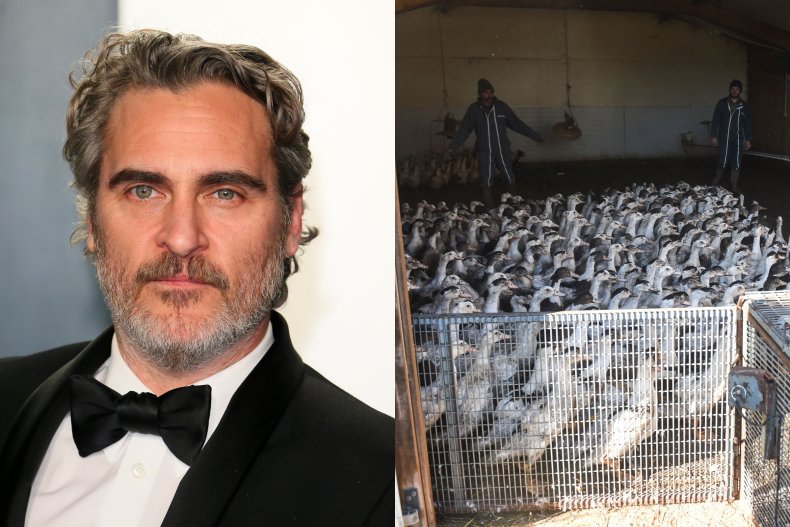 Down Standard Certification
According to Future Market Insights, the global down and feather market was worth $6.6 billion in 2021. Newsweek asked a PETA representative about the process of RDS certificates being issued to clothing brands.
"The handing out of RDS certifications isn't the issue—the issue is that the standards do not protect animals from suffering. Many of the standards are listed as recommendations and are therefore voluntary, and they allow for much cruelty," the PETA representative said.
"Birds can go more than eight hours without access to food or water and can be slaughtered in full view of one another. Under the standard, birds can also be left to languish in pain for three days before being euthanized and farm visits are required only once a year and with prior notice, which eliminates meaningful inspections."
The representative added, "The bottom line is that RDS misleads kind customers into thinking down is humane when that couldn't be further from the truth."
PETA pointed the finger at Vietnamese company Vina Prauden which sold down feathers to the aforementioned companies as well as Uniqlo, Lacoste, and more. Newsweek has reached out to the Vietnamese company for comment.
"Companies like GAP Inc., Guess, and H&M were all identified as recipients of down from the RDS-certified suppliers investigated by PETA Asia, and it has been confirmed that all these companies obtain feathers from Vietnam," a PETA spokesperson said on its website.
PETA claims that this is the eighth time it has exposed cruelty within the down industry.
Response From Retailers
The global nonprofit Textile Exchange, which promotes the RDS program, has confirmed to Newsweek its procurement chain in Vietnam has been suspended but it is "working internally in order to have it reinstated, as animal welfare is a top priority" for it.
While it could not comment on PETA's video without a specified date or time, a spokesperson for Textile Exchange told Newsweek: "We look forward to making our animal welfare certification more reliable based on specific information that can identify the issue.
When contacted for comment, Lacoste denied any association with the farms and slaughterhouse mentioned in the PETA report.
"First of all, we would like to affirm that Lacoste takes animal welfare issues very seriously," a spokesperson told Newsweek.
"We would like to state that we do not source from the farms mentioned in this PETA report, nor do our partners. We have no knowledge of the information on which the PETA's report is based on to cite us in its study. In the event that Lacoste should be informed of a breach of our standards, we would of course immediately terminate the business relationship in question."
Newsweek has reached out to the companies named by PETA.
A Gap Inc. spokersperson told Newsweek: "Gap Inc. is deeply committed to the ethical sourcing of our product, which includes the humane treatment of animals."
They directly addressed PETA's investigation in Vietnam and said: "Gap Inc. does not source down from Nam Vu or VINA Prauden, which are the suppliers named in the report."
H&M also told Newsweek that it did not have a direct connection with the supplier. The company said it was taking "these allegations extremely seriously."
Dominic Roter, from group communications at H&M added: "Animal welfare is very important to us and no animals should be harmed in the production of our products. We have a clear ambition level on how we want to improve animal welfare in our supply chain and the textile industry. We also work actively to strengthen the way we source animal deriving materials so that we can ensure the welfare of animals."
A Uniqlo spokeswoman reiterated the company's commitment to the responsible procurement of raw materials but did not address the allegations specifically. "With regards to down and feathers, we prohibit sourcing from farms that practice live plucking or force-feeding. We continuously work to ensure that this is followed throughout our supply chain," she said in a statement sent to WWD.
"Animal welfare is a top priority for Textile Exchange and is the reason the Responsible Down Standard was introduced in 2014 to help set a standard for these animals to be treated humanely. We take any violations very seriously and are ready to collaborate and investigate any incidences in which the standard is not being met, ensuring proper due diligence is followed and that the appropriate action is taken," a spokesperson told Newsweek.
The nonprofit said that it did not carry out "on-the-ground certification themselves" as "this is the role of the certification bodies to deem if a company is RDS-certified, not the standard-setting organization."
While Textile Exchange stated that it had not seen the specific case raised by PETA in regard to the Vietnamese location, the spokesperson added, "Should we find evidence that suggests that unacceptable violations of the Responsible Down Standard have taken place—including the critical requirement that birds are handled humanely on farms and at slaughter plants—it will help us to ensure we can do the due diligence and work with the appropriate bodies to resolve them urgently."
Update 01/27/2023 12:45 p.m. ET: Textile Exchange responded to PETA's allegations and issued the following statement:
Second update 01/28/2023 06:18 a.m. ET to include a response from GAP Inc.
Third update 01/31/2023 04:45 a.m. ET to include a response from Textile Exchange.