As Jobless Claims Surge, Unemployment Rate Could Reach 8 Percent
Jobless claims have already surged across the United States, with a new estimate of 8 percent unemployment expected in three months as the economic fallout from the coronavirus (COVID-19) pandemic plays out.
The state of Ohio saw its unemployment claims jump 14 times higher than the previous week in just the first three days of this week, a spokesperson for the state said on Wednesday, according to Bloomberg News. Similarly, Illinois has seen a surge of nearly 10 times as many claims. In New York, the state's unemployment claims website has been crashing as it was overwhelmed with additional applications, and Connecticut reported 10 times as many claims compared to an average week.
According to a new estimate by Bloomberg News, unemployment looks set to rise to 8 percent over the next three months. Last year, the unemployment rate had fallen to a 50-year low of 3.5 percent, holding steady at that level as recently as February. Treasury Secretary Steve Mnuchin warned Republicans on Tuesday that the unemployment level in the country could even jump to 20 percent if proper stimulus action is not taken, CNN and Bloomberg News reported.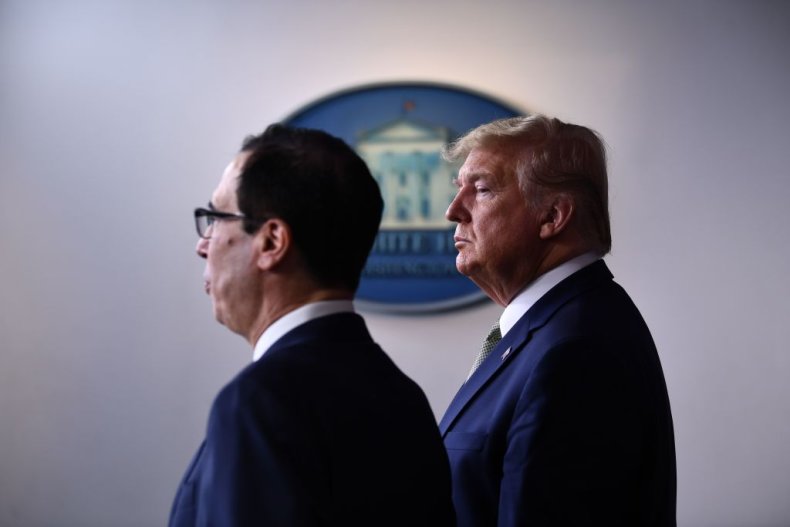 "I've never seen anything like this," Connecticut's Deputy Commissioner Daryle Dudzinski, who has been at the Labor Department since 1992, told the Hartford Courant this week in regards to the surge in unemployment claims. "It's unbelievable," he said.
Salim El-Ayache, a 28-year-old who worked as a server in an upscale Manhattan restaurant, told Newsweek he has repeatedly attempted to apply for unemployment in New York over the last few days, but failed due to system malfunctions.
"I've probably tried to apply about 17 times online and I've called at least a dozen times," El-Ayache explained. "The website would crash constantly and the calling process would take 15 minutes to enter all my information, just to be hung up on in the end," he said.
Many states and municipalities across the country have implemented stringent social distancing policies in a bid to curb the spread of the coronavirus. New York City, like many others, has shuttered restaurants, bars, clubs, gyms, cinemas and schools, leaving many workers like El-Ayache without the opportunity to earn a paycheck for the indefinite future.
On Wednesday, President Donald Trump signed bipartisan coronavirus relief legislation that expanded paid sick leave to workers impacted by coronavirus, while also shoring up unemployment benefits. But many lawmakers and economists said the bill is a good first step, but have insisted on much more significant measures to assist workers and businesses.
Many Democrats, some Republicans and the White House have put forward additional proposals for direct payments going to Americans, ranging from one-time checks of $1,000 to payments of up to $4,000, or possibly recurring checks of $1,000 to $2,000 as long as the crisis continues. Other lawmakers have also suggested giving businesses low-interest loans to keep employees on payroll during the crisis.