Joe Biden on America Under Trump: 'Silence Is Complicity—Our Children Are Listening'
Former Vice President Joe Biden is "ashamed" by what President Donald Trump is doing to America and warned "silence is complicity" when faced with abuse of power.
Biden, who said he's not ruling out a run for the 2020 Democratic presidential nomination, appeared on a podcast called "Anger Management." The show is presented by Nick Clegg, Britain's former deputy prime minister and ex-leader of the Liberal Democrat party.
"I was raised by a dad who thought—and this is a quote he'd use—the greatest sin of all is the abuse of power, whether it's physical, or whether it's moral, or whether it is psychological, or whether it is economic," Biden said.
Clegg said: "If people of great power act casually, irresponsibly, insensitively, it actually gives the unspoken message, 'Well, it's OK to do that.'"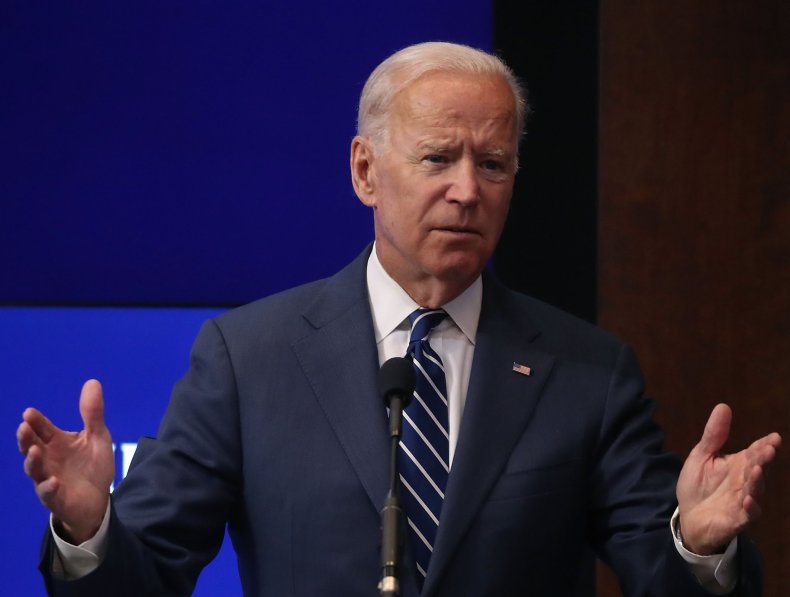 "Silence is complicity. Our children are listening," replied Biden, who was part of the Obama administration from 2009 to 2017.
Biden continued: "Whether it's a president, or a business leader, or a movie star, when you have them saying things that violate the basic norms—like not treating people with respect, giving hate [a] safe haven—when those barriers come down, notwithstanding the fact we have a written Constitution...the center will not hold."
When asked how the child separation crisis at America's southern border made him feel, Biden said "ashamed."
Under the Trump administration's "zero tolerance" immigration policy, border officials were directed in April to take undocumented immigrants crossing the border for criminal prosecution. This meant all accompanying children had to be separated from their families.
Those children, including babies and toddlers, were taken to detention centers, where they were held in cages and made to sleep under space blankets. An audio recording emerged from one facility of children wailing for their parents.
After public outcry and bipartisan pressure, Trump signed an executive order allowing children and parents to be detained together. Officials are now working to reunite the 2,000 children split from their parents.
"Makes me feel ashamed," Biden said about Trump's original ruling. "I really mean it. I'm proud of the response of the American people, Democrat and Republican. This is not America. This is not who we are. We are not as good as we believe we are, but we are much, much better than [this].
"I've been saying for a long time, the reason why the rest of the world in large part has repaired to us is not the example of our power, but the power of our example.
"And we are sending a signal that I just think is so, so damaging to our ability to be a positive force in being among the leaders in the world. Whether it's that, or whether it's praising [Rodrigo] Duterte or praising [Vladimir] Putin or praising Kim Jong Un. I mean, what are we doing?"
The White House did not respond to a request for comment.
Joe Biden on America Under Trump: 'Silence Is Complicity—Our Children Are Listening' | U.S.