Joe Biden Approval Rating Gets Boost—How Does it Compare to Trump's?
President Joe Biden's approval rating hit 40 percent for the first time in nearly two months following a consistent daily drop in gasoline prices in addition to legislative victories for Biden and the Democratic Party, but that figure is slightly below former President Donald Trump's rating at the same point in his presidency.
The recent uptick, reported Thursday by analysis site FiveThirtyEight, came after Biden recently signed the CHIPS Act and the veteran-focused PACT Act and after the Senate passed the Inflation Reduction Act of 2022.
Kyle Kondik, managing editor of Sabato's Crystal Ball at the University of Virginia Center for Politics, tweeted about Biden's 40 percent average, which he called "still weak overall" compared to Trump's 42 percent rating at this time four years ago.
Newsweek asked Kondik about the comparison between Biden's and Trump's numbers considering that Trump's numbers were barely above 40 percent at the same juncture in his presidency, before the COVID-19 pandemic and supply chain woes changed the American and global economies.
"Let's be clear: Biden's approval is still bad," Kondik told Newsweek via email. "It's just not quite as bad as it was. I suspect a number of factors go into this—some Democratic achievement, gas prices not being as high, etc.
"There may also be some rally-around-the-flag effect that slightly increases Biden's approval heading into the election. But the key point is that he is still unpopular; we're not talking about some sort of sea change here."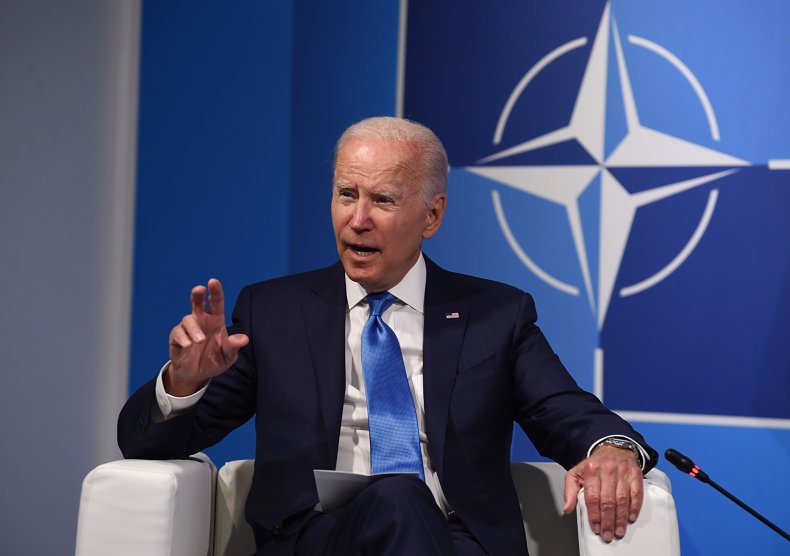 A Reuters/Ipsos poll of 1,005 adults, including 445 Democrats and 357 Republicans, released Tuesday showed that 78 percent of Democratic respondents approved of Biden—an increase from the 69 percent expressed one month earlier. But Republicans' opinion of the president remained "steady" at an approximate 12 percent approval of Biden, who may be on a collision course with Trump again in 2024.
The White House has touted Biden's bipartisan legislation, in addition to a Consumer Price Index report that the U.S. economy had 0 percent inflation in July.
However, even as noted by White House press secretary Karine Jean-Pierre, "the price of some things went up." Critics have noted that the Consumer Price Index increased 8.5 percent for the 12 months ending in July, which is a smaller increase than the 9.1 percent increase ending in June.
Simultaneously, food costs incurred at grocery stores were up 13.1 percent in July, year over year.
"In fact, the current drop in gas prices is the fastest in a decade—saving American families with two cars $106 per month on average," Jean-Pierre tweeted Wednesday. "What's more: Real wages went up for the first time in almost a year. But we know we have more work to do."
Congress should send the Inflation Reduction Act to Biden's desk "as soon as possible," she added.