Joe Biden Backs Stimulus Deal Half the Size of White House's Pre-Election Offer to Break Deadlock
President-elect Joe Biden on Wednesday threw his support behind a $908 billion bipartisan stimulus proposal that's roughly half the size offered by the Trump administration during negotiations with Democrats before the 2020 election.
A coalition of Republican and Democratic senators, including Susan Collins of Maine and Joe Manchin of West Virginia, unveiled the proposed bill on Tuesday as a middle-of-the-road compromise to address the economic fallout of the pandemic that has left Americans struggling to pay for basic necessities.
Biden backed the measure this afternoon, shortly after Democratic leaders indicated their willingness to take the deal in an effort to deliver quick relief. The former vice president said the developing $908 billion aid package "wouldn't be the answer, but it would be the immediate help for a lot of things."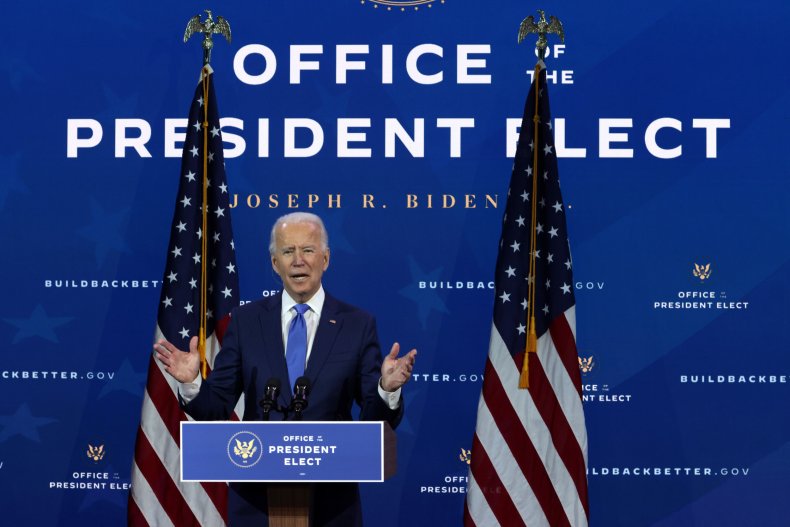 The bipartisan measure includes an extra $300 per week in unemployment benefits, $160 billion for state and local governments, nearly $290 billion in aid for small businesses through the Paycheck Protection Program, about $82 billion for schools, $45 billion for transportation agencies, as well as $16 billion for coronavirus testing and vaccine distribution.
The price tag attached to the package is almost double the $500 billion "targeted" package proposed by Senate Majority Leader Mitch McConnell and less than half of the $2.2 trillion that House Speaker Nancy Pelosi has demanded. In October, the Trump administration offered Democrats $1.8 trillion after the House approved a $2.2 trillion measure. At the time, Pelosi passed, saying it was insufficient in addressing the needs of Americans suffering under the pandemic.
Senate Minority Leader Chuck Schumer initially expressed disinterest in the new bipartisan proposal when it was presented, but he changed his mind one day later. In a joint statement on Wednesday, Schumer and Pelosi said they were supporting the $908 billion bipartisan deal "in the spirit of compromise."
"While we made a new offer to Leader Mitch McConnell on Monday, in the spirit of compromise we believe the bipartisan framework introduced by Senators yesterday should be used as a basis for immediate bipartisan, bicameral negotiations," the Democratic leaders said in a statement. "Of course, we and others will offer improvements, but the need to act is immediate and we believe that with good-faith negotiations we could come to an agreement."
While Democrats have capitulated, McConnell has expressed unwillingness to budge from his roughly $500 billion position. On Tuesday, McConnell rejected the bipartisan deal and unveiled a slightly tweaked, $550 billion version of a "targeted" proposal that had already been blocked twice. Democrats and Collins quickly indicated resistance to a draft of McConnell's plan.
"If it's identical to what [McConnell] brought forth this summer then it's going to be a partisan bill that is not going to become law," Collins said. "And I want a bill that will become law."
McConnell previously endorsed a roughly $1 trillion plan this summer but retracted his support following backlash from some conservatives.
Newsweek reached out to McConnell's office for comment.