Pelosi Now Backs Stimulus Deal Half the Size of What White House Offered Before Election
In a Wednesday statement with Senate Minority Leader Chuck Schumer, House Speaker Nancy Pelosi said she supports a $908 billion economic relief measure presented by a bipartisan group of lawmakers on Tuesday. The bipartisan bill is roughly half the amount offered by the White House during negotiations with Pelosi before the election.
In October, President Donald Trump's negotiators raised their compromise offer to $1.8 trillion after House Democrats had approved a $2.2 trillion package. But Pelosi opposed the compromise, arguing that it did not go far enough and that the language regarding the government's health care response to the coronavirus pandemic was not sufficient. Those negotiations resulted in a stalemate.
On Tuesday, nine senators—four Republicans, four Democrats and one independent—were joined by the bipartisan Problem Solvers Caucus in the House to unveil a $908 billion compromise deal. Although the package does not include nearly as much aid as Democrats pushed for before the election, Pelosi and Schumer said they were backing the legislation in "the spirit of compromise."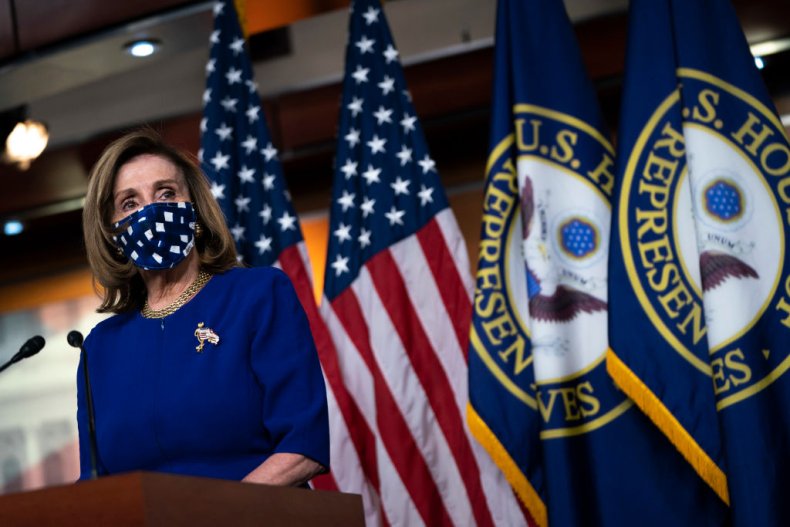 "While we made a new offer to Leader Mitch McConnell on Monday, in the spirit of compromise we believe the bipartisan framework introduced by Senators yesterday should be used as a basis for immediate bipartisan, bicameral negotiations," the top Democratic lawmakers said in a statement.
"Of course, we and others will offer improvements, but the need to act is immediate and we believe that with good-faith negotiations we could come to an agreement," they said.
The $908 billion bipartisan bill would provide an extra $300 per week to jobless Americans as well as nearly $290 billion in aid for small businesses through the Paycheck Protection Program. The legislation—which was introduced by Senator Susan Collins, a Maine Republican, and Joe Manchin, a West Virginia Democrat—includes about $82 billion for education, $45 billion for transportation agencies, $26 billion for nutrition assistance programs and $16 billion to cover health care costs associated with coronavirus testing and distribution of pending vaccines. However, another round of $1,200 direct stimulus checks to most Americans is not included.
Newsweek reached out to Pelosi's press secretary for comment but did not receive a response in time for publication. Pelosi previously faced criticism from some Democrats for declining to take the significantly larger offer put forward by Trump's negotiators in October.
"She most certainly is making a mistake," Representative Max Rose, a New York Democrat who recently lost his re-election bid, told CNN on October 27 when asked about Pelosi's rejection of the White House's offer. "I mean, let's remember the Republican Party, the president, [Treasury Secretary Steven] Mnuchin—two months ago, they didn't want to do anything," Rose said, adding that Americans "need action right now."
Representative Ro Khanna, a California Democrat, also urged Pelosi to take the $1.8 billion deal prior to the election. In a post-election interview with Axios on November 10, Khanna said the top Democratic lawmaker should accept the White House offer.
"If we get $1.8 trillion? I think we would definitely want to make the deal. And it's gonna be catastrophic if we don't," the congressman said.
Former Democratic presidential candidate Andrew Yang urged Pelosi to take the deal in October as well. "Congress please pass this for the American people. Nancy Pelosi say yes — this is a big win for millions of families who are hurting right now," Yang tweeted on October 12.
Although Schumer and Pelosi are backing the new bipartisan proposal, Senate Majority Leader Mitch McConnell favors a smaller and more targeted package totaling about $500 billion. The Kentucky Republican, who will decide whether any proposal reaches the Senate floor for a vote, suggested the bipartisan bill was a waste of time on Tuesday.
This story has been updated with additional information.