Was Biden Ignored by Obama at White House? What Videos Really Show
Questions are circulating on social about whether former President Barack Obama intentionally ignored President Joe Biden during an event on Tuesday.
Obama visited the White House on Tuesday to announce new changes to the Affordable Care Act, also known as "Obamacare."
The Affordable Care Act, Obama's signature legislation to expand private and public health insurance, had its 12th anniversary last month.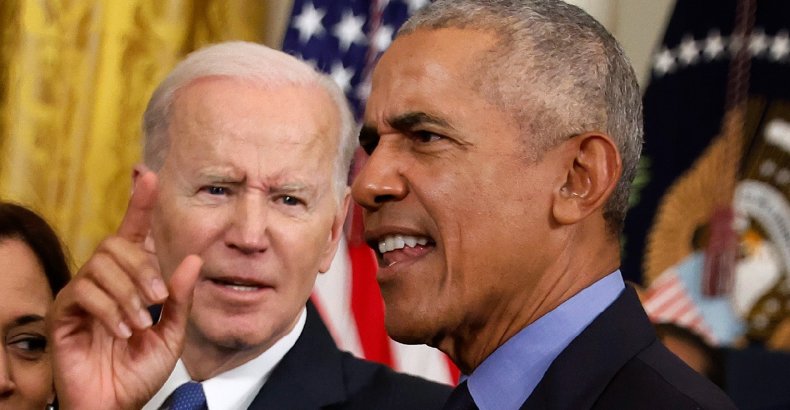 Fox News' Tucker Carlson reflected on Biden's popularity on his show on Tuesday night and played clips from the event. Carlson also suggested that Biden was shunned during the event and Obama intentionally ignored him, calling the moment "sad."
"That is the President of the United States in his own house, shunned, nobody would talk to him," Carlson said.
"So Biden wondered off looking vacant as he crowd-formed around a former president, Barack Obama, who was obviously deeply grateful for the attention.
"Then it got worse, it got much more poignant than that. Watch Biden try and horn in on the conversation swirling around Obama.
"Everyone involved in that conversation, including Kamala Harris, who supposedly works for Biden, ignored Biden completely.
"Biden desperately tried to get Obama's attention, he puts his hand on Obama's shoulder and he even calls him Barack like they are friends.
"But Obama blows him off, he acts like Biden is not even there. Ask yourself if you have ever in your life seen anything sadder than this."
Carlson showed the clip where Biden put his hands on Obama's shoulder and attempted to get his attention while the former president shook hands with the other guests in the room.
However, the clip on the Fox News show was cut short moments before Obama turns to Biden. Biden then introduced Obama to a woman and the pair shake hands and exchanged pleasantries before Biden, Harris and Obama move through the room to greet other attendees. A clip of this complete interaction has begun circulating on social media.
Playing another clip from the event, Fox News host Laura Ingraham focussed on a moment where Biden appears to look confused. Ingraham criticized the president and the Democratic party on her Tuesday night show.
"This all adds up to a platform of midterm misery for the Democrats and they don't care, they are just doubling down on it every day," Ingraham said as she reflected on the possible reasons for Biden's ratings.
"Tuesday's brief Obama/Biden reunion is not going to do anything to turn things around for them.
"It only reinforced what we already know, because Biden doesn't know what on Earth he is doing and at times, where he even is."
She then played the short clip of Biden where he paused and looked around the room before looking back at Obama talking to the attendees.
The clip was cut short moments before Biden spotted someone in the crowd he appeared to be looking for. He then asked the woman out of their seat to introduce her to some people before walking her back to her seat. Biden then continued to mingle and shake hands with guests. The full clip of this moment has also begun circulating on social media.
Newsweek has contacted Fox News for comment.