President Joe Biden and former President Barack Obama teamed up Tuesday to announce new changes to the Affordable Care Act, also known as ACA or "Obamacare."
"Feels like the good old days," Biden said in remarks delivered in the East Room of the White House. "Brings back so many good memories."
Obama joked about his reunion with Biden, initially addressing the president as "Vice President Biden." The event marked Obama's first time back at the White House since he left office in 2017. The ACA, Obama's signature legislation to expand private and public health insurance, had its 12th anniversary last month.
On Tuesday, Biden announced a proposal to expand ACA coverage. The rule change would allow families to receive financial assistance if the cost of their coverage exceeds more than 10 percent of their incomes. Fixing the so-called "family glitch" will result in 200,000 uninsured people gaining coverage, a senior Biden administration official told reporters, and increase affordability for roughly one million people.
The "family glitch" exists under current regulations which, according to the White House, define coverage provided by an employer as "affordable" based on the cost of covering the employee only and not their family members.
"Under the ACA, people who do not have access to 'affordable' health insurance through their jobs may qualify for a premium tax credit to purchase affordable, high-quality coverage on the ACA's health insurance marketplaces," the White House said in a statement. "Current regulations define employer-based health insurance as 'affordable' if the coverage solely for the employee, and not for family members, is affordable, making family members ineligible for a premium tax credit even though they need it to afford high-quality coverage through the Marketplace."
"For family members of an employee offered health coverage through an employer, the cost of that family coverage can sometimes be very expensive and make health insurance out of reach," the White House statement continued. "The 'family glitch' affects about 5 million people and has made it impossible for many families to use the premium tax credit to purchase an affordable, high-quality Marketplace plan."
"Once today's proposed rule is finalized, starting next year working families in America will get the help they need to afford full family coverage," Biden said. "As a result, families will be saving hundreds of dollars a month."
Biden also signed an executive order directing agencies to "do everything in their power" to continue strengthening access to affordable, high-quality health care.
Last year, the U.S. Department of Health and Human Services released a report which showed 31 million Americans had health coverage through the ACA—the highest amount since it became law in 2010.
The report also found that between 2010 and 2016, the number of non-elderly uninsured adults decreased by 41 percent, falling to 28.2 million.
"Today the ACA hasn't just survived, it's pretty darn popular," Obama said.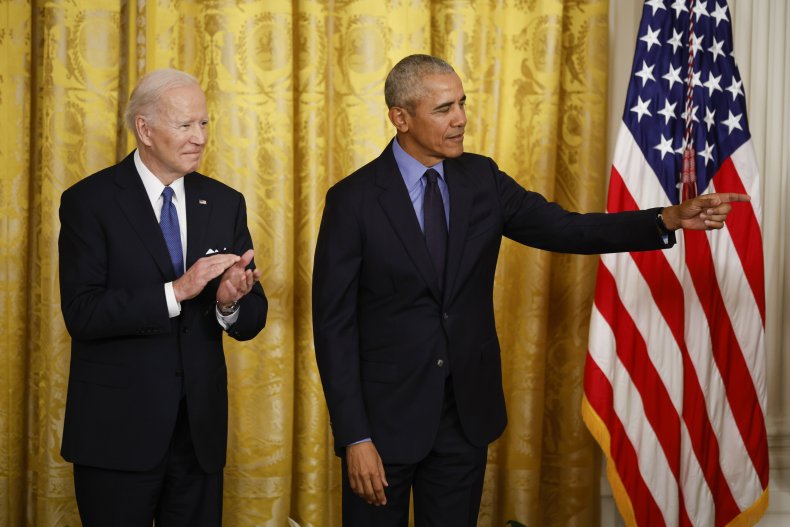 Obama also said on Tuesday that "nothing made me prouder" than passing the health care legislation.
"I think it's been well-documented just how difficult it was to pass the ACA," Obama said. He swiped at Republicans who he said showed "little interest" in working with Democrats on the issue.
Biden also called out Republicans who want to gut portions of the health care law. Senator Ron Johnson told Breitbart he would like to see the GOP repeal the ACA if the party wins back majority control, though he later walked back the comments.
"Pay very close attention folks: if Republicans have their way, it means 100 million Americans with pre-existing conditions can once again be denied health care coverage by their insurance companies," Biden said.