Joe Biden Says 'Anybody' Can Beat Donald Trump in 2020 Presidential Election
Former Vice President Joe Biden seems pretty confident a Democratic challenger could beat President Donald Trump in the 2020 presidential election. Indeed, he said, "anybody" could beat the former reality-TV star.
The Intercept published a quick interaction with Biden on Monday in which it followed up on his previous comment that he is the most qualified candidate.
"Why do you think you could beat President Trump? Why is this your time?" The Intercept asked, to which Biden had a pretty straightforward response. "I think anybody can beat him," he said.
Biden is considered by many political observers to be one of the front-runners for the 2020 Democratic nomination.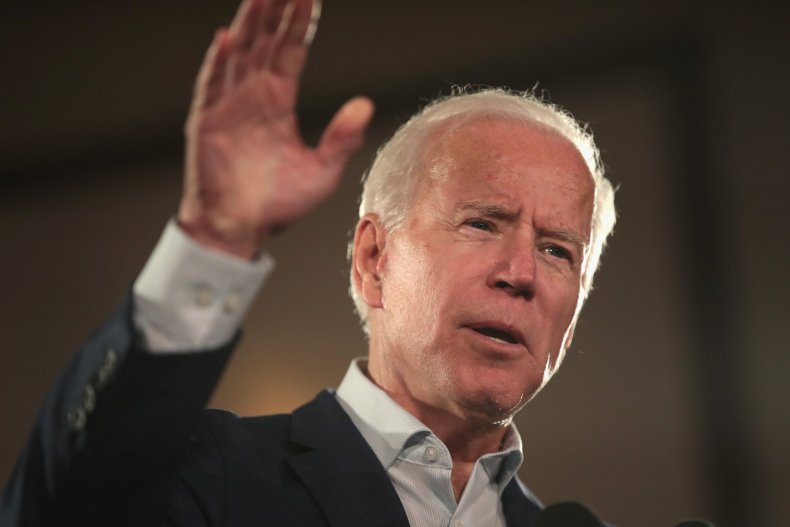 Early polling has backed up that assertion. A poll from The Des Moines Register over the weekend indicated that Biden would garner 32 percent of Democrats in the Iowa caucuses. That figure was more than a dozen percentage points clear of Vermont Senator Bernie Sanders, who earned the second most support.
Other surveys have suggested that Biden has earned similar levels of support on a national level. A CNN poll indicated that he had 30 percent support among Democrats and Democratic-leaning independents. That was well ahead of Sanders, at 13 percent, and upstart Texas congressman Beto O'Rourke, at 9 percent, who earned the second and third most support, respectively.
Biden advisers have floated the 46-year-old O'Rourke—who ran an inspired but ultimately unsuccessful campaign to unseat Republican Senator Ted Cruz—as a possible running mate, according to the Associated Press. But O'Rourke himself could be a serious presidential candidate.
Still, 2020 is a ways off, and polling at this point largely indicates name-recognition levels.
Biden, 76, has not yet officially announced, but it does seem likely he feels he's ready to give it a go. "I'll be as straight with you as I can. I think I'm the most qualified person in the country to be president," Biden said this month. "The issues that we face as a country today are the issues that have been in my wheelhouse, that I've worked on my whole life."