Former Vice President Joe Biden believes he is the candidate best placed to defeat President Donald Trump in the 2020 presidential election, and will make a decision soon on whether he will run, The New York Times reported Sunday.
Biden told allies that he is leaning toward a bid for the presidency, and will make a final decision in the next two weeks, unnamed Democrats who have spoken to Biden about his deliberations told the newspaper.
Read More: Trump brags he'd quickly fell Joe Biden in a fight
"If you can persuade me there is somebody better who can win, I'm happy not to do it. But I don't see the candidate who can clearly do what has to be done to win," Biden told one Democrat in a phone call, who relayed the conversation to The Times.
A November Reuters/Ipsos poll found that Biden is the favorite to win the Democratic nomination for the 2020 presidential election, beating his nearest challenger—Senator Bernie Sanders of Vermont—29 percent of support to 22 percent.
It is not the first time Biden has touted his presidential credentials, telling an audience in Montana in December that "I think I'm the most qualified person in the country to be president."
"The issues that we face as a country today are the issues that have been in my wheelhouse, that I've worked on my whole life," he remarked.
The graphic below by Statista illustrates the results of a CNN poll asking Democrat supporters which candidate they would support.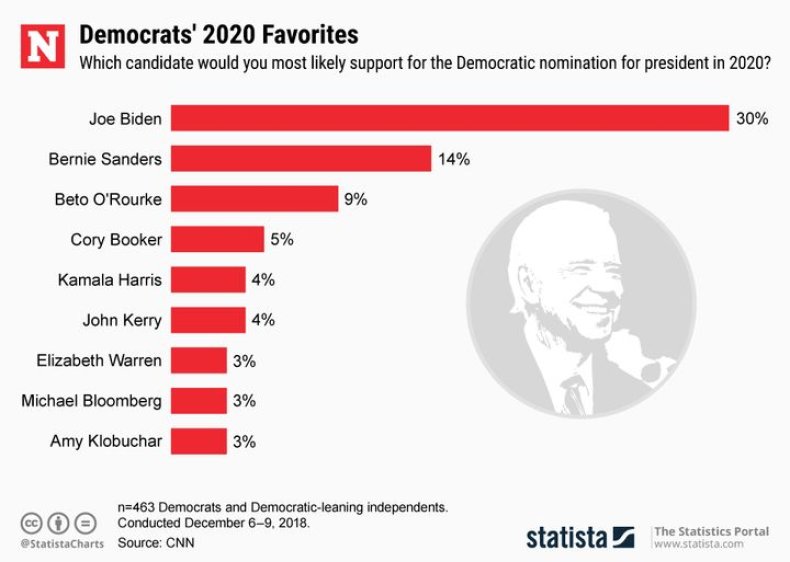 It would be Biden's third bid for the presidency. In 1987, his campaign was derailed in its early stages after a plagiarism scandal, and in 2007, when following a series of gaffes he bowed out after claiming less than 1 percent of the vote in the Iowa caucus.
He has engaged in a series of verbal tussles with Trump, claiming in March that "If we were in high school, I'd take him behind the gym and beat the hell out of him.'"
Trump responded that in a physical confrontation with him Biden would "go down fast and hard, crying all the way."
Biden is likely to face a wide range of challengers if he does decide to run for the Democratic nomination, including candidates from the left wing of the party critical of veterans from the party establishment.
Senator Elizabeth Warren of Massachusetts is all but certain to make a bid for the nomination, after launching an exploratory committee at the end of last year.
Others rumored to be mulling a bid include Senator Corey Booker of New York and Congressman Beto O'Rourke, who was narrowly defeated in his bid to seize a Texas Senate seat from Ted Cruz during the November mid-terms.