Joe Biden and Bernie Sanders Breaking Away From Rest of Democratic Candidates, New Poll Shows
A new national poll suggests that Democratic presidential candidates Joe Biden and Bernie Sanders have started pulling ahead of the rest of the pack, with candidates Elizabeth Warren and Pete Buttigieg trailing further behind the two frontrunners.
In the latest poll released Wednesday by Emerson, former Vice President Biden remained in the lead with 32 percent support, while Sanders, a senator from Vermont, had 25 percent. Warren—a senator from Massachusetts—was a distant third with 12 percent and Buttigieg—the mayor of South Bend, Indiana—was in the single digits, with 8 percent. Businessman Andrew Yang came in fifth with 6 percent and Congresswoman Tulsi Gabbard of Hawaii polled at 4 percent, coming in sixth.
The poll results stand at odds with speculation over the past couple months that Warren and Buttigieg were surging, which led the South Bend mayor to optimistically forecast that the race was shaping up to be between himself and Warren. While Buttigieg has continued to surge in some polls in early voting states, Warren's momentum has appeared to slow and even decline.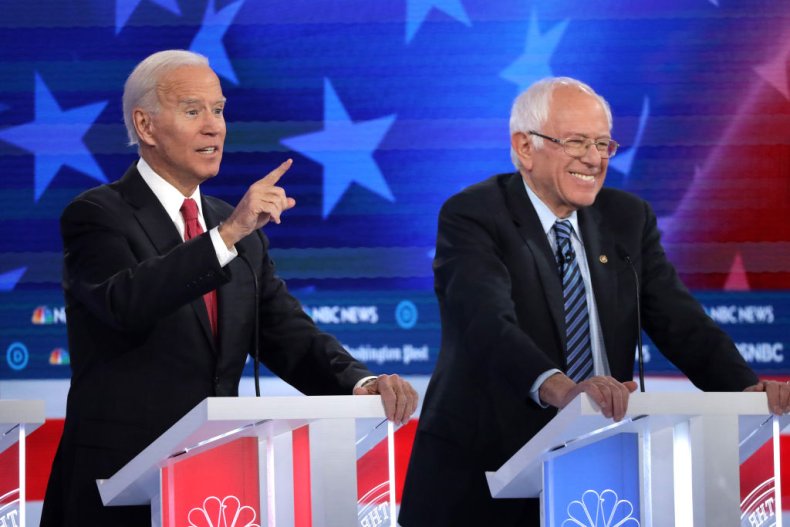 Despite some concerns that Biden, 77, and Sanders, 78, are the oldest candidates running for president, both politicians have remained consistent frontrunners in the Democratic primary over the past year. A national poll by Quinnipiac University released earlier this week showed Biden with a clearer lead, at 30 percent, while Sanders had just 16 percent. An aggregate of national polls by Real Clear Politics shows the former vice president with an average of 27.6 percent support, followed by the Vermont senator with 19.3 percent support. Warren has 15.4 percent support in the aggregate, and Buttigieg remains in the single digits, with just 9 percent.
However, polling in early voting states suggests that Sanders or Buttigieg could build early momentum by winning Iowa and New Hampshire at the start of the primary season. An aggregate of Iowa caucus polls by Real Clear Politics shows Buttigieg in the lead at 22.5 percent support, while Sanders comes in second with 19.3 percent support. Biden and Warren are close behind, however, with 18 percent and 16.3 percent respectively.
In New Hampshire, Sanders has a narrow lead over Buttigieg, with 19 percent compared to the mayor's average of 17.7 percent. Biden again comes in third with an aggregate of about 14.3 percent support, followed by Warren at 13.3 percent.
Notably, the new Emerson poll suggests that President Donald Trump remains the most popular choice among male voters. The incumbent would comfortably beat all of the four Democratic frontrunners if only men were voting in hypothetical one-on-one matchups. Meanwhile, the result is completely the opposite with women voters, who would vote for any of the top four Democrats by wide margins over Trump.
Correction 12/19/2019, 12:30 p.m.: This article was updated to correct a misspelling of Andrew Yang.