Joe Biden Blasts Trump Admin Over Mark Meadows' 'We're Not Going to Control the Pandemic' Comments
Joe Biden rebuked the Trump administration for its response to COVID-19 on Sunday, hours after White House Chief of Staff Mark Meadows said the U.S. is "not going to control the pandemic" during an appearance on CNN's State of the Union.
"This wasn't a slip by Meadows, it was a candid acknowledgment of what President Trump's strategy has clearly been from the beginning of this crisis: to wave the white flag of defeat and hope that by ignoring it, the virus would simply go away. It hasn't, and it won't," said Biden in a statement released by the Democratic presidential nominee's election campaign.
The statement went on to note that Meadows' comment came as the country faces another uptick in new cases of the coronavirus, while an ongoing outbreak among White House officials continues to spread. Following COVID-19 diagnoses confirmed among President Donald Trump, the first lady, and several aides earlier this month, news of additional White House personnel testing positive began to circulate over the weekend.
On Saturday, Vice President Mike Pence's Chief of Staff, Mark Short, tested positive, in addition to at least five staff members close to Pence who have reportedly contracted the infection. Pence's press secretary, Devin O'Malley, reportedly confirmed the vice president later tested negative for COVID-19 in a statement released Saturday night.
Pence, who chairs the White House Coronavirus Task Force, is continuing to move forward with his scheduled campaign appearances this week, despite his close contact with the individuals who recently contracted COVID-19. His press secretary reportedly said Pence is able to do this "in accordance with the CDC guidelines for essential personnel." Both Trump and the vice president have often been criticized for appearing at public gatherings without wearing face masks, which top health officials say likely reduces the risk of COVID-19 transmission significantly.
"The grim reality is that we continue to set records for new cases, and the fact that the head of the White House's coronavirus task force has an outbreak in his office and yet still refuses to follow CDC guidelines shows us exactly why," Biden continued in his campaign's new statement. "It is particularly outrageous when the science tells us that if we just took basic precautions now, we could save thousands of lives."
Earlier, Meadows addressed the COVID-19 outbreak among White House staff, as well as The New York Times reporting that suggested he tried to prevent news of the latest positive tests from reaching the public, during an interview with CNN correspondent Jake Tapper.
"We're not going to control the pandemic. We are going to control the fact that we get vaccines, therapeutics and other mitigation areas," Meadows said. When Tapper asked why, the chief of staff replied: "Because it's a contagious virus. Just like the flu, it's contagious."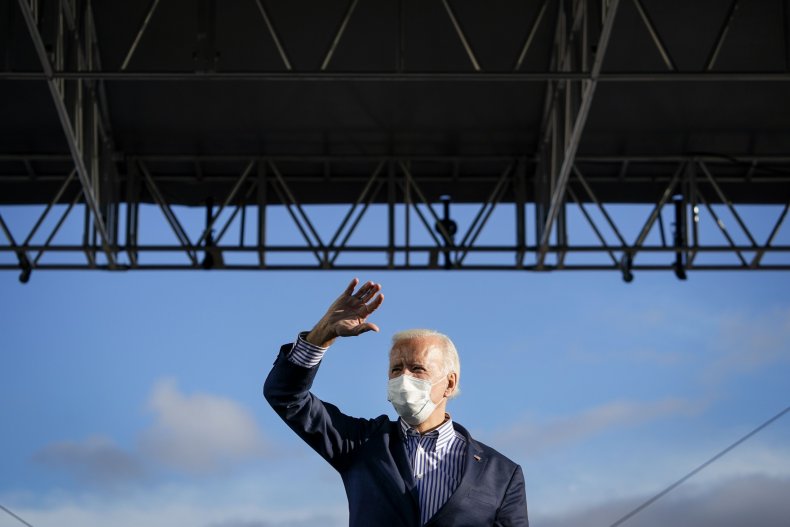 Other prominent Democrats, including Biden's vice presidential running mate Kamala Harris, expressed frustration over Meadows' comments.
"They are admitting defeat, and I've been saying that, and Joe Biden has been saying that, since the beginning," Harris told a CNN reporter later on Sunday, in reference to the Trump administration. "This is the greatest failure of any presidential administration in the history of America."
New York Governor Andrew Cuomo shared a similar reaction to Meadows' interview during a phone call with reporters. Cuomo, also Democrat, has periodically stood at odds with Trump over the course of pandemic, primarily over the administration's failure to provide enough support and resources to areas of the U.S. hit particularly hard by COVID-19, like New York.
"They capitulated. They surrendered. They surrendered without firing a shot," the governor said. "It was the great American surrender. Americans don't surrender, and they didn't even put up a fight."
Newsweek reached out to Biden's campaign and the White House for comments, but did not receive replies in time for publication.