White House Chief of Staff Mark Meadows reportedly sought to contain news of COVID-19 cases among Vice President Mike Pence's staff.
The New York Times reported that two people briefed on the situation said Meadows had hoped to keep details of infections going public.
Maggie Haberman, a White House correspondent for The Times, tweeted to her 1.5 million followers: "Two people briefed on the matter said that the White House chief-of-staff, Mark Meadows, sought to keep the information about the VP office outbreak from becoming public."
Meadows told CNN on Sunday, when asked about the Times report: "Sharing personal information is not something we should do unless it's the President or the Vice President."
Meadows also expanded on the decision for Pence to continue working.
"Essential personnel, whether it's the vice president of the United States or anyone else has to continue on."
Pence's Chief of Staff Marc Short tested positive for COVID-19 Saturday, while several other members of Pence staff have reportedly been infected. These have been reported as another adviser to Pence and three members of his staff.
Details of additional diagnoses to Short's have not been confirmed.
Newsweek has contacted the White House and the vice president's office for comment.
Following Short's diagnosis, Pence has tested negative for COVID-19 and is said to be in good health, as is his wife Karen.
Pence, who heads the White House' Coronavirus Task Force, is to continue his travel schedule despite having been a close contact of Short.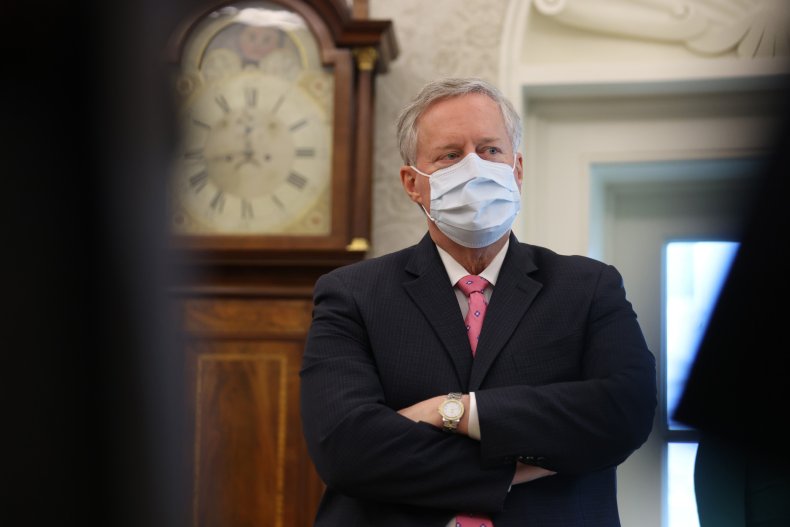 He was previously reported to be embarking on a "very aggressive" schedule.
The reports of COVID-19 cases among Pence's staff comes with the White House having experienced several outbreaks in recent times. Meadows has faced criticism over his actions in the face of such situations in the past, with Politico reporting that staff were unhappy with his communication surrounding safety protocols in the wake of President Donald Trump and first lady Melania's coronavirus diagnosis earlier this month.
Trump, when asked if he had heard about Short's COVID-19 diagnosis while deplaning Air Force One, said early Sunday: "I did hear about it just now. I think he's quarantining. I did hear about that. He's going to be fine. But he's quarantining."
The situation comes with more than 8.5 million confirmed cases of COVID-19 having been diagnosed across the United States, according to Johns Hopkins University figures.
Trump recently suggested after Election Day people "won't hear about" COVID-19 cases anymore, following reporting around numbers across the nation.
The below graphic, from Statista, compares rolling averages of cases confirmed in the U.S. and the European Union over a seven-day period up to October 22.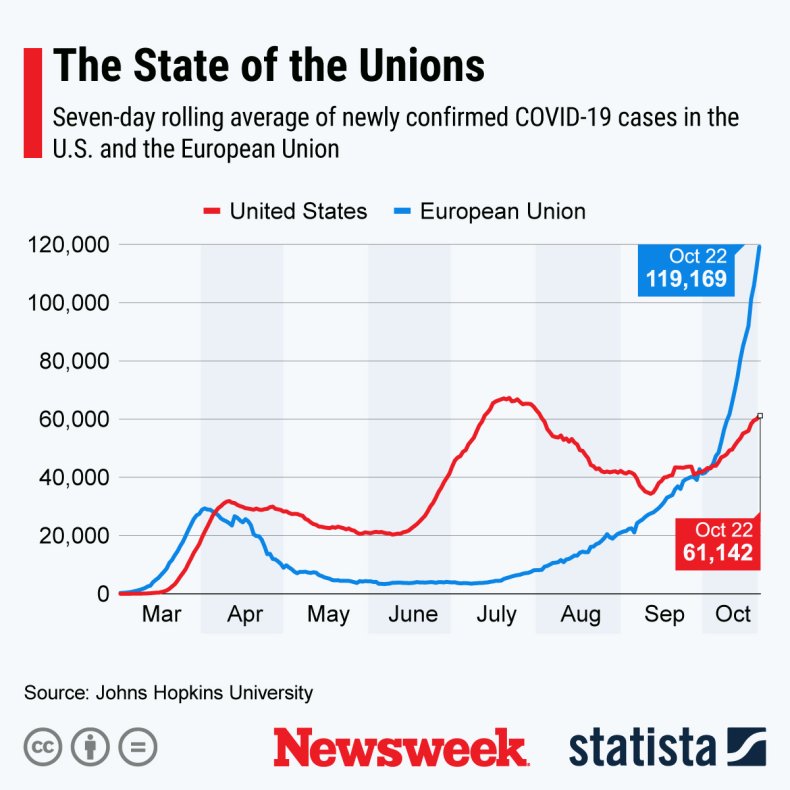 Update 10/25/2020: This page was updated to include comments made by Meadows in an interview with CNN.