As U.S. Cases Hit New Daily High, Trump Jokes Media Reports on COVID Will Stop on Nov. 4
President Donald Trump joked at a campaign rally on Saturday that the media's reporting on the coronavirus pandemic would cease after Election Day, despite the U.S. reaching a new daily high in case numbers on Friday.
"That's all I hear about now. That's all I hear. Turn on television—'COVID, COVID, COVID, COVID, COVID, COVID.' A plane goes down. 500 people dead, they don't talk about it. 'COVID, COVID, COVID, COVID.' By the way, on November 4 you won't hear about it anymore," Trump said as the audience cheered, suggesting he would be victorious in this year's election.
Newsweek contacted the Trump campaign for comment, but did not hear back in time for publication.
The president made the comments while appearing in front of a crowd of around 3,000 people in Lumberton, North Carolina, on Saturday as part of his effort to attract more voters in the swing state.
Before lamenting the media's coverage of the disease that has now killed more than 230,000 Americans, Trump criticized his opponent Joe Biden. The Democrat had warned during the final presidential debate on Thursday that the country was about to enter a "dark winter," with case numbers showing little improvement.
"Did you hear him the other night? 'It's gonna be a cold, dark winter.' Very inspiring guy. He's very inspiring," Trump said, mocking Biden. "Now we've gotta have spirit, our country...We're rounding the turn, we're doing great. Our numbers are incredible."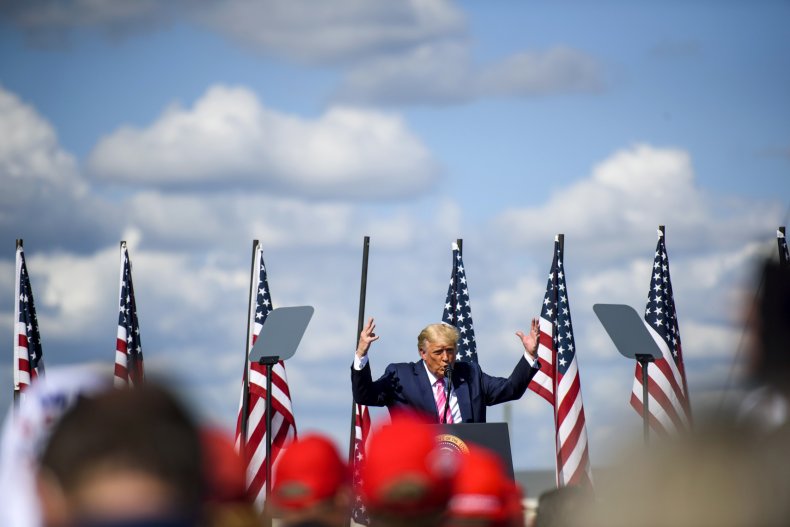 It's another version of the same statement Trump has echoed for almost the entirety of the pandemic, even once admitting to journalist Bob Woodward that he intentionally downplayed the deadly virus' threat so as not to incite more fear in Americans.
But his comment comes just one day after the country recorded its highest number yet of cases reported in a single day. The U.S. reported 82,929 new cases on Friday, much higher than the previous record of more than 75,000 cases reached in mid-July, according to the U.S. Centers for Disease Control and Prevention (CDC).
While testing has increased along with the case numbers, so have hospitalizations—a trend that cannot be explained by more widespread testing, The Washington Post noted. According to data collected by the Post, the average number of hospitalizations has jumped in at least 38 states this past week.
Trump campaigned in North Carolina on Saturday, where health officials reported 2,584 new COVID-19 cases from the previous day, bringing the total to 258,292. Hospitalizations in the state have remained over 1,100 for 13 days, according to the health department's coronavirus dashboard.
CBS reporter Mark Knoller tweeted from Trump's rally, describing how few supporters wore face coverings and none observed social distancing. Meanwhile in Pennsylvania, Biden hosted a campaign rally where supporters stayed in their cars, strictly observing coronavirus safety precautions.