Horn-Honking Trump Supporters Disrupt Biden Drive-in Rally in Pennsylvania
Democratic presidental candidate Joe Biden's Pennsylvania drive-in rally was disrupted by a group of honking cars in support of President Donald Trump Saturday morning.
"Rowdy scene as Joe Biden speaks at drive-in rally in Bucks County, PA — Trump supporters waving flags and honking during his speech," MJ Lee, CNN political correspondent, tweeted on Saturday.
The 15-second video posted by Lee shows multiple cars waving Trump flags and honking over Biden as he spoke at his rally in Bucks County Saturday morning.
Tweets by both Lee and ABC reporter Beatrice-Elizabeth Peterson mentioned that Trump backers outnumbered the Biden supporters in attendance at the rally.
"A large counter protest crowd has gathered outside of the Joe Biden Bucks County event," tweeted Peterson. "The mostly maskless crowd of Donald Trump supporters largely outnumber the masked Biden supporters."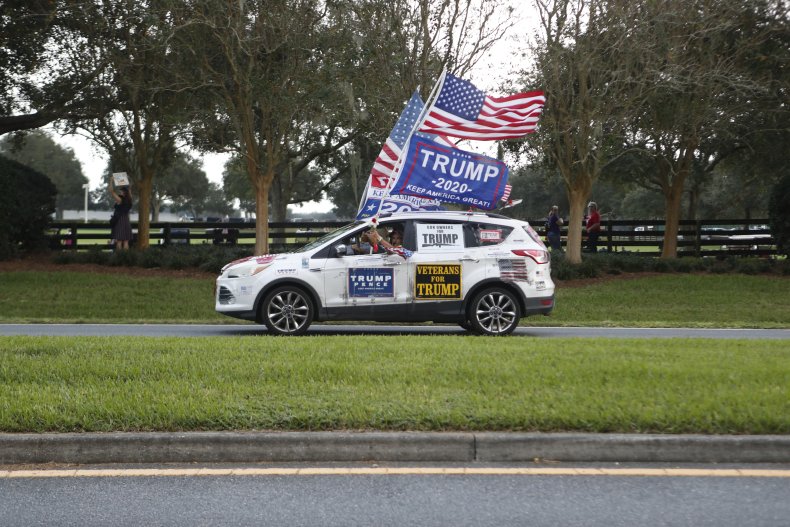 Images posted with Peterson's tweet show socially-distant Biden supporters standing to the left of a crowd of maskless people holding flags and posters in support of Trump.
Lee's tweet recorded a similar observation outside the rally. "Practically a Trump drive-in rally here now outside the Biden drive-in event," Lee tweeted alongside a second video showing a crowded parking lot of Trump supporters, where many people didn't wear face masks.
The lack of masks by Trump supporters during rallies has raised concerns, as the two presidential candidates continue their campaign trail during the coronavirus pandemic.
The mayor of Tucson, Arizona— where Trump held a rally on Monday— said she is "very concerned" that the campaign event could become a "super spreader" for COVID-19. Democratic Mayor Regina Romero explained to CNN on Monday that a mask mandate implemented in her city has been correlated with a 75 percent decline in new infections.
Photos and videos of recent Trump rallies in some parts of the country have shown packed venues with thousands of attendees, many of them not wearing masks. Romero said she is worried that the president's rally could lead to an increase in coronavirus infections in Tucson.
"We are very concerned that this can become a spreader event," the mayor said at the time. She asserted that Tucson has "made too many sacrifices" to allow coronavirus infections to once again surge.
Five North Carolina counties have similar concerns of COVID-19 case spikes following the president's rally at North Carolina's Gastonia Municipal Airport on Wednesday.
"What I can say is that we've seen spikes in cases after major holidays—Memorial Day and 4th of July in particular—about a week or so after those holidays, where there were more folks gathering in large groups and doing less in the way of mask wearing and social distancing," Gaston County Public Information Officer Adam Gaub told Newsweek. "The health department is preparing as if we would see a similar spike after this event."
Bucks County officials didn't immediately respond to Newsweek's request for comment.