Tucson, Arizona Mayor 'Very Concerned' Trump's Rally Will Become a COVID 'Super Spreader' Event
The mayor of Tucson, Arizona—where President Donald Trump will hold a rally on Monday—said she is "very concerned" that the campaign event could become a "super spreader" for COVID-19.
Mayor Regina Romero, a Democrat, explained to CNN on Monday that a mask mandate implemented in her city has been correlated with a 75 percent decline in new infections. As photos and videos of recent Trump rallies in various parts of the country have shown packed venues with thousands of attendees—many of whom do not wear masks—Romero said she is worried that the president's rally could lead to an uptick in infections in Tucson.
"We are very concerned that this can become a spreader event," the mayor said. She asserted that Tucson has "made too many sacrifices" to allow coronavirus infections to once again surge.
But Romero lamented that the city "cannot do much" to force people to wear masks at the event. She explained that police officers at the rally will be there to protect the president, asserting this is the "number one concern." The mayor said that police officers would not be handing out tickets to attendees without masks.
"We're asking for people to practice their judgment and help us here in the city of Tucson," she said. Romero said that she's heard anywhere between 5,000 and 10,000 people could be coming to attend the Monday rally.
Newsweek reached out to the Trump campaign for comment, but it did not immediately respond.
In yesterday's Fox News Sunday, host Chris Wallace pressed Trump campaign adviser Jason Miller over the president's rallies, which the journalist pointed out do not follow the administration's own guidelines to curb the spread of COVID-19. "Why does the president continue to hold these rallies where thousands of people are packed together—the vast majority of them without masks?" Wallace asked.
Miller responded by outlining the precautions that are in place, noting that masks and hand sanitizer are handed out to all attendees, whose temperatures are checked. He said that Trump supporters at the rallies are encouraged to wash their hands and take precautions. "We're going to be strong. We're going to be safe. But we're not going to be scared here," he said.
The president currently appears to be trailing Democratic nominee Joe Biden in Arizona, a state that has supported Republican presidential candidates in every election since 1952, with the only exception being in 1996. The Real Clear Politics average of polls from the Southwestern state shows Biden backed by 49.3 percent of likely voters while 46.2 percent support Trump—a 3.1 percentage point margin in favor of the Democratic challenger. FiveThirtyEight shows a slightly higher average in favor of Biden, with a lead of 3.8 percentage points. Biden is supported by an average of 49.3 percent of Arizona's voters compared to 45.5 percent backing Trump.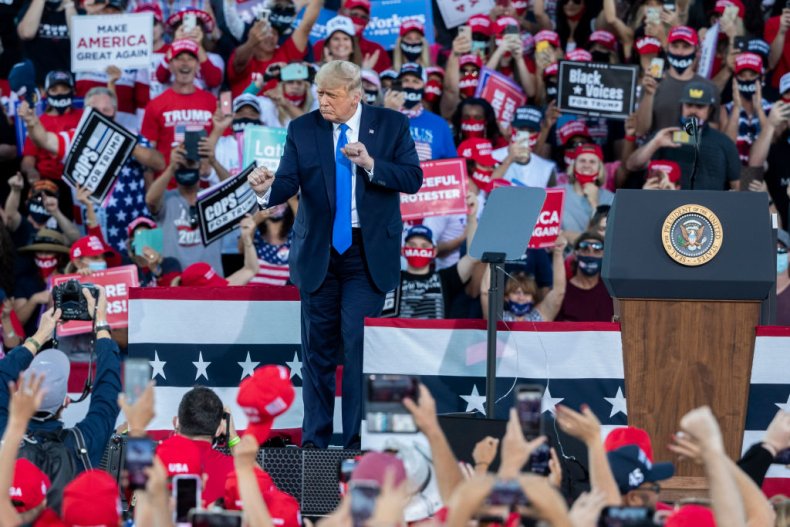 Trump's Tucson event will be held in a hangar at Tucson International Airport at 3 p.m. local time.