Joe Biden Brings China's Adversaries to White House in Major Asia Alliance
President Joe Biden will host the leaders of Australia, India and Japan at a forum on Friday that will use strong language to rebuke China's territorial expansionism into its surrounding waters, according to a report out of Tokyo.
Japan's Kyodo News said on Wednesday that a draft statement slated for the upcoming Quadrilateral Security Dialogue—or Quad—summit at the White House would warn against attempts to change the status quo in the East and South China seas.
This week's Quad forum will feature its first-ever in-person meeting between Biden and prime ministers Scott Morrison, Narendra Modi and Yoshihide Suga. The group held a virtual meeting in March in what was already a step up in the importance of the Indo-Pacific–focused partnership.
The Quad, which China's Foreign Minister Wang Yi once predicted would dissipate like "sea foam," is now among the more notable regional mechanisms seeking to challenge Beijing's political influence.
Friday's meeting will be followed by a statement that "uses tougher language than before regarding the situation in the waters where China is stepping up its territorial claims," said Kyodo.
Quad members will "oppose challenges to the maritime rules-based order," the report said.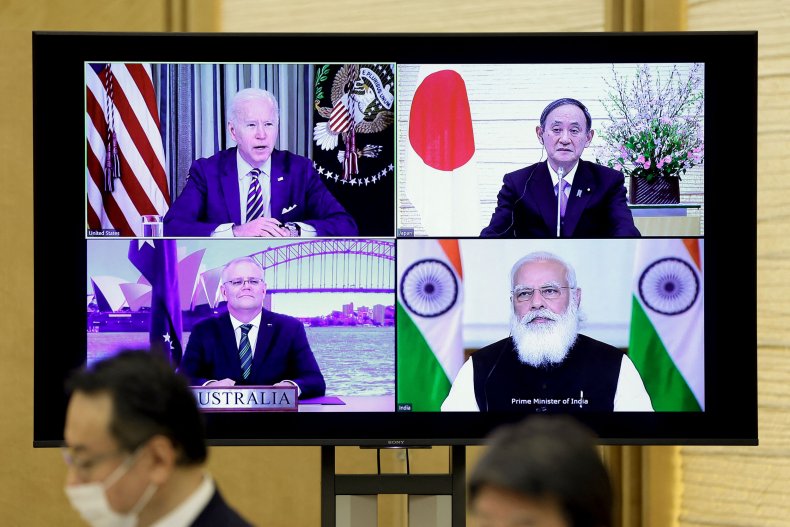 Tokyo has protested recorded numbers of China Coast Guard incursions into the territorial sea or contiguous zone around the Japan-controlled Senkaku Islands this year, with the gray-zone activity surpassing unprecedented escalations witnessed in 2020. China claims the uninhabited island chain—known as the Diaoyu Islands in Beijing—as part of its territory.
The Quad, both collectively and in various "2+2" meetings, has also touched on topics including the deteriorating security environment across the Taiwan Strait. China's military coercion against the democratic island could be referenced.
Friday's leaders' summit is expected to be heavily centered on China but may not focus solely on its perceived military adventurism. Biden, Modi, Morrison and Suga had previously committed to securing clean 5G networks and contributing to global health amid the coronavirus pandemic. In March, they announced a goal of providing 1 billion COVID-19 vaccines to the world by the end of 2022.
The Quad was formed in the aftermath of the 2004 Indian Ocean earthquake and subsequent tsunami, but it became defunct following changes in leadership, especially in Japan and Australia.
It was revived as the "Quad 2.0" in 2017 during the Trump administration. Last year, foreign ministers from the four nations met for the first standalone summit in Tokyo.
The coming Quad forum will be the last for Japan's Suga, who has already announced his intention not to run for re-election as president of the country's ruling Liberal Democratic Party, whose next leader will be chosen on September 29.