Joe Biden Calls Surprise Note Donald Trump Left for Him 'Very Generous'
President Joe Biden on Wednesday said that former President Donald Trump left a "very generous" letter for him before leaving office.
Trump broke many traditions as he left office, including not attending Biden's inauguration. The former president also refused to call Biden by name in public remarks regarding his election victory. During a press conference in the Oval Office, Biden confirmed that Trump had left him a note, but declined to disclose the contents of the message.
"The president wrote a very generous letter," Biden said. "Because it was private, I won't talk about it until I talk to him. But it was generous."
Newsweek reached out to the White House for comment.
During the final months of his term, Trump had pushed baseless claims that widespread voter fraud had been perpetrated by Democrats. Trump often alleged that he had actually won the election, despite Biden's victory in the Electoral College. Trump departed the White House Wednesday morning, hours before Biden was sworn into office.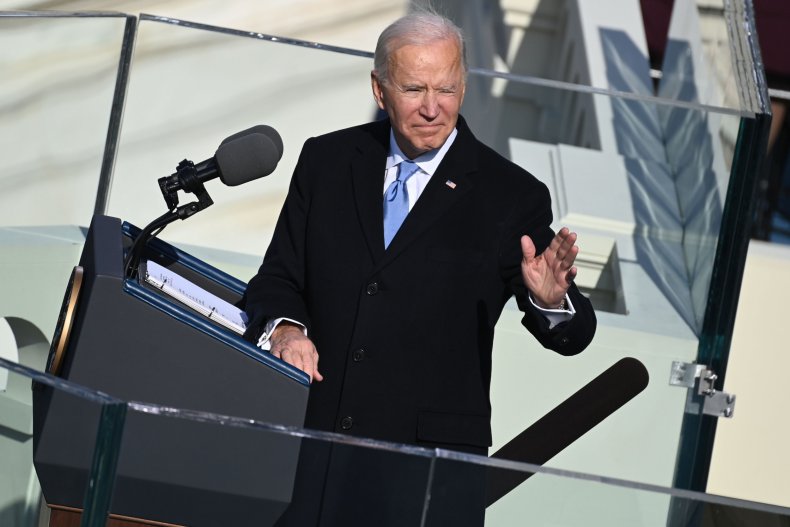 At a short farewell address at Joint Base Andrews, Trump told a group of his supporters that he wished "the new administration great luck and great success. I think they'll have great success. They have the foundation to do something really spectacular." Trump concluded his speech by telling the crowd to "have a good life."
Although Trump was absent from Biden's inauguration, former presidents Bill Clinton, Barack Obama and George W. Bush were in attendance along with their wives.
The tradition of presidential transition messages began at the end of the administration of President Ronald Reagan in 1986. Reagan left incoming President George H.W. Bush a note on stationery that said, "Don't let the turkeys get you down."
"You'll have moments when you want to use this particular stationery," Reagan wrote. "Well go to it."
In his 2017 letter to Trump, President Barack Obama encouraged Trump to remember that presidents serve as "guardians of those democratic institutions and traditions – like rule of law, separation of powers, equal protection and civil liberties – that our forebears fought and bled for."
"Regardless of the push and pull of daily politics," Obama continued, "it's up to us to leave those instruments of our democracy at least as strong as we found them."
In January, Trump became the first president to be impeached twice after a mob of his supporters breached the U.S. Capitol building during the Congressional confirmation of Biden's win.