Joe Biden Campaign Targeted by Russian State-Backed Hackers: Report
Amid growing concerns of foreign interference in November's U.S. election, it has been reported that Joe Biden's presidential campaign was targeted by Russian-state-backed hackers.
Reuters reported that there had been hacking attempts on staff at the campaign and strategy firm SKDKnickerbocker, which is closely linked to the Democratic Party and has worked with it on six presidential campaigns.
The news agency said the attempts included phishing, which tries to trick users into giving away their passwords so as to infiltrate the network. One source told Reuters: "They are well-defended, so there has been no breach."
Microsoft informed SKDK about the attempted breaches, Reuters said, although it was not known whether the hackers were aiming to get access to other clients of the firm, whose managing director, Anita Dunn, is a senior Biden campaign adviser. Newsweek has contacted SKDK and the Biden campaign for comment.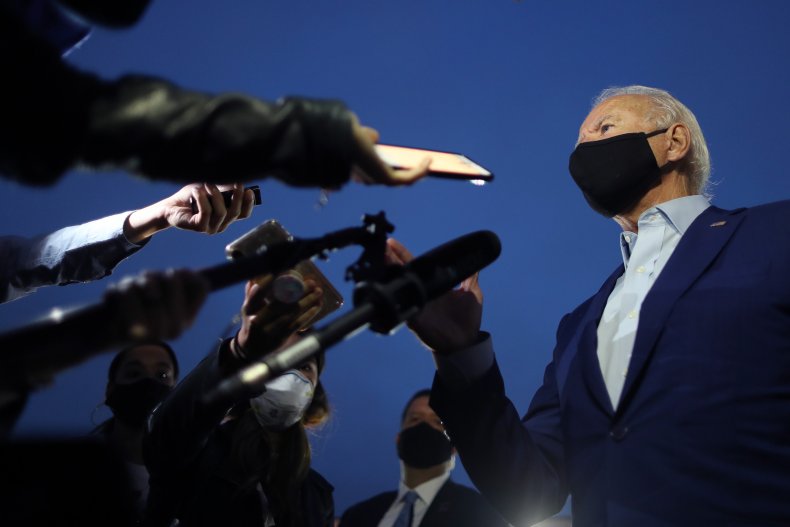 Kremlin spokesman Dmitry Peskov dismissed the report, saying on Thursday according to Tass: "We do not know what kind of firm it is, or what 'supported by the Russian government' means. It just looks like more nonsense that has been published, unfortunately, by an agency that is sometimes respected."
It comes after U.S. intelligence officials said Russia is trying to denigrate Biden and assist President Donald Trump ahead of the election. NCSC director William Evanina said on August 7 that this move was consistent with Moscow's criticism of Biden, when as vice president under Barack Obama, he backed Russia's opposition. "Some Kremlin-linked actors are also seeking to boost President Trump's candidacy on social media and Russian television," Evanina said.
Former special counsel Robert Mueller and the Senate Intelligence Committee concluded the Russian government was behind interference in the 2016 presidential election.
Meanwhile, the House Intelligence Committee has received a whistle-blower complaint from former Department of Homeland security official Brian Murphy. He said he had been told to stop giving intelligence assessments on the threat of "Russian disinformation efforts" and focus instead on the interference activities of China and Iran.
The complaint said that Murphy had met with acting DHS Secretary Chad Wolf, who told him that "the intelligence notification should be 'held' because it 'made the president look bad'".
Committee chairman Adam Schiff (D-CA) said Murphy has been asked to give testimony before the committee, which would also speak to other DHS officials. "We will get to the bottom of this, expose any and all misconduct or corruption to the American people, and put a stop to the politicization of intelligence," Schiff said in a statement.