Joe Biden's Chances of Winning Election By a Landslide
Joe Biden has a 12.5 percent chance of winning a landslide in the 2020 U.S. presidential election, according to bookmakers.
The former vice president is priced at 7-1 to win 400 or more electoral college votes, according to Oddschecker, which aggregates betting data from dozens of bookmakers.
That compares with President Donald Trump, behind in most nationwide polls, who is a much longer bet at 20-1, giving the president an implied 4.76 percent chance.
UK bookmaker Betfair gave longer odds for both candidates of securing a decisive electoral college victory. Trump is priced at 31-1 to secure a landslide victory, while his Democratic rival has odds of 16-1.
"In a tight race, either candidate running away with the election looks somewhat unlikely, although it's worth bearing in mind that under the electoral college voting system, as few as a couple of hundred thousand votes in crucial states can turn a tight race into a landslide," said Betfair's Darren Hughes.
Biden is currently odds-on favorite to win the November 3 election, at 8-15, giving him an implied chance of winning of 65 percent, according to Betfair. Trump is currently priced at 15-8 (35 percent).
A spokesperson for the bookmaker said: "Trump's odds have steadily improved this week, from a high of just bigger than 2-1 to 15-8. Usually in a presidential race, the odds of the favorite, in this case Biden, would shorten considerably in the last few days of the campaign, but things are different when it comes to the Trump era it seems.
"While polling data suggests Biden has upwards of a 75 percent chance of victory, punters are wary of opposing Trump off the back of polls given what happened in 2016."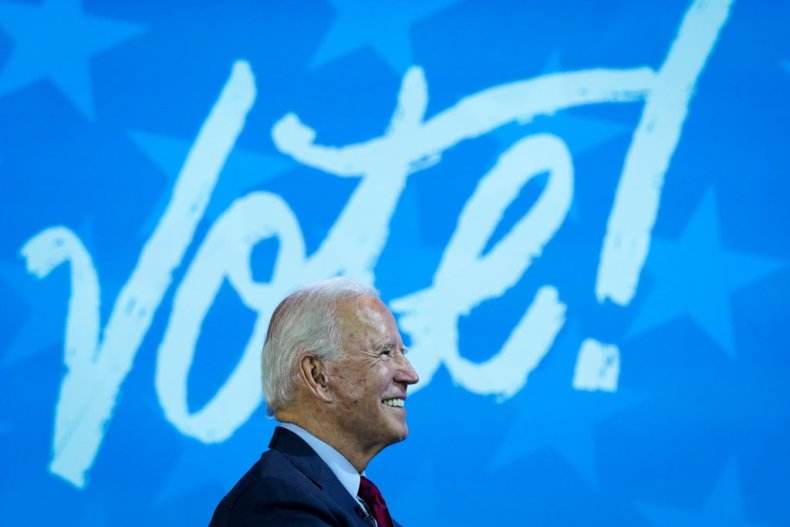 The most recent landslide election came in 1984 when incumbent Republican President Ronald Reagan defeated former Walter Mondale, the Democratic candidate.
The latest polling gives Biden double-digit leads over Trump in two key swing states.
New data from SurveyMonkey and Axios also revealed the Democratic candidate is 9 points ahead of his GOP rival in a third battleground state.
According to the pollster's candidate preference tracker, Biden leads Trump by 12 percentage points in Minnesota and Wisconsin. The former vice president picked up 55 percent support among likely voters in the two states, while Trump was backed by 43 percent.
In Michigan, the president was trailing Biden by 9 points with 44 percent of the vote—a projected fall of 3 percentage points on 2016.
The latest battleground state tracker polls from SurveyMonkey and Axios were based on surveys of thousands of likely voters between September 30 and October 27. It is unclear what the margin of error is for each state-level poll.