President Joe Biden vowed the U.S. will stand against anti-Semitism and extremism, after an hourslong standoff with a man who took hostages a Texas synagogue.
The man took over services at Congregation Beth Israel in Colleyville on Saturday and was heard ranting and talking about religion on the synagogue's livestream.
"There is more we will learn in the days ahead about the motivations of the hostage taker," Biden said in a statement.
"But let me be clear to anyone who intends to spread hate—we will stand against anti-Semitism and against the rise of extremism in this country. That is who we are, and tonight, the men and women of law enforcement made us all proud."
One of the hostages was released during the standoff. Three others got out at about 9 p.m. local time (10 a.m. ET) when an FBI SWAT team entered the building.
Authorities said the hostage-taker was killed in a shooting, but did not answer questions about who shot the man.
Law enforcement sources confirmed to ABC News that the suspect was demanding the release of Aafia Siddiqui, who is incarcerated at Carswell Air Force Base near Fort Worth.
Siddiqui, a Pakistani neuroscientist suspected of having ties to al-Qaida, was convicted of trying to kill U.S. Army officers in Afghanistan in 2010. She was sentenced to 86 years in prison.
At a news conference, FBI agent, Matt DeSarno, said the hostage-taker was "singularly focused on one issue and it was not specifically related to the Jewish community."
President Biden also praised state, local and federal law enforcement who helped end the hostage situation.
"Thanks to the courageous work of state, local and federal law enforcement, four Americans who were held hostage at a Texas synagogue will soon be home with their families," he said. "I am grateful to the tireless work of law enforcement at all levels who acted cooperatively and fearlessly to rescue the hostages. We are sending love and strength to the members of Congregation Beth Israel, Colleyville, and the Jewish community."
Authorities have not identified the suspect, who appeared to have had a British accent.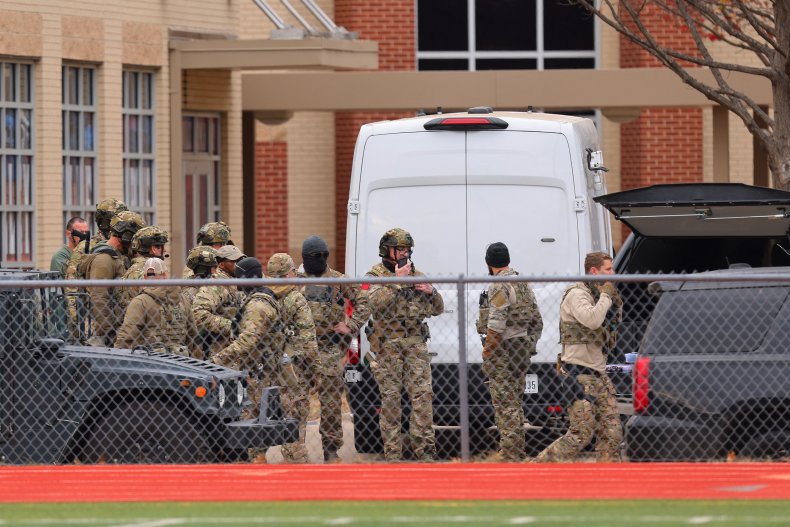 Stacey Silverman, a member of the synagogue's congregation who said she watched the livestream for about two hours before it was taken down.
She said the hostage-taker said he flew 5,000 miles into the Dallas-Fort Worth airport and chose the synagogue because it was closest to the airport.
"He said he had a gun. He said he had a bomb. He said, you know, he wouldn't let people go until his sister was released from this prison," Silverman told CNN.
According to reports, multiple people heard the hostage-taker refer to Siddiqui as "sister" on the livestream before it was taken down.
But Siddiqui's brother, Mohammad Siddiqui, was not involved, John Floyd, board chair for the Houston chapter of the Council on American-Islamic Relations, has confirmed.
"This assailant has nothing to do with Dr. Aafia, her family, or the global campaign to get justice for Dr. Aafia. We want the assailant to know that his actions are wicked and directly undermine those of us who are seeking justice for Dr. Aafia," Floyd, who is also legal counsel for Mohammad Siddiqui, said in a statement.
"We have confirmed that the family member being wrongly accused of this heinous act is not near the DFW Metro area."