Republican governors who have tried to block mask mandates have accused President Joe Biden of a power grab and undermining livelihoods by requiring some businesses to make workers get COVID shots.
Biden's announcement, which mandates vaccinations for workers at private firms with more than 100 staff members, included pointed criticisms of some governors' response to COVID—widely understood as references to Ron DeSantis in Florida and Greg Abbott of Texas.
DeSantis has ordered masks to remain optional in schools and appealed a circuit court judge ruling that the institutions be allowed to impose mask mandates. Abbott also issued an executive order banning schools from imposing mask mandates.
"There are elected officials actively working to undermine the fight against COVID-19," Biden said on Thursday as he unveiled measures to combat what he described as "a pandemic of the unvaccinated." Some 80 million Americans have not yet got the shot.
"Local school officials are trying to keep children safe in a pandemic while their governor picks a fight with them and even threatens their salaries or their job," Biden said. "If they'll not help, if these governors won't help us beat the pandemic, I'll use my power as president to get them out of the way."
DeSantis, who has promoted vaccinations in the Sunshine State as the best COVID-mitigating measure, said he would push back against Biden's move.
"How could we get to the point in this country where you would want to have someone lose their job because of their choice about the vaccine or not?" he told a press conference.
The GOP governor said some people "had reasons" for not wearing masks, adding: "Maybe they are making the wrong decision, but to put them out of work and … not let them earn a living. Because of this? I just think that's fundamentally wrong."
"The more and more this has become coercive … the more people it alienates," he said. "I do not believe that people should lose their jobs over this issue, and we will fight that."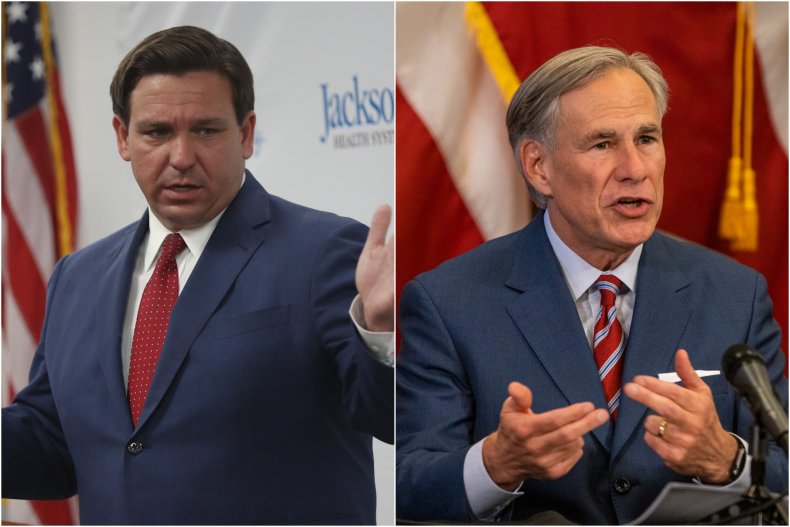 Abbott tweeted that "Texas is already working to halt this power grab," adding that he had issued an executive order and added it to the special session agenda.
Biden's plan could affect 100 million American workers and lead to fines of up to $14,000 for firms that do not comply. Employers would need to provide paid time off to get the vaccine and urged entertainment venues to require vaccination or testing proof from patrons.
In his six-step plan to combat COVID, Biden is also looking to double federal fines for airline passengers who refuse to wear masks on flights or to maintain face-covering requirements on federal property.
Other GOP governors said they would take legal measures against Biden's plan. Kristi Noem, governor of South Dakota, where masks are not mandatory, tweeted: "This gross example of federal intrusion will not stand."
Governor Brian Kemp also vowed legal action "to stop this blatantly unlawful overreach by the Biden administration."
Henry McMaster of South Carolina tweeted: "We will fight them to the gates of hell to protect the liberty and livelihood of every South Carolinian."
Meanwhile, Arizona Governor Doug Ducey tweeted that the Biden administration was "hammering down on private businesses and individual freedoms in an unprecedented and dangerous way. This will never stand up in court."
Newsweek has contacted the White House for comment.
The graphic below by Statista shows the share of people who say their employer encourages or requires COVID vaccination.