Florida COVID Daily Deaths Hit Record as Ron DeSantis' Mask Mandate Debate Rages
Florida saw record numbers of daily COVID-19 deaths in August as the controversy over an executive order to ban mask mandates continues to rage.
Figures from the U.S. Centers for Disease Control and Prevention (CDC) showed that the seven-day average in daily deaths for August was 244, beating the previous highest of 227 in August 2020.
There were eight days in August with more daily deaths than during the last peak of the pandemic. August's toll could still rise with figures for the middle and the end of the month still to come, The Associated Press reported.
The figures come as the CDC reported on Thursday there had been 1,338 additional COVID deaths, the highest reported in a single day, although they may have occurred over several days or weeks.
It brings the overall number of deaths in the Sunshine State to 45,909, where the numbers of those being treated in intensive care increased for the first time in two days to 3,385.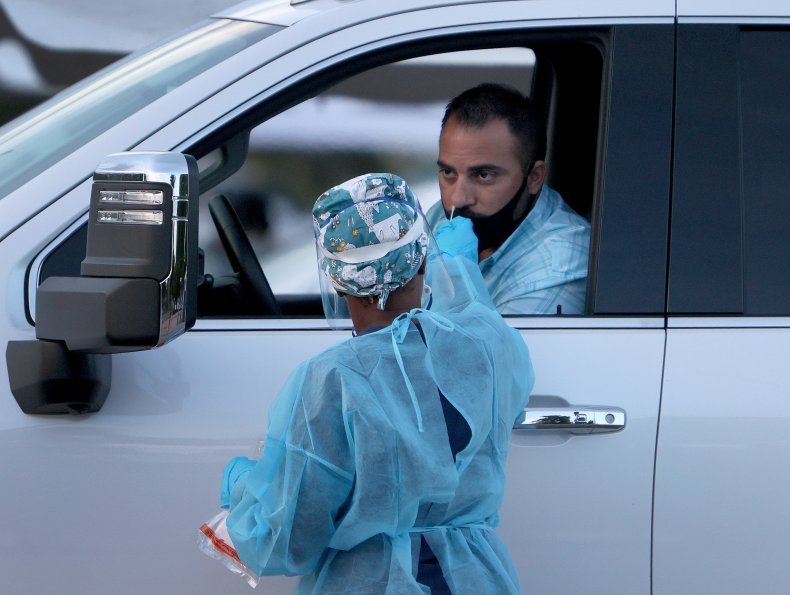 Numbers from the CDC listed 21,392 new coronavirus cases on Thursday and the state has 3,291,225 total verified COVID-19 cases since the start of the outbreak.
The political fallout of the deadly surge and the order by Governor Ron DeSantis to ban mask mandates in school districts continues to be felt.
"This is the highest death toll we've seen in a single report. It should shock us to the core," tweeted state Agriculture Commissioner Nikki Fried, who is planning to run against the Republican governor.
DeSantis has appealed a judge's ruling made in August which gave Florida's 67 school boards the power to enforce a student mask mandate without parental approval.
The governor has said that forcing students to wear a mask violates Florida's Parents' Bill of Rights, a stance which has put him at odds with educators and health experts.
As COVID-19 cases rise, DeSantis faces a slump in popularity, with nearly half of voters (48 percent) disapproving of his job performance, according to a poll this week from Morning Consult.
While the same percentage approve of his performance, his overall disapproval rating has increased by eight percent among all voters since July 1.
DeSantis' spokesperson Christina Pushaw told Newsweek that the governor "makes data-driven policy decisions" and that Florida has "an age adjusted death rate significantly lower than the national average."
Her statement said that DeSantis "has followed the science" by promoting access "to the two clinically proven interventions to save lives from COVID—vaccines and monoclonal antibody treatment."
She said that Florida's vaccination rate is ahead of the national average, with 68 percent of eligible Floridians having received at least one dose and that DeSantis had directed the rollout of 21 monoclonal antibody treatment sites for all eligible Floridians.
The graphic below provided by Statista shows the states with the highest COVID-19 death rates.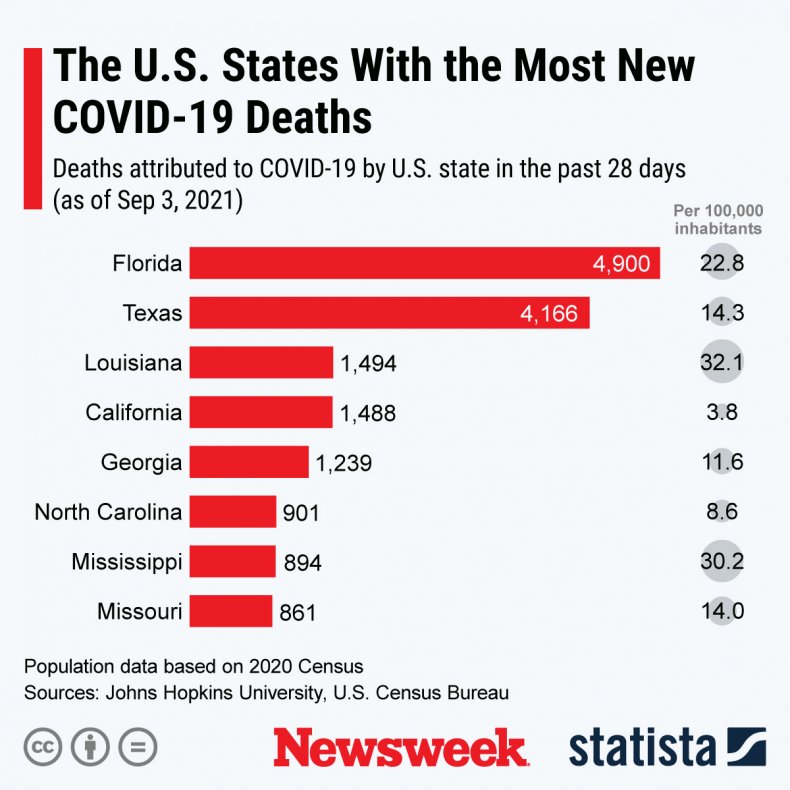 Update 09/04/2021 4:25 a.m. ET: This article has been updated to include a statement to Newsweek by Ron DeSantis' office.