Nikki Fried, Florida's agriculture commissioner and Democratic gubernatorial hopeful, urged Republican Governor Ron DeSantis on Monday to issue an emergency order and publish daily data on COVID-19 as cases and hospitalizations soar across the state.
Speaking at a news conference in Sarasota, Fried accused DeSantis of keeping Florida "in the dark" on data related to COVID-19, and urged the administration to declare an emergency order to deploy federal resources to combat the pandemic.
"It is 2:30 on Monday. And we still, as of today, as of right this second, do not have updated numbers from the weekend and from Monday. Governor, Department of Health, what are you waiting for? It is time governor, to issue and emergency order."
Fried went on to explain DeSantis should declare an emergency order "so our state can have more testing and more vaccination sites using federal dollars."
Fried then likened DeSantis' handling of the pandemic in Florida to a hurricane, stating it would be like knowing a hurricane is coming, "but we don't know where the evacuation zones are, we don't know the tracking of this hurricane, we don't know the severity of it."
"We are left completely in the dark — that is exactly what's happening right now. Which is why, daily, I am trying to get as much information to the public," Fried added.
In June, the Florida Department of Health began to scale back their public data reporting from daily to weekly, citing an increase in vaccinations and decrease in new cases. However, the state began to observe a spike in new cases just weeks later, driven in large part by the highly contagious COVID-19 Delta variant.
Florida is now the epicenter of the newest wave of the COVID-19 pandemic, and is reporting more new daily cases than any other state. On Sunday, Florida broke its previous record for hospitalizations, with more than 10,000 people currently being treated for the virus in hospitals.
A new report published by the White House on Monday found that two counties in Florida, Broward and Miami-Dade, are now reporting the most COVID-19 hospitalizations across the country.
In total, the Sunshine State counts for more than 20 percent of the country's new COVID-19 cases, with an average of 15,818 new cases per day, according to The New York Times.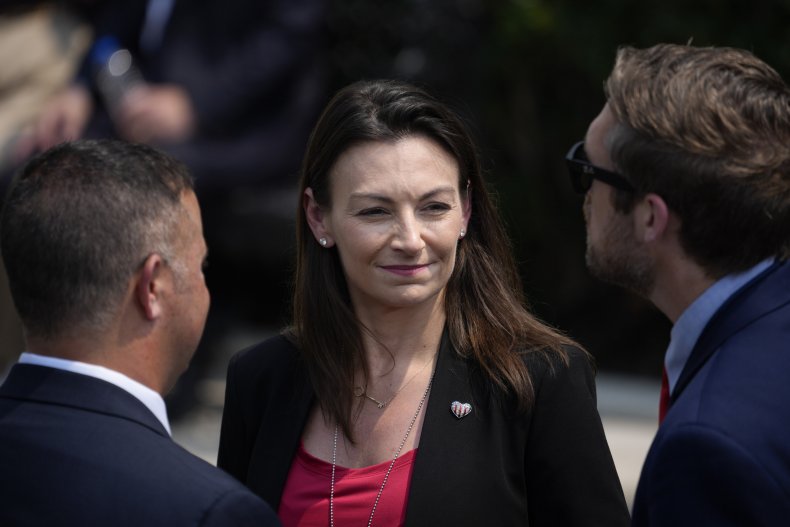 Other officials, including Democratic state Representative Anna Eskamani, have echoed Fried's comments and urged DeSantis to resume daily reporting of COVID-19 data. "There was absolutely no reason to eliminate the daily updates beyond an effort to pretend like there are no updates," Eskamani said, according to the Associated Press.
But on Monday, DeSantis' office told Newsweek that Fried's statements are "patently false" and "based on misinformation."
"In fact, the COVID data that Nikki Fried discussed is reported to the CDC by the Florida Department of Health every weekday. The CDC updates state data, including for Florida, regularly...therefore, the state is in fact providing that data – where else would Fried have gotten it? The data is publicly available, though it's not clear why Fried is presenting it with her own commentary," his office's response read.
"It is surprising and disappointing that a prominent elected official like Commissioner Fried would be spreading innuendo that unfairly undermines trust in Florida's public health authorities during a pandemic," it added.
As cases and hospitalizations rise, Fried urged Floridians to get vaccinated, wear their masks and practice social distancing. The Democratic gubernatorial hopeful criticized DeSantis on Monday for taking a hands-off approach to the pandemic and failing to promote COVID-19 safety measures.
"The governor should be doing what I'm doing, promoting vaccines. Going across our state and having real conversations with out communities that their numbers are through the roof," Fried said.
Updated 8/3/21 8:21 a.m. ET, with a statement from DeSantis' office.