Florida has registered its highest single-day COVID-19 case number as the Delta Variant continues to spread through predominantly unvaccinated communities.
The Miami Herald reported on Saturday that Florida saw 21,683 new cases of COVID-19. This handily bests the state's previous record of 19,334 on January 7, which occurred during what is regarded as the worst month for the pandemic in the U.S.
Florida has been seen as the epicenter for the new wave of the novel coronavirus pandemic, spurred on by the highly virulent Delta variant. Daily case numbers had been approaching record levels in recent days—17,093 on Thursday and 17,589 on Friday. The state's average for the past week has been 15,818 cases per day.
According to the Centers for Disease Control and Prevention (CDC), Florida lead the U.S. in new cases in the last seven days with over 103,000, which far exceeds much larger states including Texas (47,159) and California (35,464).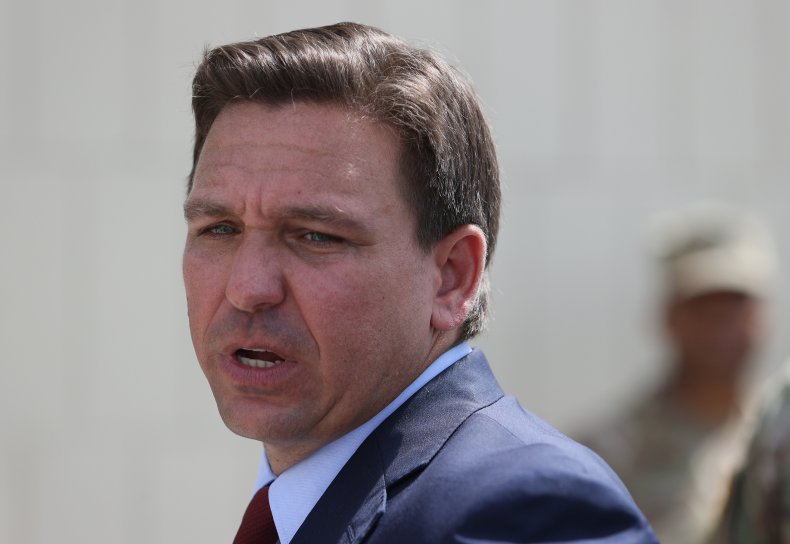 The CDC's community transmission tracker also lists nearly every county in Florida as having "high" levels of transmission, aside from Glades County, which is listed as "substantial." Substantial is the threshold at which the CDC recommends that all residents, vaccinated and unvaccinated, wear masks indoors, according to its most recent mask guidance.
Newsweek recently reported that all of Florida's counties were previously listed as having high community transmission, a dubious distinction it shared only with Arkansas and Oklahoma.
Florida Governor Ron DeSantis recently pushed for citizens to get vaccinated, but he has also discouraged mask mandates for children during the upcoming school year. On Friday, he signed an executive order that prevents Florida schools from implementing mask mandates. It would allow the Florida Department of Education and Department of Health to create rules about mask wearing in schools, with the aim of leaving the decision to parents.
"I think that this decision about whether parents want their kids to have to wear masks all day at school, I think that's a decision that falls squarely within the concord of this Parents' Bill of Rights that I signed," DeSantis said.
This order also empowers Florida's commissioner of education to take away state funding from schools that step out of line and establish mask rules anyway.
"Governor DeSantis and the Florida Department of Health have always encouraged Floridians to protect themselves and their communities," Christina Pushaw, press secretary for DeSantis, said in a statement to Newsweek. "Governor DeSantis has mentioned the vaccines positively almost 100 times in public remarks since November 2020. From what we are seeing, the majority of people who get vaccinated are well-protected from severe COVID-19 outcomes."
"We recognize that cases and hospitalizations have shifted to a younger demographic because we have been so successful with vaccinating seniors. Again, we must continue this stride to expand vaccination rates across eligible age groups. As stated by Governor DeSantis, 'These vaccines are saving lives, and reducing the mortality of COVID-19.'"
The Florida Department of Health also told Newsweek that vaccinations rates have been trending upward in the state. This is most significant among younger demographics, which have been harder hit by the recent surges of COVID-19. From June 26 to July 29, the vaccination rates for people ages 12 to 19 in Florida rose 10 percent, the biggest leap of any age group in the state.
"As of July 29, 2021, 61 percent of eligible Floridians are vaccinated," department press secretary Weesam Khoury said. "More than 334,000 Floridians have been vaccinated in just this last week, which is a 16 percent increase over the previous week."
UPDATED 4:45 PM ET, 8/2/2021: This story has been updated with statements from the Florida government.