Joe Biden Critics Claim President 'Lied' about $2,000 Stimulus Checks
Critics of President Joe Biden are claiming he "lied" about the size and promptness of stimulus checks promised while campaigning in the Georgia runoffs.
The #BidenLied hashtag began trending on Twitter on Sunday after the Democratic Party shared a tweet that outlined Biden's plans to get $1,400 checks to most Americans—on top of the already agreed $600 payments.
"[Biden] will build on the $600 down payment provided by Congress last year, sending an additional $1,400 to households across America, totaling direct payments to $2,000 per person," the party posted on Saturday.
Some using the #BidenLied hashtag insisted Biden had promised individual $2,000 payments, rather than $1,400 on top of $600 checks.
Podcast host Ryan Knight, who has been involved in a campaign calling for a new political party for progressives, was among the loudest voices making the claims.
Knight and others using the hashtag cited comments made by the president during campaigning for the Georgia runoffs in early January, which resulted in the election of Democrats Jon Ossoff and Raphael Warnock.
In a speech during a rally in Atlanta, Biden urged voters to back the Democratic candidates in order to "end to the block in Washington on that $2,000 stimulus check."
Congress had blocked attempts to pass $2,000 checks. Democrats had pushed for the payments at the end of 2020, however their attempts were thwarted by Republicans.
Lawmakers eventually settled on the $600 sum in December. At the time, Biden insisted that sum was only a "down payment" and he planned to ask Congress to pass another bill including a new round of stimulus checks—the value of which would be negotiated.
Speaking in Atlanta on January 4, Biden said: "By electing Jon and the reverend [Warnock] you can make an immediate difference to your own lives, the lives of the people all across this country... because their election will put an end to the block in Washington on that $2,000 stimulus check.
"That money that would go out the door immediately to help people who are in real trouble."
Later in his speech Biden added: "If you send John and the Reverend to Washington those $2,000 checks will go out the door restoring hope, and decency, and honor for so many people who are struggling right now. If you send [incumbent Republican] Senators [John] Purdue and [Kelly] Loeffler back to Washington, those checks will never get there."
The rollout of the $600 checks had already begun by that point, according to Treasury Secretary Mnuchin, although many Americans had not yet received that payment.
Ten days later, Biden announced his $1.9 trillion "American Rescue Plan," announcing: "We will finish the job of getting a total of a $2,000 in cash relief to people who need it the most. The $600 already appropriated is simply not enough."
A White House press release issued six days later specifically cited the president's plans to send out "$1,400 per-person checks."
These extra $1,400 checks have not yet been released, 10 days since Biden was sworn into office.
President Biden has signed a raft of executive orders since entering the Oval Office on January 21. Those orders, which do not require Congress' approval, have included increases in federal food assistance and attempted to streamline the delivery of the $600 checks.
However, Biden has faced criticism from both conservatives and progressives over his $1.9 trillion stimulus package and it not having successfully passed into law.
Not all aspects of his package have found bipartisan support and a successful deal could take months of negotiations during a time when millions of Americans are continuing to struggle due to the pandemic.
White House press secretary Jen Psaki told reporters last week that Biden's "clear preference" is to pass a bipartisan bill, adding "we're also not going to take any tools off the table."
Without enough Republican support to pass the plan, the Democrats could try to pass it using budget reconciliation rules, which require a simple majority.
Experts have predicted that a package, including the fresh $1,400 payments, will be signed off between mid-February and the end of March.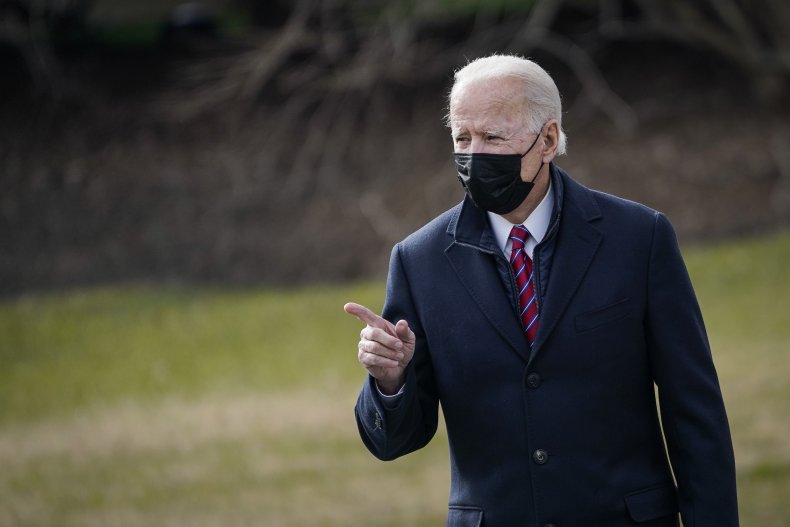 Correction: 02/01/21: This article has been updated with further context regarding Biden's comments in Atlanta. The headline was corrected to remove the word "falsely."