Third Stimulus Check of $1,400 Will Likely Be Passed by End of March, Analysts Say
Experts believe that President Joe Biden's proposed $1,400 COVID-19 stimulus checks could be passed by Congress by the end of March.
Although there may not be enough bipartisan support for the entire $1.9 trillion stimulus package, a compromise package would likely have an easier time making it through both legislative chambers and onto Biden's desk. However, a successful package could take months of negotiations during a time when millions of Americans are continuing to struggle due to the pandemic.
Heights Securities analyst Hunter Hammond told CBS News that the $1,400 checks are likely to be passed as part of a scaled-down package by the end of March, while Alec Phillips, the chief U.S. political economist for Goldman Sachs, told the outlet that he believes a package including the checks will pass sometime between mid-February and mid-March.
After Biden signs the bill, the checks would then be sent out to mailboxes or directly deposited into the bank accounts of recipients. That process could take weeks longer, potentially pushing back the time that Americans would actually receive the payments to mid-April.
Individuals earning $75,000 per year or less would be eligible for the full $1,400 checks under Biden's proposal. The amount would incrementally decrease for those making amounts above that, with anyone making over $99,000 per year being ineligible for any payment.
The entire $1.9 trillion proposal also includes additional funds for small businesses, increasing unemployment benefits from $300 to $400 per week, money for COVID-19 vaccination and testing efforts and a mandate to raise the national minimum wage to $15 per hour.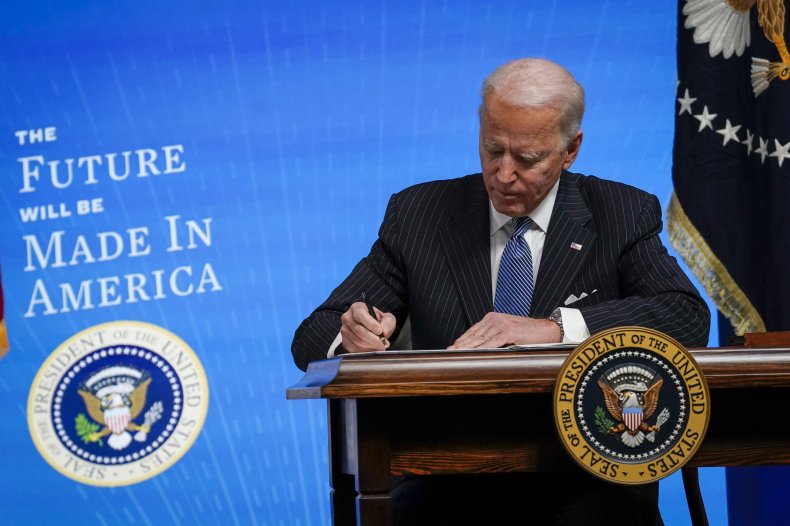 In its current, unmodified form, it is not clear that the full bill has the support of the entire Democratic caucus. Even if Democrats do eventually agree on the package, it would likely require the support of at least 10 GOP senators to avoid a potential filibuster.
The $1,400 checks could be passed by the Democratic-controlled Senate without Republican support, using the budget reconciliation process, which only requires a 51 vote majority. Although the Senate has a current partisan split of 50-50, Vice President Kamala Harris holds the power to cast a deciding vote in the event of a deadlock.
"Reconciliation, which is a Senate rule, was used by the Republicans under Trump to pass massive tax breaks for the rich and large corporations... that's fine," Senator Bernie Sanders (I-Vt.), the new chair of the Senate Budget Committee, told CNN on Sunday. "We are going to use reconciliation... we're going to do it to protect ordinary people, not just the rich and the powerful."
Many Americans received $600 stimulus checks during the first weeks of the new year. The $1,400 payments are intended to bring the total of recent payments up to $2,000. The larger amount was championed by lawmakers of both parties, including former President Donald Trump, following pushback from many who said that $600 was too little.
A study released earlier in January by the Institute on Taxation and Economic Policy indicated that the bottom 60 percent of U.S. earners would see a "significant" impact to their finances with a $2,000 payment.