President Joe Biden said Friday that he does not believe there has been a major evolution or shift in the Democratic party regarding taking sides in the Israeli-Palestinian conflict and that while he believes in a two-state solution, the Democrats "still support Israel."
Speaking during a press conference with the South Korean President Moon Jae-in, Biden answered questions from the press regarding foreign policy. One of them concerned his relationship with his own party regarding the Israeli-Palestinian conflict in the Middle East.
"What is your message to Democrats who want you to be more confrontational with Israel and, specifically to those that are saying that there should be an end to arms sales?" asked a reporter from ABC. "Do you recognize that there's been a shift and evolution in your party, Mr. President, in the last 20 years on this issue?"
"There is no shift in my commitment to the security of Israel, period. No shift, not at all," Biden answered. "But I tell you what there is a shift, the shift is that we have to, we still need a two-state solution is the only answer. The only answer."
"Before the ceasefire was negotiated I made it clear, he continued. "I spoke with President Abbas. We're going to make sure that we are going to provide for security in the West Bank and we renewed the security commitment, as well as economic commitment, to the people on the West Bank. I also indicated to the Israelis that I thought it was very important that they stop in Jerusalem."
"It has to end," Biden said, speaking of "inner communal fighting" and "extremes on both sides." Much of the language he used avoided placing blame on either side of the conflict.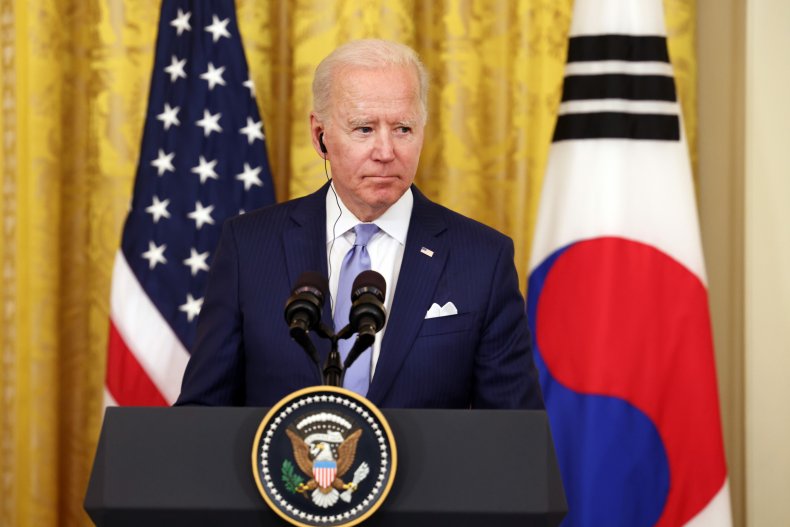 Biden spoke of a plan to work with other nations to put together a major aid package to rebuild homes and to rebuild Gaza. He then clarified that he wanted to get that done "without providing Hamas the opportunity to rebuild their weapon system."
"And so, I don't," he said, appearing to refer back to the question of whether or not he recognizes the shift there's been in the Democratic party.
"And I think that...my party still supports Israel," Biden said.
"Let's get something straight here, until the region, says unequivocally, they acknowledge the right of Israel to exist as an independent Jewish state. There will be no peace," he finished, making no mention about whether the Palestinian people will ever gain the right to form an independent state.
While Biden's insistence on the need for a two-state solution is a hard departure from the policies of his predecessor, former President Donald Trump, Biden's remarks about his own party seem to ignore the rising number of Democrat voices who have been speaking out against human rights abuses against the Palestinian people, even calling the Israeli government "an apartheid state."
Newsweek reached out to the White House for comment and will update the story with any response.