These Progressive Democrats Have Spoken Out Against Israel's Actions
President Joe Biden on Saturday confirmed his support for Israel's right to defend itself against Hamas rocket attacks during a phone call with Prime Minister Benjamin Netanyahu, but also "voiced his concern" about violent scenes in the West Bank.
In a phone call with the Palestinian National Authority President Mahmoud Abbas, Biden also said that he still had a "strong commitment" to a two-state solution, but stressed the need for Hamas to stop firing rockets at Israel.
He also raised concerns about mounting civilian casualties in Gaza over the weekend after an Israeli air strike killed 42 Palestinians, 10 of whom were children, according to Reuters.
The statements were unlikely to have impressed progressive Democrats who have spent much of the past week criticizing Israel's actions, including an air strike on a building that contained The Associated Press and Al Jazeera news bureaus.
Responding to the Israeli strike on the news bureaus, Rep. Rashida Tlaib (D-MI) said: "Israel targeting media sources is so the world can't see Israel's war crimes led by the apartheid-in-chief Netanyahu.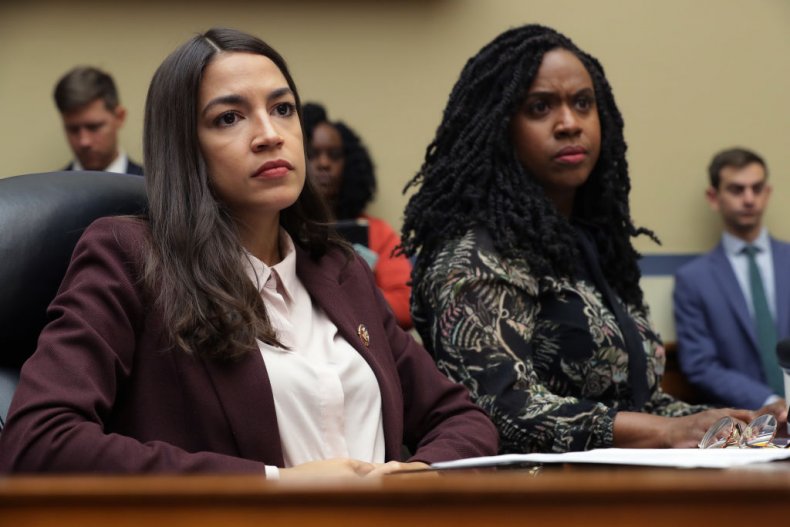 "It's so the world can't see the killing of babies, children and their parents. It's so the world can't see Palestinians being massacred."
"This is happening with the support of the United States. I don't care how any spokesperson tries to spin this. The US vetoed the UN call for ceasefire." Rep. Alexandria Ocasio-Cortez (D-NY) tweeted on Saturday. "If the Biden admin can't stand up to an ally, who can it stand up to? How can they credibly claim to stand for human rights?"
The congresswoman also called Israel an "apartheid state" later that same day, and was quickly followed by others in the progressive caucus.
Reps. Tlaib, Ilhan Omar of Minnesota, Ayanna Pressley of Massachusetts, and Cori Bush of Missouri all shared Ocasio-Cortez's remarks and repeated her claim that Israel was an "apartheid state" and not a democracy.
Speaking on the House floor last week. Rep. Pressley (D-MA) said: "We are bearing witness to egregious human-rights violations, the pain, trauma and terror that Palestinians are facing is not just a result of this week's escalation, but the consequence of years of military occupation.
"In Sheikh Jarrah, the Israeli government is violently dispossessing yet another neighborhood of Palestinian families from homes they have lived in for decades."
Writing an op-ed for The New York Times late last week, Sen. Bernie Sanders (I-VT) added to the progressive criticism of Israel and called on the Biden administration to stop "being an apologist" for the Israeli government.
As he recognized Israel's right to defend itself and noted that the conflict did not begin with Hamas rockets firing on civilians last week, Sanders criticized the "deepening Israeli occupation" in the West Bank and East Jerusalem.
"In the Middle East, where we provide nearly $4 billion a year in aid to Israel, we can no longer be apologists for the right-wing Netanyahu government and its undemocratic and racist behavior," the former Democratic primary candidate added.
Posting on social media on Saturday, Sen. Elizabeth Warren called on Israel and Hamas to "work with negotiators and reach a ceasefire immediately" in the wake of Israeli airstrikes "that destroyed international media outlets and killed innocent Gaza civilians."
Newsweek has contacted the Israeli embassy in the U.S. for comment on the progressive caucus' criticisms. The White House has also been contacted for comment.