Joe Biden Widens Lead Over Donald Trump as Election Enters Home Stretch
Former Vice President Joe Biden is widening his lead over President Donald Trump with just 20 days before the election on November 3. New polling shows the Democrat with a substantial national advantage.
The University of Southern California Dornsife Election "Daybreak" Poll, which tracks changes in Americans' views throughout the presidential campaign, shows Biden with a lead of almost 13 points over Trump.
The USC poll is significant. In 2016, when it was partnered with the Los Angeles Times, USC predicted that Trump would defeat former Secretary of State Hillary Clinton by 3.2 percent.
Clinton won the popular vote by 2.1 percent but the Republican prevailed in the electoral college.
The USC Dornsife poll has consistently shown Trump trailing Biden. That poll has around 6,000 respondents—a large sample size for a presidential poll. USC Dornsife wasn't the only pollster to correctly predict a Trump victory in 2016, however.
The Investor's Business Daily/TechnoMetrica (IBD/TIPP) poll showed Trump winning by 2 points the day before the 2016 election. IBD/TIPP now shows Biden beating Trump by 8.5 percent.
Biden leads among likely independent voters by 48 percent to 39 percent, according to IBD/TIPP. Clinton lost independents by 43 to 42 in the last election.
Other recent polling has also seen Biden's lead increase. A Guardian/Opinium Research poll published on Tuesday showed Biden 17 points ahead of Trump. Biden supporters are also more likely to turn out now, up to 82 percent likelihood from just 75 percent in September.
The Guardian/Opinium poll shows Biden on track to win 57 percent of the vote to Trump's 40 percent and Opinium notes: "This is just short of the lead in the popular vote that Ronald Reagan enjoyed in his second landslide victory."
Biden's national lead in the Opinium poll is even higher than in some other recent surveys. A CNN/SSRS poll from October 7 showed Biden with a 16-point lead, while an ABC News/Washington Post poll showed Biden ahead by 12 points up to October 9.
These numbers represent a notable rise from September, when Biden was recording single-digit leads in most national polling. USC Dornsife showed him leading by 9.5 points on September 29.
The RealClearPolitics polling average shows Biden leading by 10 points up to October 12. Clinton's lead was 2.1 percent up to November 7, 2016. The election was on November 8.
Individual polls in mid-October 2016 showed Clinton ahead by double digits, with a CBS News poll showing her up 11 points. However, other polls from the same time gave her a more modest lead, while the USC/LA Times tracking poll gave the edge to Trump.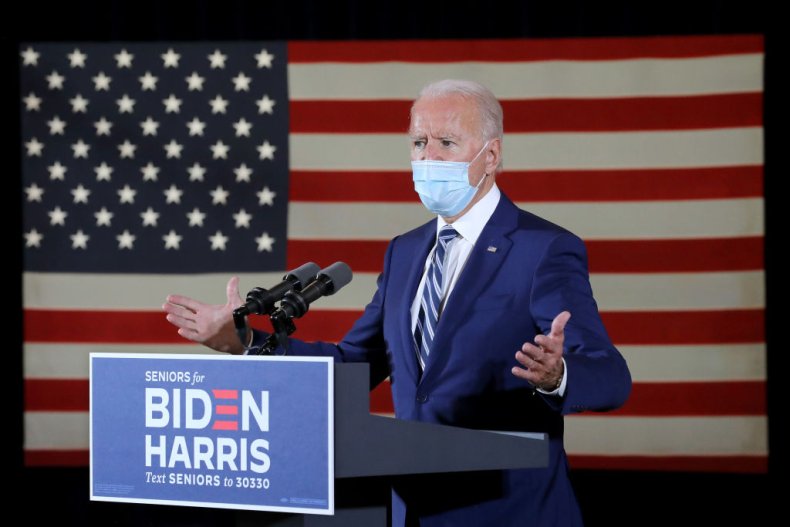 Correction 10/15/20, 3:15 a.m. ET: This article was updated to correct a misspelling of Dornsife.