Biden Leads Trump Between 2 and 8 Points in Key Battleground States
Already enjoying a lead in national polls five months from election day, Democrat presidential contender Joe Biden is also well ahead in some key swing states, according to an analysis of polls taken since the beginning of May.
Nationally as of Saturday, Biden is ahead of Trump by just under eight percentage points, 49.8 to 41.7, according to figures from RealClearPolitics. Biden's campaign has also been buoyed by a forecast from The Economist predicting that he had an 85 percent chance of winning, compared with President Donald Trump's 15 percent.
Given the idiosyncrasies of the Electoral College system, how Biden fares at the state level is central to his chances and to this end, he appears to be between two and eight points ahead in the battleground states, according to FiveThirtyEight.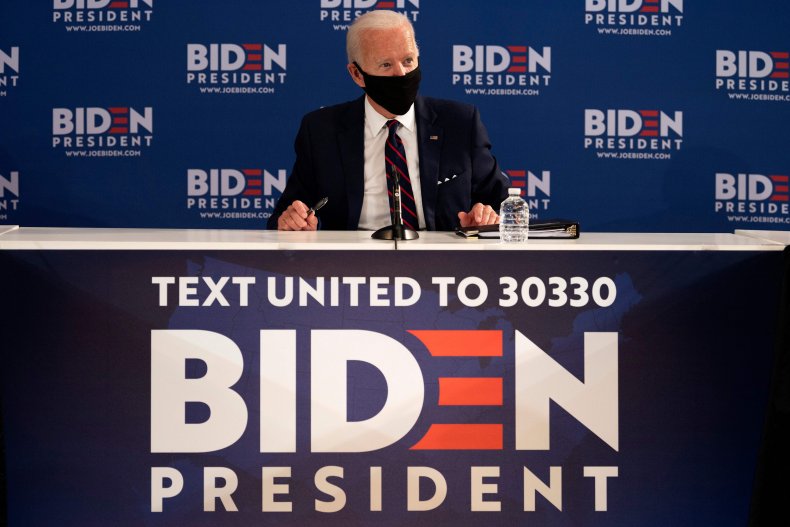 Examining eight states where at least three polls had been conducted since May 1, FiveThirtyEight found that Biden was comfortably ahead in Michigan and Wisconsin, both of which Trump narrowly carried in 2016.
In the Great Lake State, Biden was ahead by an average of over seven points—49.8 to 42.2, with one poll putting him 12 points ahead of Trump, 53 percent to 41 percent. Meanwhile, in the Badger State, Biden was ahead by an average of 6.2 percent, 47.8 to 41.5.
In Arizona, which Trump carried by 3.5 points in 2016, Biden is ahead by 3.3 points, while the key swing state of Florida also saw Biden ahead by 2.5 points. In Pennsylvania, the pair were more or less even and Trump was unsurprisingly ahead in Texas and Georgia, although his lead on those red states has been cut.
Surveys from Ohio and Iowa, which Trump won by eight and nine points respectively in 2016, show a close race, with Biden two points ahead in the Buckeye State.
FiveThirtyEight concluded that Biden was in an "enviable position" in many battleground states but issued the caveat that these states, apart from Michigan, are more Republican-leaning than the national average.
"In other words, most of the states that will decide the presidential election are to the right of the country as a whole, and that speaks to Trump's advantage in the Electoral College," the FiveThirtyEight analysis said. "Should Biden continue to hold a sizable lead, the chances of an Electoral College-popular vote split will probably be low. But if the polls get closer, the odds will increase because the eventual tipping point state is almost certainly among these eight states."
On Wednesday, Biden urged against complacency, appealing on social media: "Ignore the polls. We can't take anything for granted this November—the stakes are simply too high."
Charles Franklin, director of the Marquette Law School Poll in Milwaukee, said: "Given the size of his margin and the consensus across polls, I think there's pretty strong evidence that Biden holds a clear lead."
"While it's possible the polls are wrong, they would have to all be wrong" to overstate Biden's support, he told the Los Angeles Times.
Newsweek has contacted the Biden and Trump campaigns for comment.