Joe Biden Could Oversee Economic Boom as Goldman Sachs Predicts Rapid Growth
President Joe Biden could oversee a huge boost to the U.S. economy in the wake of coronavirus crash last year—potentially boosting Democratic chances of cementing further power in the 2022 midterm elections.
Goldman Sachs economists forecast gross domestic product growth of 8 percent in 2021—up from 2.3 percent in 2019—while also predicting the unemployment rate could fall to around 4 percent, down from 6.2 percent recorded in February.
In a note to clients, the investment bank said that pent-up savings, the reopening of economic activities, and a raft of federal COVID relief funding measures would coalesce as "powerful growth impulses" for the economy.
It further forecast that in 2022 the U.S. unemployment rate would drop to 3.5 percent, a figure below pre-pandemic levels. That could prove to be a factor in swing states and poorer regions during the midterm elections.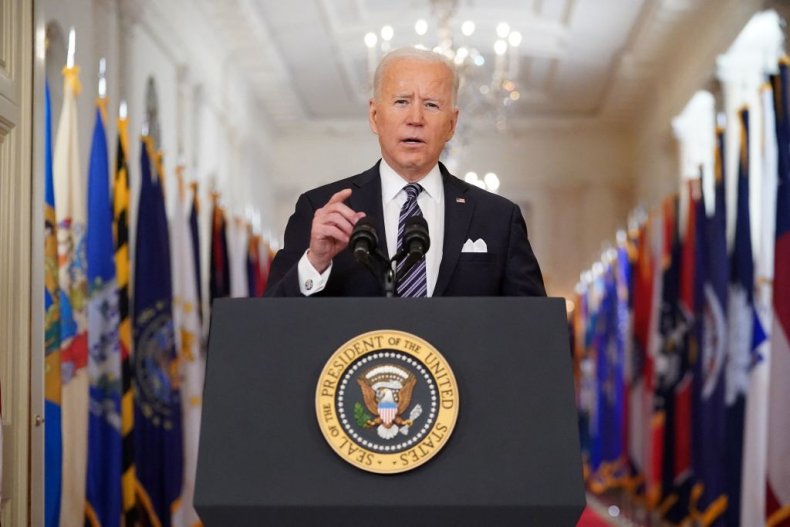 "We expect inflation dynamics to mirror those last cycle, and therefore expect this forecast to translate to only 2.1 percent core [personal consumption expenditure] inflation in 2023," Goldman Sachs added in its Sunday night note.
The bank's forecast far outpaces an economic outlook report released by the non-partisan Congressional Budget Office in February. The CBO report forecasts the U.S. economy growing by 3.7 percent in real terms this year, with growth then averaging out at 2.6 percent over the following four years.
However, the report was more bullish on U.S. unemployment, predicting a return to pre-pandemic levels of participation in the labor force by the end of 2022. The latest Bureau of Labor Statistics figures put the U.S. jobless rate at 6.2 percent in February, the highest it's been since July 2014.
Those figures came after the economy shrank 3.5 percent during 2020.
If the Goldman Sachs forecast proves correct, President Joe Biden and the Democratic Party could benefit in the 2022 midterm elections, boosting their chances of passing key planks of the White House's policy agenda.
Recent polls have found that Americans consider the U.S.'s economic bounce back to be a top priority, and generally approve of Biden's economic record. They also tend to favor his $1.9 trillion COVID-19 relief bill.
A poll released by Morning Consult last week found that a little under six in ten Republicans backed Biden's stimulus plan. An overwhelming majority of independents (71 percent) also backed the package.
Another survey released by the pollster in February found that two-thirds of voters believed Congress had to pass his COVID-19 relief bill as a priority—putting the economic recovery at the top of their priority list.
A YouGov/CBS News poll published at the weekend also found that 60 percent of Americans approved of Biden's handling of the economy. Fifty-eight percent also said they were optimistic about the future of the national economy.